Charities and academics calling on cash transfers to help families cope with school closures.
As the threat of further school closures looms in order to limit the spread of coronavirus civil society is calling on the Government to provide cash to families in order to ensure that children do not go hungry.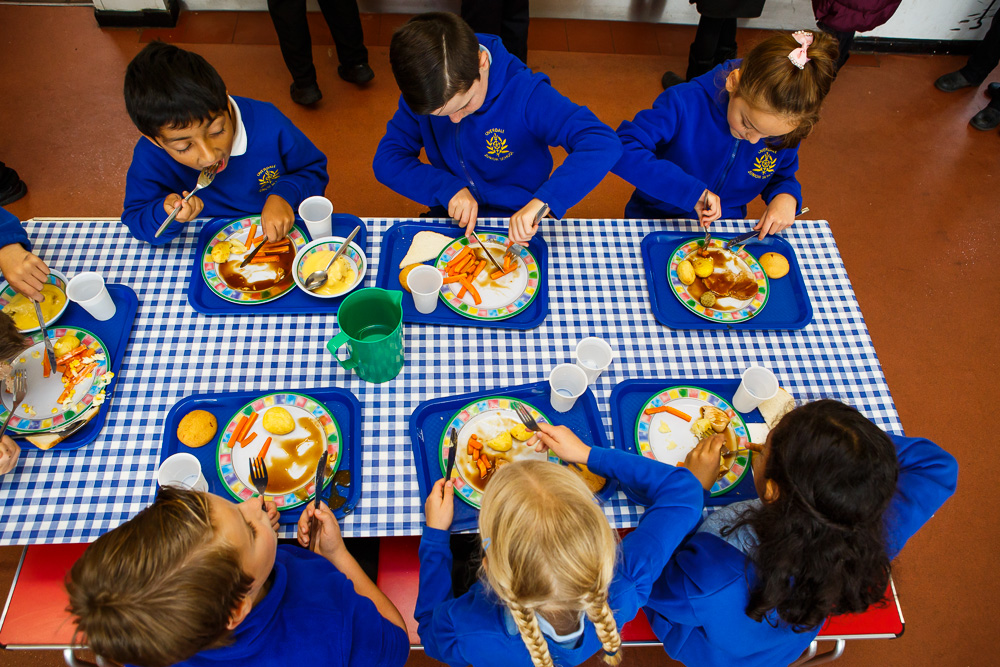 School meals are an important part of the school day for many children, and in particular for children who are experiencing household food insecurity for whom a school meal might be the only nutritionally balanced meal that they receive that day.
Whilst there could be a need for school closures in order to slow the spread of Coronavirus, it's critical to establish what provisions are being made to ensure that children won't be go hungry. The Government needs to do everything within its power to mitigate the effects of Coronavirus on children's nutrition.
Hunger in childhood is not just a deficit of calories, it is part of a broader denial of rights. For children household food insecurity can lead to lower educational outcomes, as well as both short term and long-term physical and mental health consequences.
We have expressed this in a series of letters written to the Chancellor of the Exchequer Rishi Sunak MP, Gavin Williamson CBE MP Secretary of State for the Department for Education, Dr Thérèse Coffey MP, Secretary of State for the Department for Work and Pensions, and Vicky Ford MP Parliamentary Under-Secretary Department for Education a coalition of charities and academics have asked for clarification on the measures in place to ensure that children do not go hungry due to any further school closures.
We are calling on cash transfers to be given directly to individuals or households as this is by far the most effective tool in order to aid families to weather the storm.
We are also asking that provisions be put in place in order to ensure that children in migrant families, including those who have No Recourse to Public Funds, are able to access these emergency funds.
Kath Dalmeny, chief executive of the food charity Sustain, said: "About 1.5 million children across the UK are currently eligible for free school meals due to families living on a very low income. If schools shut to prevent the spread of Coronavirus, their families will struggle to be able to afford to feed their children at home, and will not be able to stockpile food supplies if they are self-isolating. Food banks are already at more than full stretch, so cannot be expected to meet increased need. The Government must immediately make it clear how they will help the poorest families by making sufficient emergency funds readily available for people to be able to buy food if the impacts of Coronavirus disrupt food supplies and prices."
Sabine Goodwin, Coordinator of the Independent Food Aid Network said "Food aid providers run precarious operations largely dependent on often retirement age volunteers and food donations. Their capacity is likely to be severely impacted by the spread of Coronavirus with the likelihood of staff shortages, drops in donations and venue closures. Our members are already reporting fewer donations, not being able to purchase essential items because of panic-buying as well as rationing to prepare for what lies ahead. This crisis shines a spotlight on the fragility of the incredible organisations supporting those on low or no income and above all on the need for long-term systemic change."
Anna Taylor, Executive Director of the Food Foundation, said: 1.5 million children depend on school meals for nourishment. These children are from the poorest homes in the country. Parents and children alike tell us how much they rely on this meal for vital sustenance. Special measures must be put in place to support these children and their families in the event of school closures.
Alison Peyton, Foodbank Manager - Readifood in Reading which relies on a team of 40 people to operate: "The impact of school closures cannot be underestimated. We can only anticipate the surge in demand we usually experience in the school holidays when families are unable to rely on school meals. Except this time children may well not be able to access the holiday clubs and activities which normally supplement food provision because of the risk of infection. What's more we rely on a core team of volunteers and staff some of whom will need to stay at home to care for children and grandchildren. It is an unknown how we would manage with fewer resources and increased demand. Once again with those on lower incomes being hardest hit."
Eve Dickson Project 17 'Destitute families with no recourse to public funds have no welfare safety net to fall back on. School closures and other preventative measures are likely to put additional strain on families who are already facing extreme poverty. Support networks will be more quickly exhausted, single parents may be unable to work, and supporting organisations may close or be at reduced capacity. As a result, there will be an increase in homelessness, hunger and health issues amongst these families.'
Signatories to the letters: Kath Dalmeny, CEO of Sustain: the Alliance for Better Food and Farming; Anna Taylor, Executive Director of the Food Foundation; Niall Cooper, Church Action on Poverty; Dr Rachel Loopstra, King's College London; Alex Cunningham, Magic Breakfast; Sabine Goodwin, Independent Food Aid Network; Barbara Crowther, Children's Food Campaign; Eve Dickinson, Project 17; Caroline Bovey BEM RD chair of the British Dietary Association; Imogen Richmond-Bishop, Right to Food Campaign; Deidre Woods, co-founder Granville Community Kitchen; Helen Crawley, First Steps Nutrition; Victoria Williams, Food Matters; Ben Pearson, Church Action on Poverty; Kerry Melville, Belfast Food Network; Dr Kayleigh Garthwaite, University of Birmingham; Clara Widdison, Kitchen Social; Rob Percival, Soil Association; Emily Fay, Shropshire Food Poverty Alliance; Stephanie Woods, School Food Matters; Jamie Burton, Just Fair; Kartik Raj, Human Rights Watch.
What we're fighting for 2023
Support our work
Your donation will help communities identify ways to alleviate food poverty and increase access to healthy food.