To mark the launch of the long-awaited EURO 2020 tournament, Food Active and the Children's Food Campaign have teamed up with a new survey to hear what parents think about the marketing of less healthy food and drink through sport.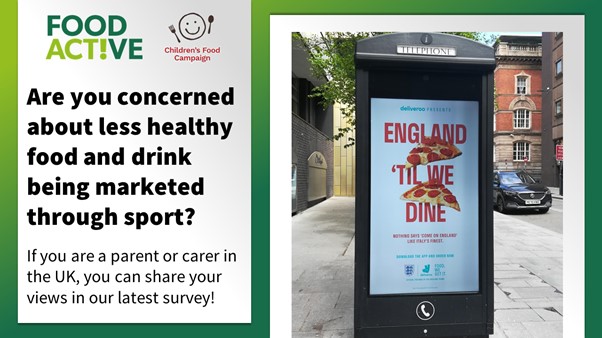 Photo: Food Active
As EURO 2020 finally kicks off on 11 June, so has a massive sponsorship campaign with Coca Cola. A Summer of Sport-themed junk food promotions are popping up everywhere, and that's no PringoooalsTM joke. Whether it's Salt and Lineker flavour Walkers' crisps at the UEFA Champions League or Peter Crouch sitting on a Just Eat delivery bike, McDonalds adverts splashed across the Olympic swimming and tracks, or cricket teams dressed as KP Snack packets for England Cricket Board's new family-friendly tournament The Hundred, the race to use sport to sell us more unhealthy food is definitely on.
That's why Children's Food Campaign has teamed up with Food Active to find out parents' views on the marketing of less healthy food and drink through sport.
This summer features a plethora of exciting sporting events, many of which have been postponed from last year as a result of the Covid-19 pandemic including the EUROs, Wimbledon, The Hundred and the Tokyo 2020 Olympics and Paralympics. A significant proportion of viewers sat on the edge of their seats waiting to digest elite sport are children and young people. But with less healthy food and drink partnerships peppering almost every sporting occasion, what should be an opportunity to promote health, wellbeing and physical activity becomes instead a huge marketing vehicle for a huge range of energy dense, ultra-processed food and drink with very low nutritional value.
Whilst the Government is about to regulate on other junk food marketing on TV, online and promotional displays in our supermarkets, none of the regulations will cover sports sponsorship of the same high profile, regularly televised sports from pitch side banners, television adverts, shirt sponsorship and celebrity ambassadors, to on-pack competitions to win tickets or meet players, and even sponsoring children's sticker book collections.
Parents, carers, and guardians – we want to hear what YOU think!
Food Active and the Children's Food Campaign have teamed up and want to find out what UK parents, carers, and guardians (specifically those with children aged 4-16) think about this type of marketing, whether it creates issues for them and whether they think there should be any restrictions in place to control this type of marketing. The survey opens on Friday 11th June and will close on Sunday 5th September. The findings of the survey will be used to inform a report, which will be published on respective websites (all answers will remain anonymous).
Parents and their families do not have to watch sport to take part – we are still interested to hear your thoughts on whether they see this as an issue and the impact on children and young people more generally.
The survey should take around 10-15 minutes to complete and those who submit a survey response by Sunday 5th September will be entered into an exciting prize draw to win a Love2Shop voucher - which can be redeemed in over 20,000 stores, restaurants, and attractions! There is one chance to win £50 Love2Shop voucher, 5 chances to win a £20 voucher and 5 chances to win a £10 voucher. UK residents only.
If you have children, tell us what you think!
If you have any questions about the survey, please email info@foodactive.org.uk
Why do we care?
By partnering with sports organisations, we are concerned that high fat, salt and/or sugar (HFSS) brands are attempting to associate less products with a healthy and active lifestyle, thereby avoiding public and media scrutiny over their contribution to overweight and obesity.
There's clear evidence that repeat brand exposure for less healthy food and drink brands contributes to the 'obesogenic' environment, fostering emotional connections to create brand loyalty, and encouraging the purchase of less healthy food and drink[i],[ii].
Although the UK Government are taking action on HFSS marketing to children and young people, including a 9pm watershed on TV and total online restrictions[iii], marketing and sponsorship via sport has flown largely under the radar. However, at a recent Gresham College Lecture, Chief Medical Officer Chris Whitty suggested that it is was 'unhelpful' to associate 'calorie-dense' with sport – particularly for children and young people [iv].
Summer of Sport or #SummerOfJunkFoodAds? Tag us with your own pics!
We're also encouraging anyone to tweet/tag us in photos of junk food brands using sport to market their products! Keep an eye out on TV, in social media, on the street and in the shops on food and drink packaging, and help us to collect as much evidence we can over the Summer of Sport.
Make sure you tag us at @food_active @childrensfood (Twitter) or @foodactiveheg @childrensfood on Facebook, and use the hashtag #SummerOfJunkFoodAds
---
Published 14 Jun 2021
Children's Food Campaign: Better food and food teaching for children in schools, and protection of children from junk food marketing are the aims of Sustain's high-profile Children's Food Campaign. We also want clear food labelling that can be understood by everyone, including children.
Support our campaign
Your donation will help us champion children's rights, parent power and government action to improve the food environment children grow up in.