Environment Secretary was interviewed on the Today programme this morning. He insisted the UK would maintain a ban on chlorine-washed chicken and hormone beef, but then left the way open for them by saying WTO rules meant we had to consider them.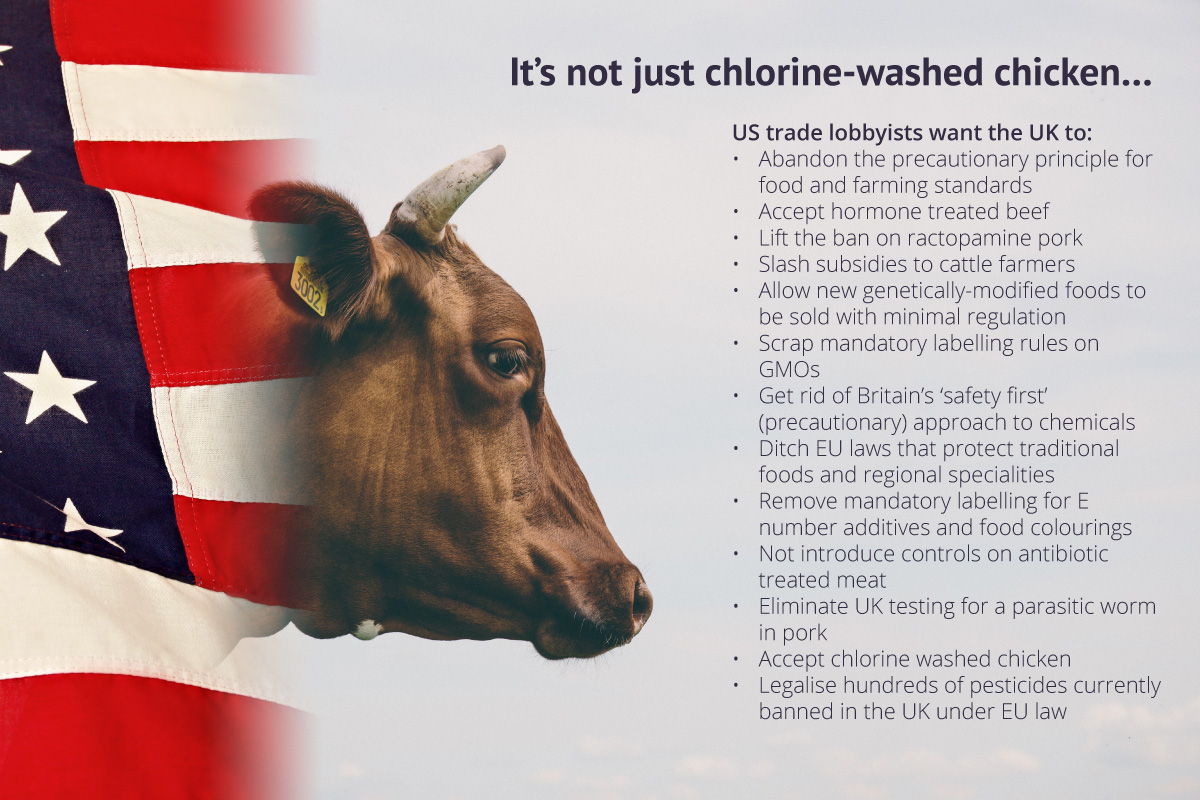 Sustain
Kath Dalmeny, chief executive of Sustain said, "Mr Eustice appears to hold two entirely opposing views at the same time. On the one hand he claims that our ban on chlorine washed chicken and hormone beef will remain. On the other, he says that trading under WTO rules means we have to consider them. So who gets to decide? Given the lack of public and parliamentary involvement in the current trade talks, it's certainly not us."
"Millions of consumers have signed petitions saying they don't want these low standard, low welfare products. Government needs to come clean about how it intends to keep its promises that these products won't make their way on to our plates."
Transcript of Today programme interview with George Eustice
Friday 26 June 2020
Mishal Hussein: On your own brief and particularly the concerns for farmers of what a US trade deal might mean in terms of food imports to this country. Could you assure farmers that chlorine washed chicken or hormone fed beef will never be allowed into the country and sold here under a US trade deal?
George Eustice: We've got a very clear commitment in our manifesto that yes we want more trade agreements and we want more of our trade covered by a free trade agreement but we're absolutely clear that we will not put at risk our high food standards both on food safety but also on animal welfare. And we're absolutely clear about that and in the negotiations that have just started with the United States, we will be setting out our proposals to ensure…
Mr Eustice, you are using this term, we will 'We will not lower our food standards', that is the way that repeatedly government ministers, Liz Truss primarily, has put this forward, that is not the same as an assurance that chlorine treated or hormone-treated beef will not come here from the United states. Can you give farmers that assurance?
GE: Well, I can, because there's a prohibition on the sale of poultry treated with chlorine washes or other Pathogen Reduction Treatments and there is a prohibition on sale of any beef or other meat that contains hormones. We already have that in our domestic legislation.
MH: And that would apply to any American product coming in?
GE: It applies to any product coming in from any other country in the world so we would also clear that we will decide what goes into the SPS chapter, the Sanitary and Phytosanitary chapter dealing with…
MH: That probably means goodbye to a US trade deal because the Americans have made it very clear that agriculture is vital to them as part of that
GE: The Americans have made it clear that having access to agriculture will be important for them but of course around 70% of agricultural products that the US produces in crops the UK doesn't even produce where it will be relatively straightforward for us to have a discussion and some of these other more contentious areas, the US don't really use chlorine washes some of them use others such as lactic acid, but that would also be prohibited. The United States produces food for other markets around the world, including places like China, and they've accepted restrictions put on them through the SPS chapter.
MH: Just to be clear because you've mentioned UK law. Can you also guarantee that UK law won't change that, that prohibition won't be amended?
GE: I can't bind the hands of any future Government.
MH: What about this Government?
GE: This Government is clear, we're the ones that have brought across the prohibition on the use of washes such as chlorine and hormones in beef and we won't change that. But one final thing that we have to understand, every country in the world, including the European Union, including the UK when it was a part of the European Union and when it comes out, has to, under WTO rules, have open processes for assessing treatments that traders and third party countries might want to consider. So we have to be open to considering approaches that other countries might want to bring to us, but we're not under any obligation to change it."
Support our charity
Donate to enhance the health and welfare of people, animals and the planet.