In a council where only just over half (54.2%) of Year 6 pupils are a healthy weight, Luton Council takes action to champion children's health in new measures developed with Sustain, and becomes third council outside London to restrict unhealthy food advertising.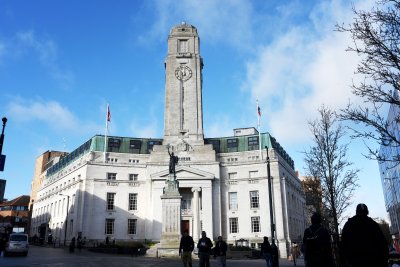 Luton town hall. Credit: Luton Council
Luton Council in the East of England has become the latest local authority to restrict unhealthy food and drinks adverts in their area. The measures, developed in collaboration with Sustain, have been introduced to protect local adult and children's health and will be in place across all of their advertising estate.
Luton is the eighth local authority to bring in a Healthier Food Advertising Policy, after the Mayor of London, with support from Sustain, first brought in the policy across the Transport for London network in 2019. Seven other local authorities across the UK have brought in a policy: Haringey, Southwark, Merton, Greenwich, Bristol, Barnsley and Tower Hamlets.
Evidence from the London School of Hygiene and Tropical Medicine's evaluation of the Transport for London policy has shown that the restrictions led to a 20% reduction in sugary products, and a 1000 calorie decrease per week per household from unhealthy foods and drinks. Further modelling research from the University of Sheffield has estimated that across London, the restriction will lead to 95,000 fewer cases of obesity, 3000 fewer cases of diabetes and 2000 fewer cases of heart disease and save the NHS £218million over the lifetime of the current population.
Transport for London also announced that their advertising revenues have been unaffected by the restrictions since implementation in 2019. In the first year of the policy, revenues went up by £2.3 million, and in the second year (2020-21), despite financial losses due to Covid lockdowns at the time, the restrictions enabled the advertising figures to be maintained.
Fran Bernhardt, Sustain said:
"We're delighted to have worked with Luton Council on this policy. At a time when our national government is repeatedly failing children and adults by stalling on important health measures, Luton council has stood up to the food and drinks industry on behalf of all their residents. We know that those living in the most deprived areas are most affected by unhealthy food advertising, and most at risk from diet related diseases. So by removing the spotlight from unhealthy foods, Luton is supporting their local area to level up. Huge congratulations to Luton! You will inspire many others to follow suit."
Sally Cartwright, Luton Council Director of Public Health said:
"We want everyone in Luton to have the best possible chance of living a healthy life. This new policy is just one example of what we're doing to make it easier to be healthy. We'll be working collaboratively with businesses to make sure that they can advertise healthy food and drink on council-owned advertising."
Councillor Khtija Malik, portfolio holder for Public Health said:
"We know that the reasons why people eat unhealthy foods high in fat, salt and sugar (HFSS) are complex, and more recently eating habits have moved towards convenience foods that are easy to prepare. However, the consequences of consuming these type of products are severe, especially in children, and can include increased risk of type 2 diabetes, high blood pressure, obesity and cardiovascular disease. Therefore to protect children and adults, we must do what we can to reduce their exposure to unhealthy food and drinks advertising. The Luton Healthier Food and Drink Advertising Policy will contribute to the council's 2040 vision to improve the health outcomes for our residents."
While local authorities are taking action, national government has proactively stalled on anti-obesity measures. Laws to restrict unhealthy food adverts have been paused, despite being a key part of the government's own obesity strategy. National Government committed to a total online ban and 9pm TV watershed restriction of unhealthy food advertising. However, they have failed to see these policies commence. Under Rishi Sunak's government, they were delayed by a further 2 years in December 2022, a delay which pushes them back three years after the date they originally committed to. This comes after the Obesity Health Alliance's research found that 8 out of 10 adults support the Government restricting unhealthy food advertising to children on TV (79%) and online (81%). Most recently, the national government has also introduced a further 2 year delay to restrictions on multibuy promotions. These promotions lead to 22% more spending on unhealthy food and drinks, so this policy would have supported more people from being flooded with unhealthy food and drinks and be in a better position to put healthy food on the dinner table. A particularly pressing concern during the Cost of Living Crisis which has seen staggering numbers of people unable to afford healthy food.
Katharine Jenner, The Obesity Health Alliance said:
"In response to growing levels of dietary-related ill health, and in the absence of national action, it is great to see Luton taking an innovative and bold approach to help support their community to achieve and maintain a healthy weight. Unlike our leaders in government, leaders in Luton are putting themselves at the heart of positively influencing people's health, serving all generations for a healthier, happier population. Our recent YouGov polling showed that 76% of the UK population think councils should be able to restrict unhealthy food and drinks advertising where children congregate, and this support was felt all over the country and for voters of all national parties."
Featured in the press
---
BBC
High obesity town in council building junk food ad ban
Fran Bernhardt, children's food campaign coordinator comments.
3 Aug 2023 | Visit
Luton Today
Luton Council launches policy to restrict advertising of high fat and sugary foods
Fran Bernhardt, Children's Food Campaign Coordinator, Sustain comments.
2 Aug 2023 | Visit
The Grocer
Luton becomes eighth local authority to ban HFSS ads
Fran Bernhardt, children's food co-ordinator at Sustain comments.
2 Aug 2023 | Visit
Support our campaign
Your donation will help us champion children's rights, parent power and government action to improve the food environment children grow up in.