Bridging the Gap harnesses big food ideas in Cardiff
Working with Watch-Africa, Sustain's Bridging the Gap team and Food Sense Wales kicked off an energising Big Ideas workshop attended by 15 people living in and around Cardiff.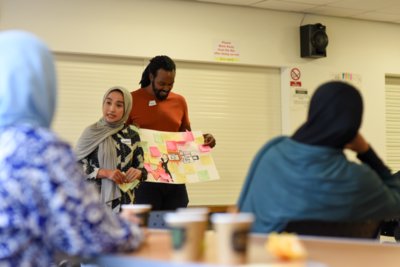 Cardiff Big Ideas Workshop. Credit: Nelly Ating
Across two days local people, farmers, market managers and dietitians worked together to come up with 'big ideas' that could be piloted in Cardiff to help bridge the gap between people on a low income and climate and nature friendly food.
The event, which took place at Butetown Community Centre on 5-6 July, set out to design one of the early stage pilots for the Bridging the Gap programme, with a focus on one of our six approaches to bridge the gap between people on low incomes and climate and nature friendly food.
From the perspective of those eating the food, Sharifah, who lives in Cardiff said "I don't really buy too much organic to be honest with you but I want to do more and just thought maybe this will be a step for me to really understand the issues around organic produce and the importance of actually having it as a reality in our everyday lives".
By the end of the workshop she felt inspired to see the ideas put into action, adding "we have to start, so that the next generation can continue".
The Big Ideas Workshop was designed by the team as a fast and effective way to create solutions to big challenges, and to support a group of people to develop and test the ideas. The ideas were focused on ways to help families living on a tight budget, who come from ethnically diverse communities, living in Cardiff to purchase locally and sustainably grown, organic vegetables that are appropriate to their culture. They included things like a digital reward system to incentivise everyone to buy organic, rewarding those on lower incomes more highly, and creating more accessible places to buy organic and culturally relevant fruit and vegetables in the city.
Sophie, one of the farmers said, "It's been incredible to be in such a big diverse group of people". She reflected that the workshop had made her think about what she grows, adding that she'd been "hearing a lot about different vegetables that I know can grow here but didn't realise there was demand for them".
Following this workshop, the team will explore further the ideas that emerged and developing them into pilots projects working closely with partners in the area. Find out more in this blog from our partners at Food Sense Wales.
Follow the development of this and other pilots through our regular newletters or follow us on Twitter.
Read more about Bridging the Gap's six approaches in our latest blog
Support our charity
Donate to enhance the health and welfare of people, animals and the planet.