Government launches its Trade and Agriculture Commission
The Government has today announced the scope and membership of its proposed Trade and Agriculture Commission. It will be chaired by Tim Smith, Ex Tesco Technical Director and formerly of the Food Standards Agency and includes farmers unions, the British Retail Consortium, UK Hospitality and Food and Drink Federation.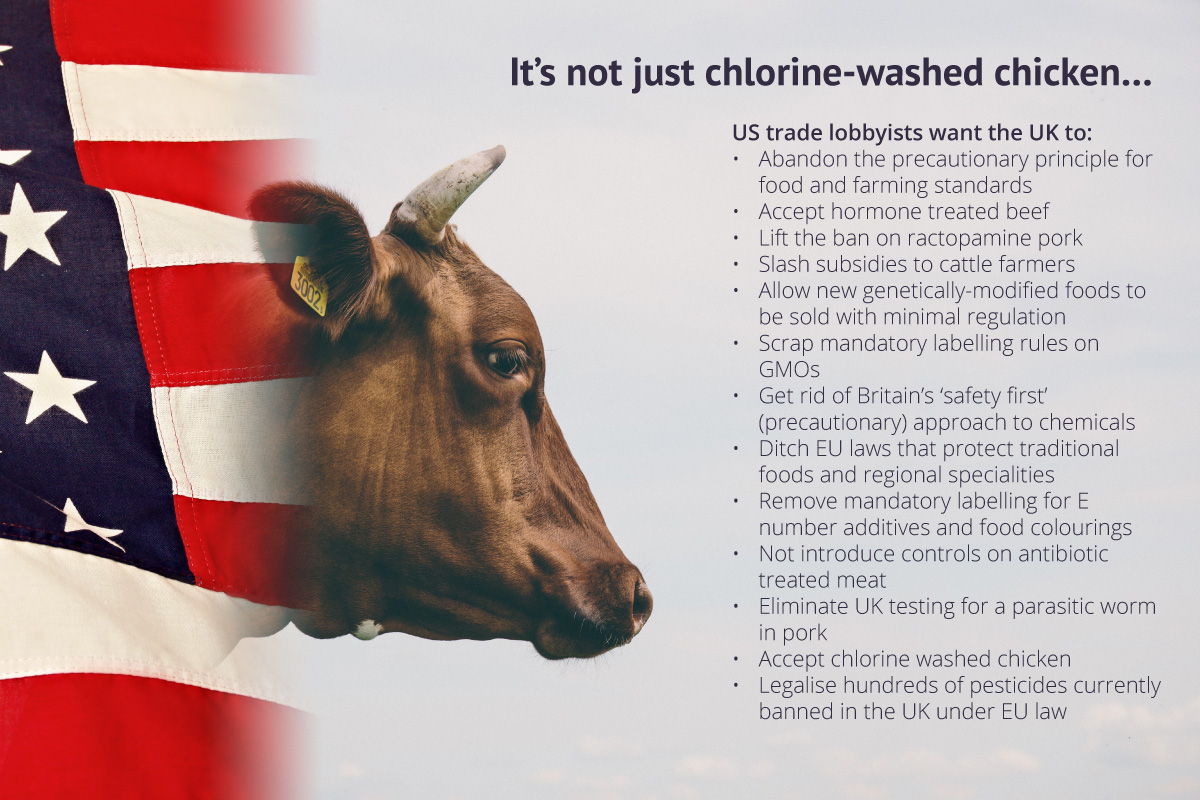 Sustain
It will last for six months, report to the Secretary of State for International Trade and submit an advisory report at the end of its work which will be presented to Parliament by the Department for International Trade.
Alarmingly, there are no consumer representatives, animal welfare experts or environmental NGOs.
Kath Dalmeny, chief executive of Sustain said:
"We're currently protected by bans on low standard food and unethical farming practices and the British public has made it abundantly clear they don't want that changed. But now they're being fobbed off with a temporary, toothless Trade Commission with no powers."
"This Commission is stacked with industry representatives and no serious health, environment or consumer champions. There is no guarantee that anyone will even listen to their recommendations."
"Government is conducting trade negotiations in secret and refuses to protect our food and farming standards in law. It says this Commission will report back in six months, which is after the first trade deals are due to be signed. This is not good enough - our food, farming and environmental standards are at stake."
The Commission was the brainchild of the National Farmers Union, and was accepted by Government after more than 1 million people signed the NFU's petition calling on the government to protect food standards. If you are not convinced the Trade and Agriculture Commission will protect your food standards, you could sign the Which? petition to protect food standards here
This is what the government says is in the scope of the Commission.
Trade policies the Government should adopt to secure opportunities for UK farmers, while ensuring the sector remains competitive and that animal welfare and environmental standards in food production are not undermined.
Advancing and protecting British consumer interests and those of developing countries.
How the UK engages the WTO to build a coalition that helps advance higher animal welfare standards across the world.
Developing trade policy that identifies and opens up new export opportunities for the UK agricultural industry – in particular for SMEs – and that benefits the UK economy as a whole.
Support our charity
Donate to enhance the health and welfare of people, animals and the planet.