SUGAR SMART Barnet Launch highlights schools and high streets in a bid to improve youth health outcomes
Barnet Council launched their SUGAR SMART campaign on 20 January. The event brought together schools, youth projects and the borough's Mayor to celebrate successes and plan next steps ensure healthy futures for the borough's children.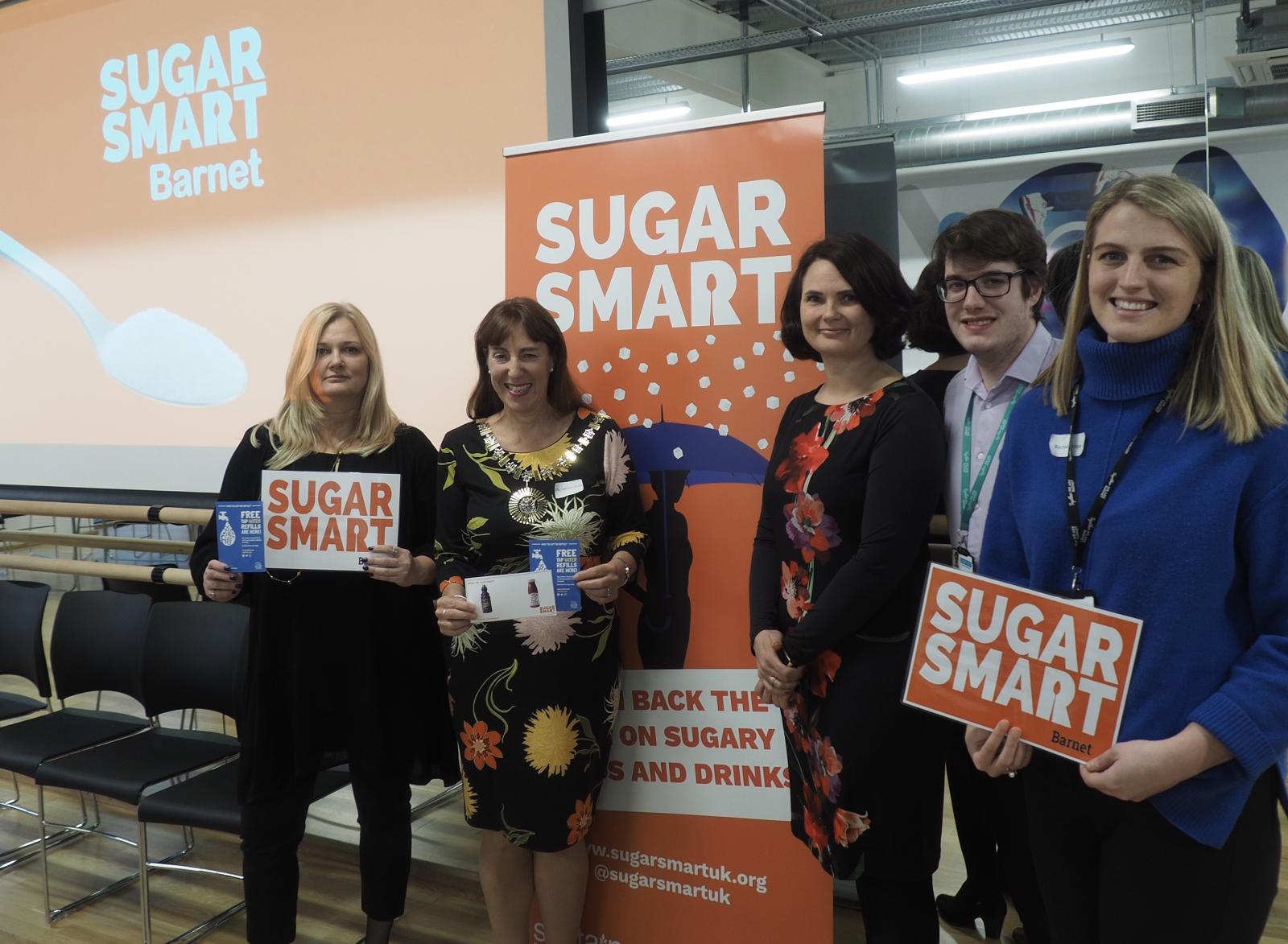 SUGAR SMART Barnet Launch Mayor Caroline Stock DpH Tamara Djuretic coordinator Rachel Hodge
Barnet Council was joined by a number of local, regional and national partners, including Refill London, ISS Education Catering and Bow Lane Dental's James Goolnik, a dentist working with London's schools and a SUGAR SMART Ambassador.
The council has launched its SUGAR SMART campaign after shocking statistics revealed that one in three children in Year 6 were either overweight or obese in 2017-18.
Councillor Caroline Stock, Chair of Barnet's Health and Wellbeing Board and the borough's Worshipful Mayor, called on a mix of personal responsibility and bold action to takle the borough's poor health outcomes. She said:
With the rise in obesity and diabetes, the launch of the SUGAR SMART campaign is really important. Sugar consumption is far too high and for a third of our primary school children to be leaving school overweight or obese is unacceptable. I encourage everyone to reduce their sugar intake.
Dr Tamara Djuretic, Director of Public Health at Barnet Council, said:
Many people are not aware how much sugar they consume every day. The SUGAR SMART campaign will help us raise awareness of "hidden sugar" in drinks and food around us. By working together across the borough, we can tackle this obesogenic environment.
Whitefiled Secondary and Trent Primary schools showcased their innovative and fun approaches to engaging children on healthy eating, and Brent's trailblazing SUGAR SMART ad campaign seen on bus shelters and busy thoroughfares was celebrated. But attendees acknowledged that much more needs to be done.
Dr Djuretic called on a social movement to improve the food environments navigated by local children and young people, including getting more businesses to sign up to the Refill scheme and more healthy affordable offerings in places frequented by young people.
All schools, workplaces, venues and organisations will be encouraged to take part in SUGAR SMART Barnet – but the primary focus will be on children aged up to 11. This will include targeting 'early years' settings, primary schools, community groups and relevant businesses such as leisure centres, sport clubs and retailers. More info on their plans can be found here.
SUGAR SMART is a campaign run by Sustain. SUGAR SMART is one of the featured campaigns in the UK's Sustainable Food Cities network.
Support our campaign
Your donation will help communities and organisations to take action to reduce the sugar we all consume.