Policies for healthy lives: a look beyond Brexit
A collection of essays has been published, curated by the Health Foundation. It features contributions from Kath Dalmeny of Sustain; Sue Davies of Which?; Councillor Richard Kemp from Liverpool; Nina Renshaw of the European Public Health Alliance; and Karen Steadman of the Work Foundation; as well as considerations for policy-makers.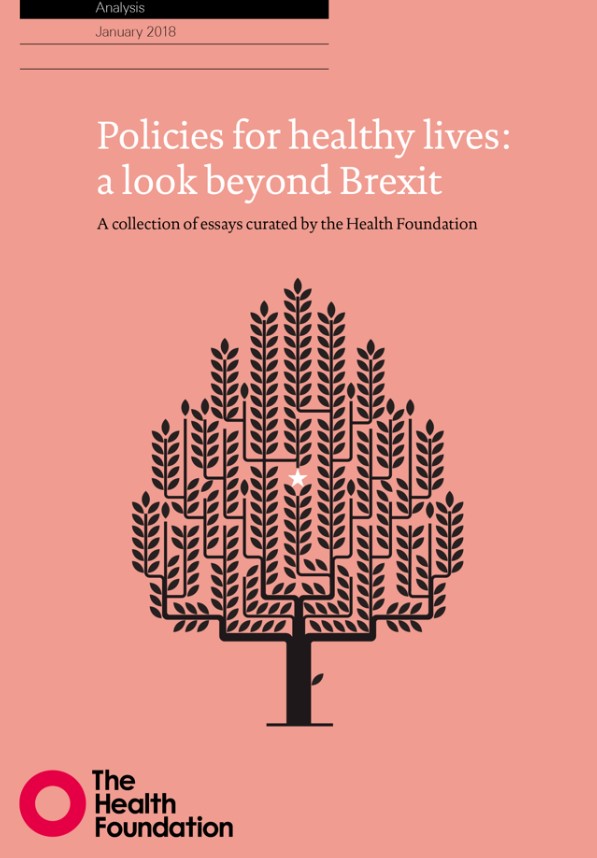 The UK's departure from the EU will have significant and wide-ranging implications for national laws and regulation, trade relationships, the movement of people and the distribution of resources.
It has been described as 'arguably the greatest peacetime challenge the UK has ever faced'. But it also represents an opportunity to work towards a more ambitious vision for future policy, legislation and regulation. Promoting a health-in-all-policies approach to post-Brexit arrangements could put centre stage the protection and promotion of the public's health.
This series of essays, curated by the Health Foundation, explores these issues. The Health Foundation invited contributors with expertise in public health, employment standards, local government, consumer rights and food policy to share their insights on the potential risks and opportunities ahead. They were asked to comment on:
the public health protections that currently flow from EU treaties, policies and institutions that would need to be secured through alternative mechanisms or approaches
whether future independence from EU institutions and European regulation presents opportunities for improving the health of people in the UK
the implications for the protection of health of new trade relationships between the UK and other countries.
Each essay explores different, and perhaps not immediately obvious, ways in which the UK's relationship with the EU influences people's health. These cover:
setting the current policy framework for food, farming and fishing
setting regulations and mechanisms that uphold employment and consumer protections
determining international trade agreements
providing structural support to disadvantaged regions
influencing the shape of the labour market.
The essay collection, coordinated by Jane Landon of the Health Foundation, features the following contributions:
Rewriting the rules for healthy food and farming policies (Kath Dalmeny, Sustain)
Putting consumers at the heart of policymaking (Sue Davies, Which?)
Rethinking funding for disadvantaged areas (Richard Kemp, Councillor, Liverpool)
Protecting health in new trade agreements (Nina Renshaw, European Public Health Alliance)
Securing jobs and working conditions after Brexit (Karen Steadman, Work Foundation)
Emerging issues: considerations for policymakers
The full collection can be downloaded here.

---
22/01/2018
Brexit
SHARE
---
Brexit: We stand at a cross-roads. When the UK leaves the European Union, will our leaders uphold good standards for our food, farming, fishing and trade deals? And will they agree a sensible deal with the EU? We need to make sure that they do!