Climate-friendly food fills 'holiday hunger' gap in Barking and Dagenham
Hundreds of children and young people in Barking and Dagenham will be able to eat and enjoy organic produce this summer during the 'holiday hunger' gap, thanks to an exciting partnership between Growing Communities and the council.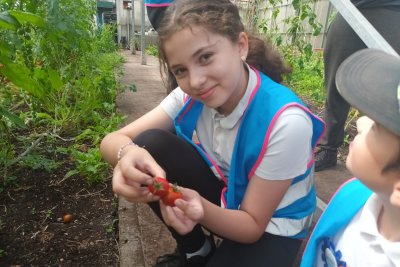 Credit: Growing Communities
Growing Communities, a social enterprise that runs an organic box scheme, market and the Better Food Shed from Barking and Dagenham, is providing fruit and veg to parents to feed 10,000 children for free during the school summer holidays. This is led by Barking and Dagenham Council as part of the Holiday and Food Programme (HAF).
"We're incredibly encouraged to see that the HAF initiative is providing organic fruit and vegetables from Growing Communities' wholesale arm Better Food Shed" explained Bridging the Gap Programme Manager Hannah Gibbs.
"Sustain believe that everyone should be able to access climate and nature friendly produce, which is why we set up the Bridging the Gap programme, so it is really encouraging to see this happen and we hope it can be built on".
UK Government does not directly fund free school meals through the summer holidays in England, but do fund HAF which provides vital support for families during the summer holidays, when children miss out on the hot meal they receive during term time. However, a review of HAF by the Mayor's Fund for London found it to be "insufficient to maintain a viable service without 'top up' funding from other sources". Read more here.
Barking and Dagenham council have taken the bold step to top up their HAF programme, through funding farm stalls with hampers supplied by Growing Communities, a partner of Sustain's Bridging the Gap. The farm stalls include "climate-friendly recipes" from charity, Made in Hackney and offer free veg hampers at every venue in the programme, which means that parents can select organic seasonal produce to take home. Julie Brown, Director of Growing Communities, celebrates the initiative saying, "it is really encouraging to see the council supporting the provision of organic fruit and veg in the HAF programme so that young people can access healthy AND climate friendly food".
Bridging the Gap, led by Sustain is focusing on six areas where there are opportunities to make climate and nature friendly food available for all, which includes public sector procurement. This initiative provides a valuable example of a local authority taking action and using public money for public goods.
If you would like to get involved in our pilot working group, or you would like to share relevant work on these six areas, contact bridgingthegap@sustainweb.org.
Support our charity
Donate to enhance the health and welfare of people, animals and the planet.