Government launches proposals to ban energy drink sales to children
Children's Food Campaign welcomes the start of the Government consultation on proposals to introduce a ban on the sale of high-sugar, high-caffeine 'energy' drinks to children, as part of Chapter Two of the Childhood Obesity Plan for Action, launched in June 2018.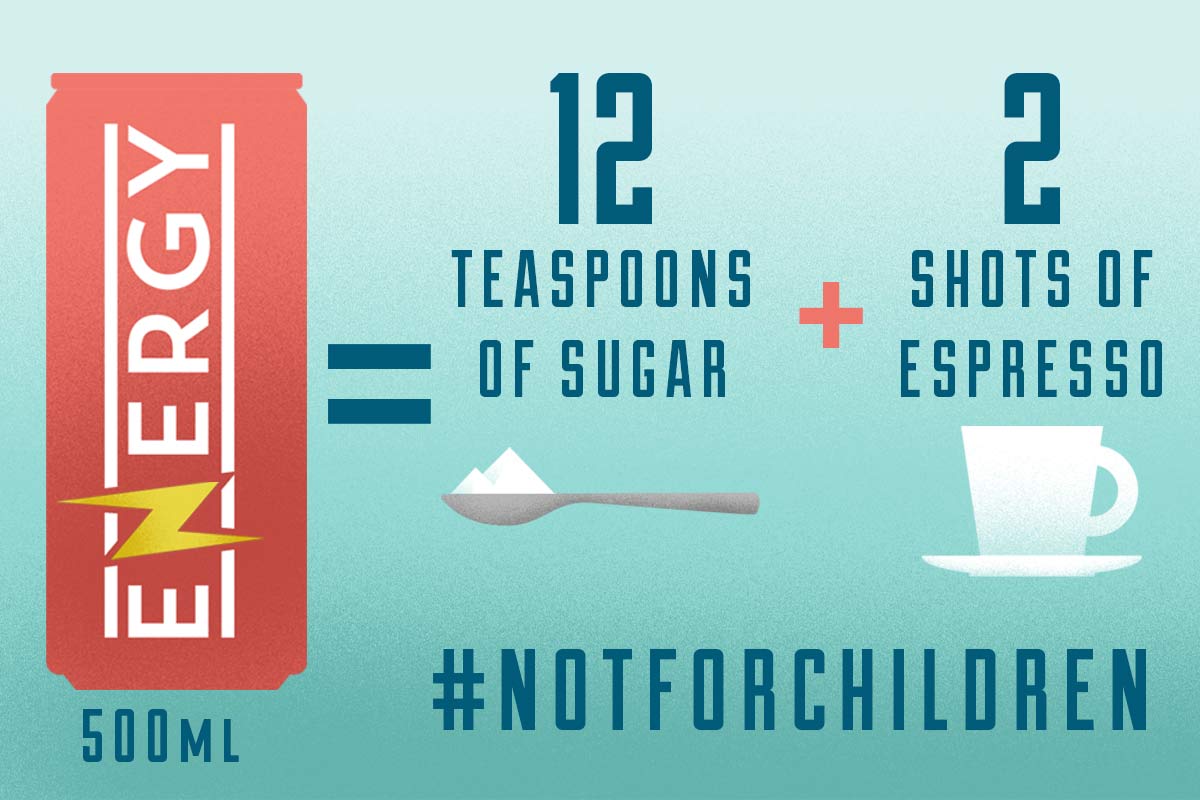 More than two thirds of UK children aged 10-17, and nearly a quarter of those aged 6-9 now consume energy drinks, which contain high levels of caffeine (more than 150mg per litre) and often high sugar content too. As well as contributing to excess weight problems and obesity, research has indicated that children consuming these drinks regularly are more likely to experience headaches, irritability, tiredness and teachers have also pointed to links with poor behavior and performance in schools.
This is why the Government has today (Thursday 30 August 2018) announced proposals to introduce a ban on the sale of energy drinks to children, with a 12-week public consultation to determine the details of the new regulation.
Children's Food Campaign Co-ordinator Barbara Crowther says,
"We welcome the Government proposals to introduce a ban on energy drinks, similar to tobacco and alcohol, to either under-16s or under-18s, as these drinks really have no place or value in children's diets. Most major supermarkets have already voluntarily stopped selling energy drinks to under-16s, but they are still widely available in convenience stores, newsagents and vending machines, so it's right that the Government should now create a level playing field for all retailers. We hope lots of children's organisations, parents, teachers, health professionals and members of the public will get behind the Government proposals – as a nation, our children's health is priceless, and should always take priority over corporate profits."
The Government consultation launched on Thursday 30 August 2018 and will continue for 12 weeks.
Members of the public and organisations can take part in the consultation here.
Read the full details of the Government energy drinks ban proposals.
Read the Food Research Collaboration's 2016 report Energy Drinks: What's the Evidence?
Read the Children's Food Campaign's assessment of the new Chapter Two of the Childhood Obesity Plan here.
Comments by members of Children's Food Campaign
Dr Kate Allen, World Cancer Research Fund (WCRF) International's Executive Director of Science & Public Affairs: "We support an energy drinks sales ban to children under the age of 18 and believe parents and the public will too. Our research shows that obesity is a cause of 12 different cancers and drinking energy drinks which are high in sugar is linked to overweight and obesity; children who are overweight or obese are more likely to be overweight or obese as adults. This ban would help create an environment for children (and their parents) to make informed, healthier choices, which will help reduce their chances of developing cancer in later life."
Prof Russell Viner, President, Royal Society for Paediatrics and Child Health: "There is no evidence that energy drinks have any nutritional value or place in the diet of children and young people. It's therefore worrying that so many young people are buying these drinks at low prices and consuming them on a regular basis. The growing market for energy drinks and potential for harm to children and young people clearly warrants further scrutiny. That's why we're pleased to see Government take action on this and other measures to tackle childhood obesity and improve children's health."
Kawther Hashem, Nutritionist & Researcher, Action on Sugar: "We are delighted that the consultation is proposing a ban that would apply to drinks that contain more than 150mg of caffeine per litre – something which Action on Sugar first called for in 2015. Although some energy drinks manufacturers have already reduced sugar to avoid the sugar tax, the huge can and bottle sizes (500ml) means youngsters are still consuming far too much unnecessary sugar and caffeine. It's clear that further reductions in both sugar and caffeine are urgently needed, and that they should get rid of large serving sizes which are completely inappropriate for children to consume, form no part of a healthy balanced diet, and should be banned for under 16s."
---
30/08/2018
Children's Food Campaign
SHARE
---
Children's Food Campaign: Better food and food teaching for children in schools, and protection of children from junk food marketing are the aims of Sustain's high-profile Children's Food Campaign. We also want clear food labelling that can be understood by everyone, including children.