Non-compliance with public sector food standards is widespread and could become a back door for low standard food in schools and hospitals, whilst trade deals bring new threats to food standards, according to the Countryfile investigation.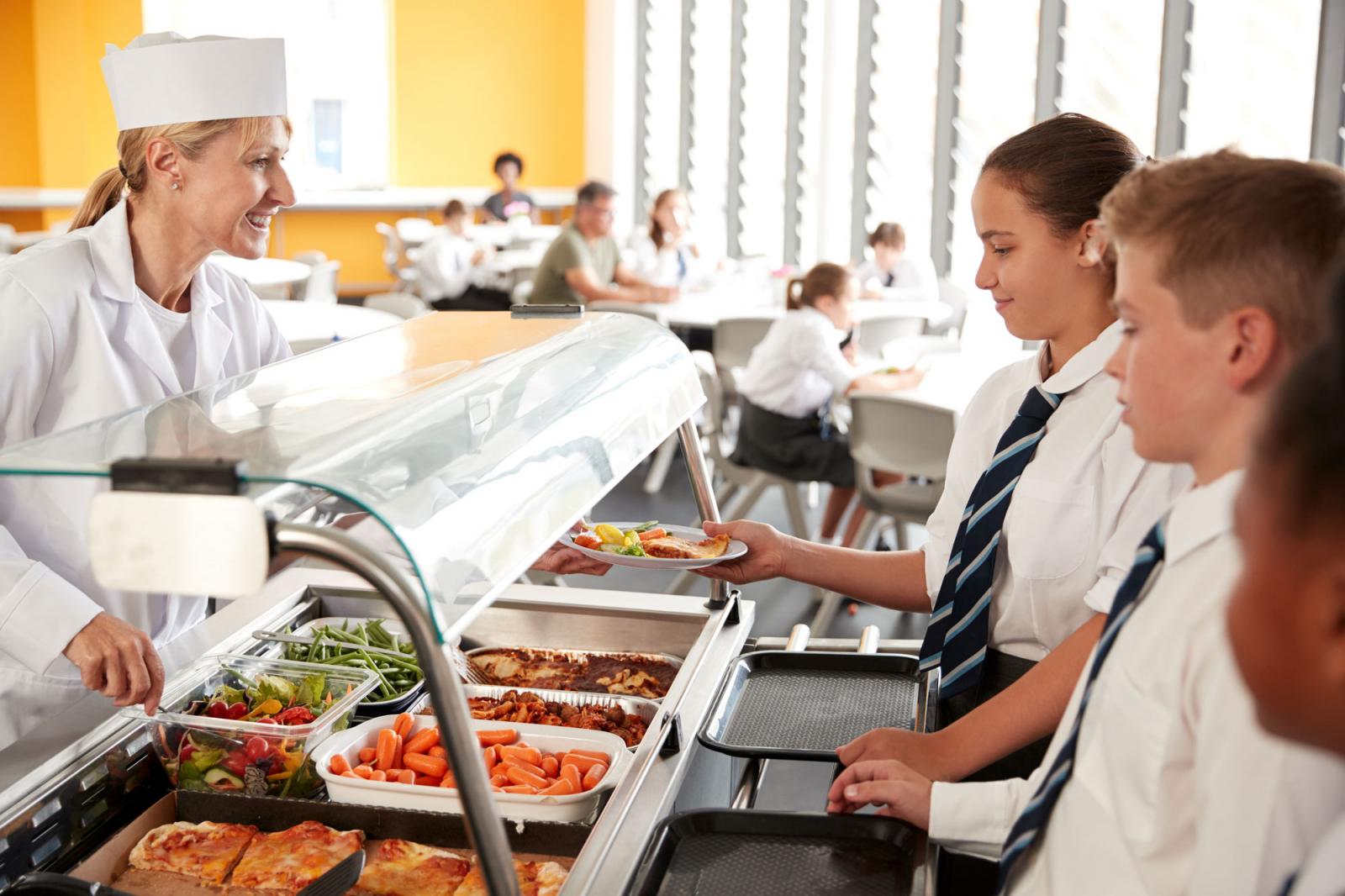 Credit: Monkey Business Images / Shutterstock
The television show broadcast on Sunday 11 April drew on evidence from the ongoing EFRA committee inquiry into public sector food, that standards are failing to deliver good food for public money, and should be improved in the upcoming National Food Strategy and government white paper response to follow.
Countryfile also highlighted the risk that food produced to poor standards – low animal welfare and high antibiotic use for example – could end up on the plates of children, hospital patients and care home residents.
Meals fall below official standards
According to rules for public sector procurement introduced in 2014, all food served in Whitehall, the armed forces, prisons, and civil servant canteens must meet UK standards for production, with higher environmental and animal welfare standards, fairly traded products, verifiably sustainable fish and must promote healthier eating. This should ensure taxpayers money is spent on better farming and fishing, protecting wildlife, and benefiting the health of people and nature.
In 2014, the same standards were written into NHS standard contracts for food served to patients and NHS staff, although several studies over the following years showed that these standards were being met only by about half of the hospitals in England. Continuing concerns led to establishment of the Hospital Food Review that reported in 2020, headed up by Prue Leith.
Unfortunately, as the Countryfile show has now highlighted, a get-out clause allows these standards to be broken where there is "a significant increase in costs which cannot reasonably be compensated for by savings elsewhere".
During the show, Defra maintained that they are "not aware" of caterers failing to meet the standards due to this get-out clause. Sustain has presented significant evidence to the contrary; from our own research, our members, and the Department of Health, but, as we note in our evidence to the EFRA enquiry, the lack of independent monitoring or reporting of standards compliance means citizens cannot be confident that public sector food meets the standards expected.
Ruth Westcott, Sustain's food and climate change coordinator at Sustain said:
"There is exceptional catering talent in the UK, with chefs delivering incredible food on absurdly low budgets. We do them and our farmers a disservice by not using school, hospital and armed-forces catering contracts to uphold high standards. Defra claims there is no recent evidence of non-conformity to standards, but that is because they haven't gone to look. It's like saying there is no evidence of people breaking the speed limit after having removed the speed cameras."
Trade deals could threaten food quality and safety in public sector food
Countryfile also discusses the risk that food of lower quality than British standards could easily end up on school and hospital plates if trade deals permit an influx of cheap, low-quality food. There are growing concerns that trade deals could permit imports of food produced with high levels of antibiotics, hormones and pesticides, and from systems with poor animal welfare and questionable food hygiene.
If trade deals allow low-quality food to be imported into the UK, public sector caterers on tight budgets could be a natural avenue for this produce, especially because several UK supermarkets have said they won't sell it. 'Trusting the consumer' to avoid low-standard food (as proposed by cabinet minister Penny Mourdant) is not viable for public sector food, where there is no labelling and hence no choice.
A spokesperson for the government sought to reassure farmers and the public that the Goverment would 'stand firm' in negotiations and ensure future trade deals live up to the values of farmers and consumers across the UK.
Kath Dalmeny, chief executive of Sustain and chair of the Future British Standards Coalition, said:
"The government have repeatedy promised not to lower food standards in trade deals but have had clear opportunities to put this commitment into law, and have deliberately refused to do so. This is despite a public petition of support with over 1 million signatures. We should all be sceptical about empty promises and the Government must guarantee legal and accountable protection of our treasured food standards to prevent them being watererd down in trade deals."
---
Support our campaign
Your donation will help us work with farmers to push for policies to support farming fit for our future.