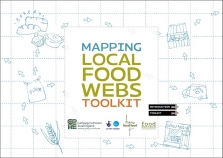 The Mapping Local Food Webs strand of the Making Local Food Work programme was coordinated by the Campaign for the Protection of Rural England, in partnership with Sustain.
This project investigated and applied different models of community mapping (originally developed by Sustain's Food Access Network) and local food web mapping, as originally instigated by Lady Caroline Cranbrook in the East of England and now advocated by CPRE in their local food campaign.
An evaluation partner worked with the project throughout, to assess the different models and their application, and to develop training materials for further work. CPRE recruited trainers and volunteers around the country to undertake extensive mapping work, to help understand the role of food in building local economic resilience. This resulted in several detailed local area reports, and a Mapping Local Food Webs Toolkit, published by CPRE.
The Mapping Local Food Webs Toolkit was developed by the food policy and advocacy organisation Food Matters, a member of Sustain, which works to create sustainable and fair food systems.
Share
Get updates
Making Local Food Work: Making Local Food Work aimed to reconnect people and land through local food by increasing access to fresh, healthy, local food with clear, traceable origins.
Menu
Support our charity
Donate to enhance the health and welfare of people, animals and the planet.