An event for community food growing projects looking to trade their produce
Overview
The event was organised by Local Action on Food on 17th March 2011 and provided advice for projects keen to trade their wares, generate valuable income and get an introduction to social enterprise.
Growing your own business underlined that getting to grips with the realities of this new way of thinking about trading for food projects can be challenging. Key lessons learned from the day included: the importance of being both bold and diverse; understanding the competition; taking control over finance and shaping decisions that are realistic; creating fruitful relations with customers and understanding what they want; and having the right people involved in the project, deciding who should do what, and achieving a good balance of skills.
Additional support
To complement this event, Local Action on Food has launched 'A Growing Trade', a report packed with information for community food-growing groups that are looking to trade their produce.
In London, support is also available through London Food Link to connect urban food-growing spaces with a range of outlets to sell produce to, including restaurants, markets and retailers. Contact emily@sustainweb.org or eloise@sustainweb.org for more information.
The Growing Your Own Business event was organised in partnership with the Making Local Food Work programme. The Enterprise Support strand of this programme offers free business advice and a range of information to support community-led enterprises.
---
Themes, presentations and speakers
Introductory session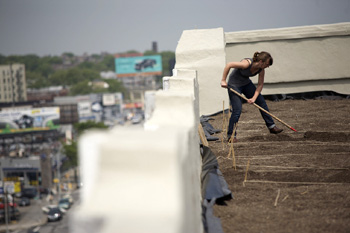 Tales from New York - A look at the impact of Brooklyn Grange Farm trading urban produce
Polly Higginson with a special thanks to Alex Payne and Anastasia Cole in New York
Brooklyn Grange Farm is a commercial urban agriculture project on a rooftop in New York that sells produce through a range of different outlets. The enterprise employs a grower and invites members of the local community to volunteer. The project sells niche crops to local restaurants in New York and also operates a Community Supported Agriculture scheme for local people to get weekly seasonal produce.
Small is Successful: The economic viability of small scale food enterprises
Rebecca Loughton, The Ecological Land Co-operative
The Ecological Land Cooperative has been set up to buy land that has been, or is at risk of being, intensively managed and to lease it to people that have the skills to manage it ecologically and would not otherwise be able to afford do so. It recently released a report: Small is Successful – Creating Sustainable Livelihoods on Ten Acres of Less and Rebecca presented a summary:
Background
The report was prompted in response to scepticism that smallholdings of 10 acres or less could be financially viable and sustainable. Eight small holdings of 10 acres or less are used as case studies to provide an insight into the aptitude, passion and enterprise required to make a small farm succeed. Whilst the incomes generated would be described as modest, none of the smallholdings receive subsidies, and the income examined in the report does not include income from non-agricultural activities
Key points
The land, or the size of the plot, is not the most important aspect of a successful smallholding. Hard work and vision are of greater importance.
Ten acres or less can provide economically viable, highly sustainable livelihoods
Small-scale livelihoods can increase the productivity of marginal land (high elevations, north facing aspects and/or exposed, denuded and compacted soils)
The range of enterprises capable of supporting low acreage livelihoods is diverse and growing
Livelihoods follow a low and slow development trajectory and often mix and match different enterprise options
Adding value, through some form of processing or direct marketing, brings viability to low acreage livelihoods
Attention to detail is a key asset. A small acreage brings the benefit of being able to focus more attention per unit area of land, to maximise its productivity and profitability
Horticulture is generally more suited to low acreage livelihoods than livestock
High property prices and the planning system are the greatest barriers to growth in this sector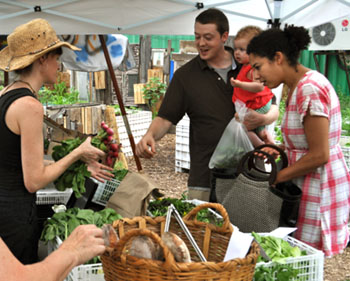 An introduction to business planning
Richard Snow, Enterprise Support, Making Local Food Work
Business planning requires responsibility for more than yourself and it implicates others. For this reason it should be thorough and truthful.
Business Planning and your Business Plan. The document is useful and of interest to supporters and investors
Cash flow forecasts, a necessary part of the business plan, are useful for measuring and analysing your performance
Business planning requires that you ask the right sorts of questions. A lot of business plan templates will have a long list of irrelevant questions for your business.
---

Attendees spent the rest of the day in a series of issue specific workshops. The morning workshops focused on issues around establishing a community food enterprise and the afternoon sessions revolved around looking at issues unique to community food growing.
Morning workshops (led by Making Local Food Work Enterprise Support consultants)
People and structure, led by Simon Michaels, F3
In this workshop the focus was on governing and legal structure issues that a community enterprise should consider.
Download presentation [110 kb PDF]
Marketing your enterprise and becoming sustainable, led by Hayley Elston, Sol Food
This workshop focused on finding a suitable market and thinking about how to target it effectively.
Download presentation [370 kb PDF]
Managing your finances, Maurice McCartney, Fresh Management Solutions
Fresh Management Solutions is a business development consultancy offering advice, training and project management to businesses and the public sector. The objective of the workshop was to demystify finance, highlight relevant issues and provide practical advice to help with decision making.
Download presentation [240 kb PDF]

---
Afternoon workshops
Community and commercial investment in your enterprise, led by Maresa Bossano, the Food Co-ops Campaign, Sally Curzon and Tamsyn Widdon, Stroudco , Andrew Thornton and Azul-Valerie Thome from Food from the Sky.
This session heard from projects that had raised income to support their enterprise through the local community or through a unique relationship with a local business.
Commercial urban growing, led by Rob Alderson, The Glazebury project , Joel Brook, Earth Ark
This workshop heard about issues around commercial growing on different scales and looked at the help available to support growers.
People Power: Volunteers jobs and training, led by Ida Fabrizio, Growing Communities, Linda Philips, Roots and Shoots
This session looked at how to manage volunteers as part of an enterprise, formal apprentice schemes and the potentials to create jobs.
Meet the buyer/Local trading logistics, Abi Anderson, The Rambling Restaurant, Alan Creedale, Dig Food
This workshop heard from a number of different buyers that are looking to purchase produce from small scale local growers. The session also looked at some of the difficulties in delivering produce and how to overcome them.
Share
Get updates
Local Action on Food: The Local Action on Food network was run as part of the Big Lottery funded Making Local Food Work programme, 2007 to 2012. It has now closed.
Menu
Support our charity
Donate to enhance the health and welfare of people, animals and the planet.