Feeding the future
Feeding the future
Developing a resilient food system for Norwich and Norfolk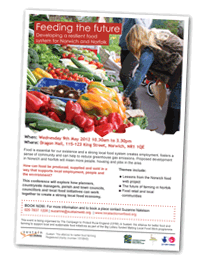 When: Wednesday 9th May 2012 10.30am to 3.30pm
Where: Dragon Hall, 115-123 King Street, Norwich, NR1 1QE
Food is essential for our existence and a strong local food system creates employment, fosters a sense of community and can help to reduce greenhouse gas emissions. Proposed development in Norwich and Norfolk will mean more people, housing and jobs in the area.
How can food be produced, supplied and sold in a way that supports local employment, people and the environment?
This conference will explore how planners, countryside managers, parish and town councils, councillors and local food initiatives can work together to create a strong local food economy.
Themes include:
Lessons from the Norwich food web project
The future of farming in Norfolk
Food retail and local communities
Booking closed
Booking for this event has now closed

This event is being organised by The Campaign to Protect Rural England (CPRE) & Sustain: the alliance for better food and farming to support local and sustainable food initiatives as part of the Big Lottery funded Making Local Food Work programme.
Support our charity
Donate to enhance the health and welfare of people, animals and the planet.