Children from Raynville Primary School, Leeds visit a local allotment
Carr Manor Primary School, Leeds hold a playground market stall for parents
Year 6 children learn how to make smoothies for the rest of the school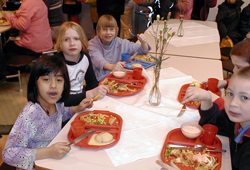 Getting fruit and veg into school dinners at Brudenell Primary School, Leeds
A special assembly - Raynville Primary school, Leeds invite in a local chef
Learning how to make vegetable soup at Beckett Park Primary School, Leeds
Grab 5! co-ordinators discuss why schools should adopt a school food policy at a Grab 5! training day in Leeds.

Serving healthy food (made by the children) to parents with the Cook au Van team at Brudenell Primary School, Leeds
Ready, steady … make a melon boat! Grab 5! assembly at St. Bartholomew's CE Primary School, Leeds
Parents, Teachers and children enjoying the Grab 5! launch day at Macaulay C of E school in Lambeth South London
All the pupils at Sudbourne school Lambeth participated in a full day of activities at their Grab 5! launch day.
Share
Get updates
Grab 5!: In June 2000, Sustain secured a grant of £650,000 from the National Lotteries Charities Board to be spread over three years, for 'a project to promote fruit and vegetables consumption amongst 7-11 year olds, with a focus on low income families'.
Menu
Support our charity
Donate to enhance the health and welfare of people, animals and the planet.