Empowering people with lived experience
Creative responses to Covid-19
Online workshops: Amplifying stories from the grassroots
Join us for an exciting series of online workshops for those with lived experience of poverty, activists and allies to learn new skills, unlock creative potential and explore different ways of amplifying stories from the grassroots.
Workshops commence on Monday 18th with food journalist and podcaster Gilly Smith, followed by sessions with Ellis Howard on creating your own work, Matt Sowerby on activism and campaigning, and Broden Salmon on film. Workshops are free and open to Food Power alliance members and partner organisations, with capacity of 25 people per session.
Find out more and book a place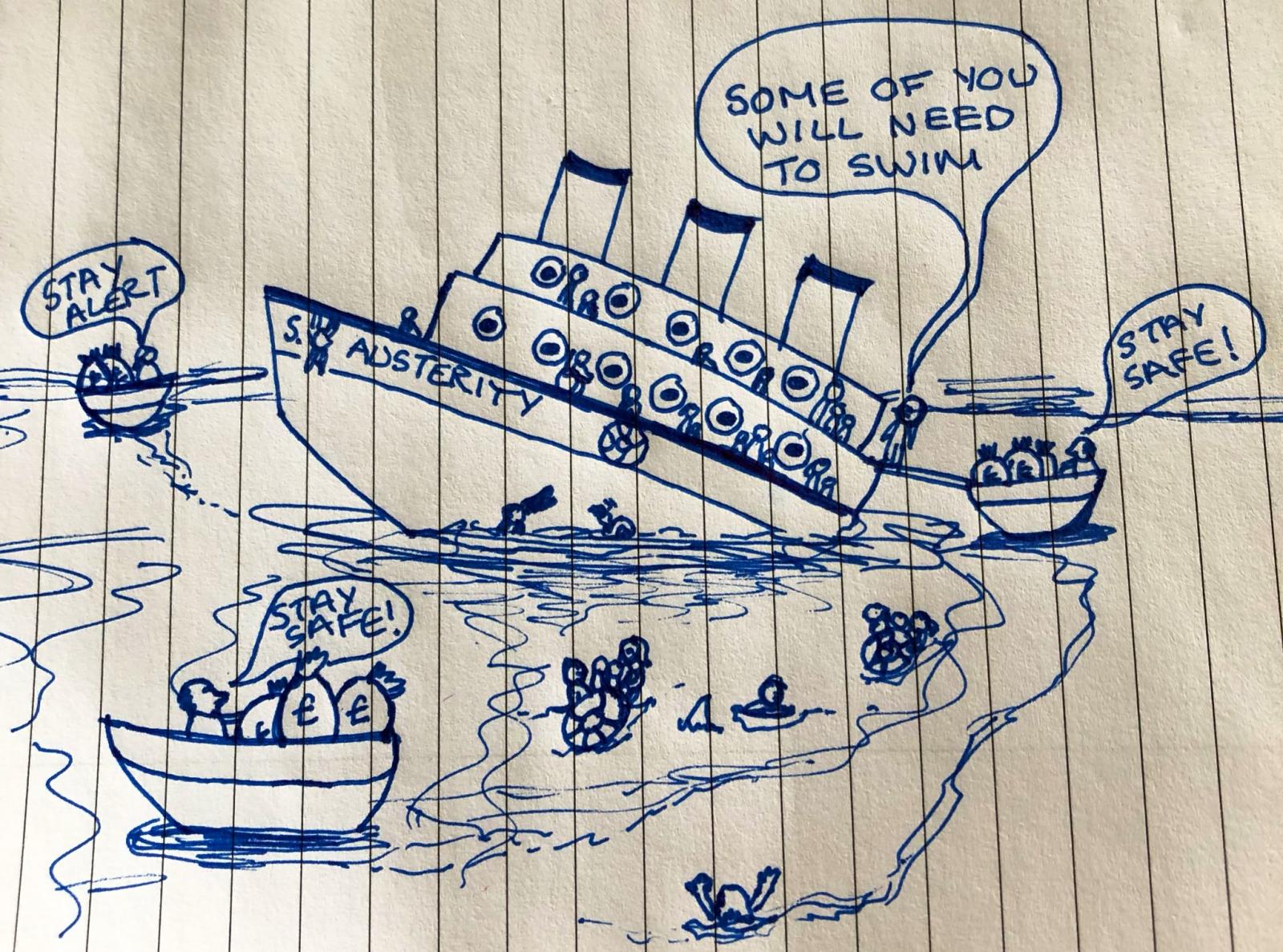 Drawing by Kathryn Cheetham, Church Action on Poverty ​​​​​​​
Participatory film: Are we all in the same boat?
We're making a short film as part of our programme's creative responses to COVID-19. We're asking the question 'Are we all in the same boat?' and we want your contributions. You can get involved by:
Sending us a short audio clip on your reflections to the question 'Are we all in the same boat?'
Send us five photos or a short video responding to the question 'Are we all in the same boat?' Some ideas might be:

A meal, something you've eaten or haven't eaten
A time you've felt connected or resilient
A time you've felt angry, anxious or sad
Something you've repeated
Something you miss

Send an email or call us by phone to share your experience of life during lockdown and/or reflections on 'Are we all in the same boat?'
Email Ben with your contributions
"When you are hungry, you get angry, anger changes behaviour. If I share my experiences, then others can share theirs and it takes a weight of their shoulders." Hangry in Blackburn with Darwen campaigner
We believe that those who have faced the adversities of food poverty have unique expertise, assets and perspectives that can help local food poverty alliances better develop strategic and long-term solutions. Whether managing on a tight budget, making difficult decisions of purchasing food or fuel, or knowing when and where to get preferred food, experts by experience have important insights of what works and doesn't in everyday life.
Food Power supports alliances to tell their stories and shape solutions, along with their peers and allies. Our aim is for those at the grassroots to become embedded at a strategic level for the long term, so they are able to influence projects, policy and services locally and nationally.
There are many ways for alliances to start exploring this, such as oversight and scrutiny of analliance, facilitating their own activities or in the development of a food poverty action plan. We are working in partnership with those with lived experience to co-design methodology and tools which can allow for meaningful involvement, reflecting on successes and challenges to adapt approaches for different demographics and geography.
Food poverty alliances can take action by:
Involving those with lived experiencenot only at the delivery level of work but in the strategy and governance of the wider alliance, and in the co-design, delivery, implementation and evaluation of activity and/or interventions as well. This could include forming a grassroots community ledsteering group or supporting those with lived experience to facilitate workshops with their peers.

Equipping and supporting individualsto talk about food poverty publicly at events, conferences, workshops and in the media, at both a local and national level. This could include setting up a forum in which individuals can share their thoughts and feelings with decision makers locally or making a short film about people's experiences.

Listening to how those with lived experience of food poverty want to be involved, being flexible and taking steps to address barriers to participation, for example by ensuring accessible venues, events are at appropriate times of the day, paying travel, providing refreshments and offering childcare where appropriate.
Contact Ben Pearson to learn more about Food Power's work in this area.
Resources