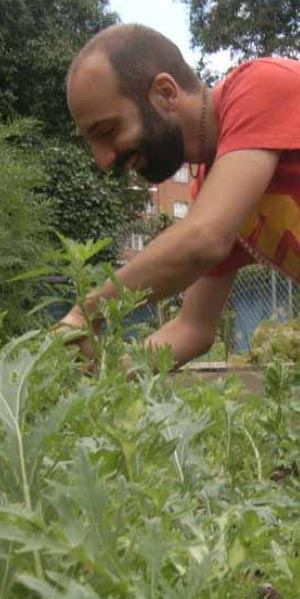 The Wenlock Herb Garden is a community-run market garden based on a housing estate in East London that is developing trade in locally grown herbs through local restaurants, to help make the project finnancially self-sustaining. The project generates enough income through sales of their salad bags to pay a fair wage to a part-time grower to manage the site and also for some administration. This community project has been supported by Capital Growth, the campaign supported by the Mayor of London, London Food Link and the Big Lottery to establish 2,012 new community food growing spaces for London by the end of 2012.
The Wenlock Herb Garfden project was established in Spring 2010 on a 140m2 patch of disused land on a housing estate in Hackney. The commercial element was important to ensure that their project had a long-term future and that it was able to pay for the time of the people that were involved.
"If we want to grow food in the city, it is all very well to have an easy going, community group, cosy attitude to it, but if gardens are to remain open and growing and the urban agriculture issues are to get any place on the government's agenda then we need to get a bit more hard nosed about it. I know that many people might not like the commercial aspect of a project like Wenlock and think it would be better if residents could just come and help themselves to the crops. But I also think that Wenlock will be here in three or four years time and a lot of other growing spaces, sadly, won't be unless they put financial sustainability up there with environmental sustainability."
Kate De Syllas, Wenlock Herb Garden
In the first growing season the income generated from salad production paid for Michael Turrisi, a local resident and part-time grower, to manage the site and make deliveries. The Wenlock Herb garden supplied over 200 kilos of cropped salad and herbs to two local restaurants and a local retailer and made additional sales to people on the estate. The project pays local people £15 per hour for trained growers and also for paid administrative work. All the people involved also commit a considerable amount of time on a voluntary basis.
This year the project has focused on a more low maintenance approach to growing and on more unusual and profitable crops such as Japanese wine berries and edible flowers.
This case study is an extract from the report A Growing Trade (free to download as a PDF), published in January 2012 by Local Action on Food as part of the Big Lottery funded Making Local Food Work programme. it is a practical guide for local communities, to help them grow food and become more financially independent through trading in fresh and local produce.
Find out more about the The Wenlock Estate, Hackney at: http://projectdirt.com/profile/WenlockHerbGarden
If you are a restaurant or caterer interested in getting your hands on the very freshest ingredients from hyper-local community food growing sites in London, then get in contact with the Ethical Eats team. Contact: kelly@sustainweb.org or duncan@sustainweb.org; or call: 0203 5596 777.
Share
Get updates
Food Legacy: The campaign, launched October 2011, is inspired by the London 2012 Food Vision adopted by the organisers of the London 2012 Olympic and Paralympic Games. Food Legacy asks caterers, restaurants, event organisers and hospitality organisations to commit publicly to taking steps to improve the healthiness, ethics and sustainability of the food they serve.
Menu
Support our charity
Donate to enhance the health and welfare of people, animals and the planet.