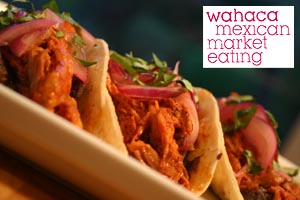 "We're pleased to support the Food Legacy programme and hope that it will encourage more restaurants achieve the vision of creating a healthy and sustainable food legacy from the London 2012 Games. As for the London 2012 games themselves, we will be supporting Mexico in the wrestling and England in the track and field."
Oli Ingham, Wahaca
Looking to the markets of Mexico for inspiration, Wahaca was born out of love for fresh, honest, Mexican market food. The restaurant takes a pride in sourcing ingredients as ethically and locally as possible, and enthusiastically uses free-range eggs and high welfare meat, and recently signed up to Sustainable Fish City.
As Oli Wright from Wahaca explains, "From the moment Wahaca was first conceived, we realised that, like the Mexican markets that inspired us, we wanted to make a positive and lasting impact on people's tastebuds, while minimising the negative impact on our local community and surroundings. We have always seen the benefit of operating as a sustainable business, not just through offering healthy and sustainable food, but also in how our restaurants are built, fitted out and environmentally assessed."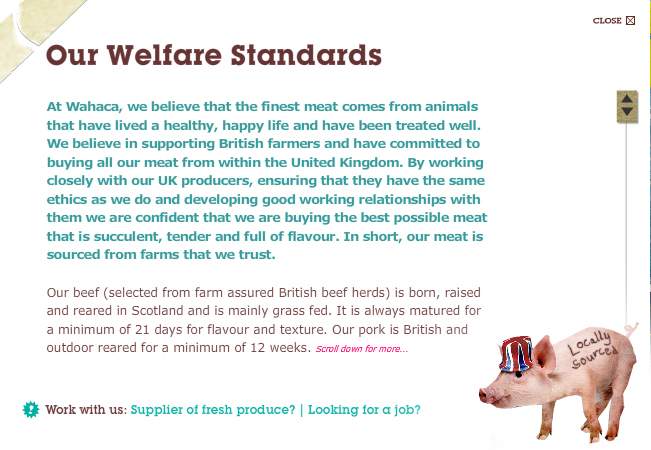 "We take Mexican-inspired dishes and source them as locally and ethically as possible. We believe that the finest meat comes from animals that have lived a healthy, happy life and have been treated well so we only buy from farms that we trust. We were one of the first restaurants in the UK to pass an audit by the Marine Stewardship Council and to stock their approved fish on our menu."

Wahaca's commitment to sustainable fish is explained by its concerns now shared by many customers and businesses: "Our oceans are suffering from depleted stocks of fish as a result of destructive over-fishing and commercial fishing methods - at least 70% of the world's fish stocks are over-fished, and some stocks are at such low levels that they are in danger of collapse. In the North Sea alone, many once plentiful species such as cod, common skate, bluefin tuna and plaice are now over-fished, or in some cases, virtually extinct. A staggering one third of all fish caught globally is thrown overboard. The use of massive trawler nets, which catch everything in their path, are extremely damaging to marine habitats and species, such as dolphins and seals."

Find out more about Wahaca at: www.wahaca.com
Share
Get updates
Food Legacy: The campaign, launched October 2011, is inspired by the London 2012 Food Vision adopted by the organisers of the London 2012 Olympic and Paralympic Games. Food Legacy asks caterers, restaurants, event organisers and hospitality organisations to commit publicly to taking steps to improve the healthiness, ethics and sustainability of the food they serve.
Menu
Support our charity
Donate to enhance the health and welfare of people, animals and the planet.