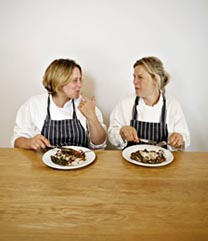 "It is very exciting that the Food Legacy programme is focusing on ethical and sustainable food production from producer to plate. It will be an extremely valuable resource in helping people to make the right choices and allow smaller companies already doing great work in this area to promote what they do."
Emma and Laura, The Clerkenwell Kitchen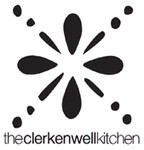 The Clerkenwell Kitchen operates to the ethos of the founders, Emma Miles and Laura Hearn. Before opening The Clerkenwell Kitchen Emma worked for Hugh Fearnley-Whittingstall at River Cottage in Dorset and Laura was head chef at La Fromagerie in Marylebone. Both are passionate about sourcing the best ingredients and building relationships with local producers using traditional farming methods.
The principles of good home cooking are clearly reflected at The Clerkenwell Kitchen, which specialises in simple and well prepared food, with jams, chutneys, pastries and breads and fresh lemonade all made on the premises.
As they explain, "It's very important to us that we source locally, cook seasonally and use organic and free range produce. For The Clerkenwell kitchen being a sustainable company is absolutely central to our ethos. We are passionate about the quality of produce that we use and know that highest quality comes from small scale and artisan producers who share our commitment to traditional farming methods, animal welfare and fair trade. We have found working in this way extremely rewarding and have created over the years an amazing network of like minded producers, suppliers and contractors who share our values."
The Clerkenwell Kitchen states that it is also "dedicated to creating an ethical and accountable company, committed to fair and sustainable trade, real value for money and transparency.
As well as building relationships with suppliers of local and environmentally friendly food, Clerkenwell Kitchen also operates a good house-keeping policy with regards the environment, recycling as much as possible and trying to reduce the waste generated by their business. They use biodegradable packaging and recycle all waste glass, paper, cardboard, cans and plastic bottles.
Share
Get updates
Food Legacy: The campaign, launched October 2011, is inspired by the London 2012 Food Vision adopted by the organisers of the London 2012 Olympic and Paralympic Games. Food Legacy asks caterers, restaurants, event organisers and hospitality organisations to commit publicly to taking steps to improve the healthiness, ethics and sustainability of the food they serve.
Menu
Support our charity
Donate to enhance the health and welfare of people, animals and the planet.