The London 2012 Food Vision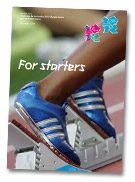 "Our vision aims to seize the opportunity to use the transformational power of the Games to celebrate and promote the variety and quality of British regional food; to inspire lasting, positive and sustainable change in the event, catering and hospitality sectors, and to contribute to the growing public agenda on healthy living."
Extract from the London 2012 Food Vision
In the summer of 2012 the Olympic and Paralympic Games come to London. They will have an enormous impact on the city, the country and even the planet. The London 2012 bid promised a memorable occasion that will make a positive impact before, during and beyond the main events.
The London 2012 Food Vision sets out what the organisers of the Games aim to achieve through their food buying and catering. London 2012's work has created the foundations not only for a spectacular occasion, but also for building a stronger, more sustainable catering and hospitality industry that will be a legacy of the London 2012 Olympic and Paralympic Games.
The process of drawing up recommendations for the London 2012 Food Vision resulted in a strong partnership of independent organisations keen to see the inspiring commitments adopted by the wider catering sector. You can see more details of these organisations on the about us page. The result is the independent Food Legacy programme, which is about creating a positive food legacy from London 2012. Working together, we aim to inspire, inform and provide links to practical assistance, to help more caterers and food suppliers achieve the ambitions of the London 2012 Food Vision. We aim to create a healthy and sustainable food legacy. We look forward to working with restaurants, caterers, venues, event organisers and food suppliers to help turn this vision into a reality.
If you are a caterer or work for an organisation that buys food, please get in touch. Email: foodlegacy@sustainweb.org. Please also consider signing up to the Food Legacy pledge.
Share
Get updates
Food Legacy: The campaign, launched October 2011, is inspired by the London 2012 Food Vision adopted by the organisers of the London 2012 Olympic and Paralympic Games. Food Legacy asks caterers, restaurants, event organisers and hospitality organisations to commit publicly to taking steps to improve the healthiness, ethics and sustainability of the food they serve.
Menu
Support our charity
Donate to enhance the health and welfare of people, animals and the planet.