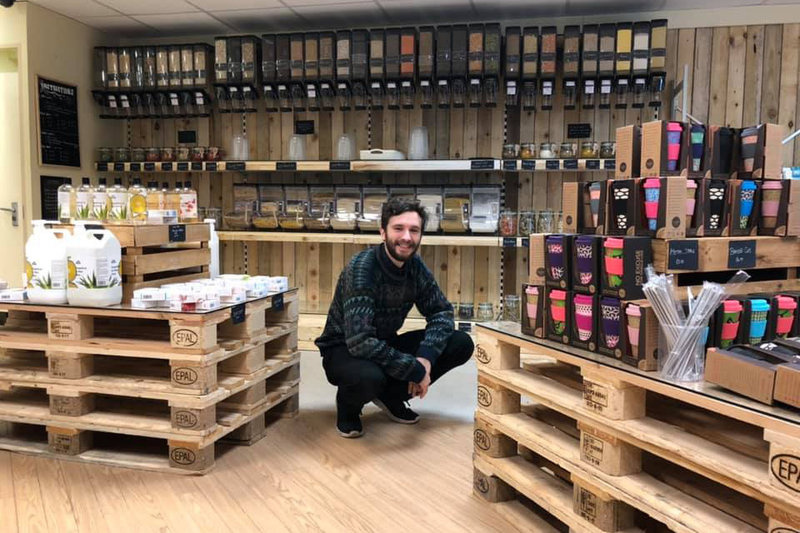 Photo credit: Keele University Students' Union
Weigh to Go is a zero-waste shop recently launched at Keele University's Students' Union, offering fellow students, staff and visitors a more sustainable way to shop. Customers bring their own containers or use a recycled paper bag for their purchases, and the shop also offer alternatives to single-use coffee cups and straws. Dried goods and spices are set up on a price-band system grouped by their cost per 100g, and Weigh To Go have recently started stocking cleaning product refills and bamboo toothbrushes.
Now open 7 days a week, the success of Weigh To Go inspired Student Eats to support an additional five student-led zero-waste initiatives across the country. Earlier this year, representatives from these five budding enterprises visited Keele University for a tour and some lessons learnt, and also heard from a zero-waste kit manufacturer and wholefood collective and supplier Suma. These new enterprises are currently being set up, ready to launch in autumn 2019.
Find out more and follow Weigh to Go on Green Keele's Twitter.
Sheep farmer. Credit: Cottonbro | Pexels
Share
Get updates
Food co-ops: Building a network of community food co-ops and food buying groups across the UK to help new groups get off the ground and existing groups to thrive.
Menu
Support our charity
Your donation will help us support communities to set up and run food coops and buying groups across the UK to improve access to healthy food.