MASTERCLASS: Efficient Irrigation Systems w/ Nemone Mercer & Jon Bennett
13 May 2023 10:30 13:00
Core Arts Ltd., 1 St Barnabas Terrace, London E9 6DJ
Join us for this food growing Masterclass on irrigation systems with Nemone Mercer & Jon Bennett on Saturday 13 May from 10.30am-1pm.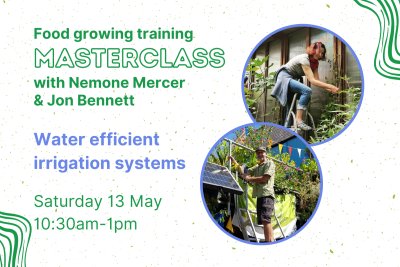 Masterclass: Efficient Irrigation Systems w/ Nemone Mercer & Jon Bennett. Credit:
Climate change and unpredictable extreme weather conditions are affecting how we grow food sustainably in the city. Core Landscapes has developed a range of mitigation techniques across a variety of green spaces in Hackney; anchored around water harvested solar-powered irrigation systems, sound soil management and resilient planting. This master class demonstrates creative and affordable solutions to the challenges growers now face.
The session will include a tour of Core Landscapes garden areas that demonstrate different adaptations to climate change through water management, plant choice and irrigation techniques, plus Q&A time.
Green spaces include:
Roof Garden
Garage Garden / Rain garden
Street planting
Street level garden
Meadow strip and community orchard in Homerton Grove
New Community Garden project behind St Barnabas' Church
Masterclass trainer bios:
Jon Bennett and Nemone Mercer have worked together setting up, managing, and relocating Core Landscapes 4 times, across 3 London boroughs for 10 years - overcoming challenges and engaging a wide range of people in journey. Now firmly based in Hackney and putting down roots!
Core Landscapes works to transform green spaces to promote positive mental health and is a Core Arts project.
Both trainers are from an arts background and enjoy finding creative solutions to sustainable growing practises, utilising up-cycling and recycling wherever possible.
Jon is the Core Landscapes construction coordinator. He also works as a landscaper for private clients and is a connoisseur of construction: carpentry, metal work, irrigation and solar installation. His sculpting background lends itself to imaginative repurposing of waste materials at Core Landscapes. This creates "The joy of the work" he says. His creative solutions pulls people into to tackling climate change head on.
Nemone is the Core Landscapes Project director. She is also a gardener and garden designer, and trained at Capel Manor College. She teaches gardening skills and project manages Core Landscapes, and supports other community growing projects across a wide range of areas. She is passionate about connecting people with plants and the environment for the benefit of both, and promoting the value of this work to stakeholders.
Published 13 May 2023
Capital Growth: We believe everyone should have the opportunity to grow food as part of a healthy, resilient food system and we are working with our network of growers in London to make this happen.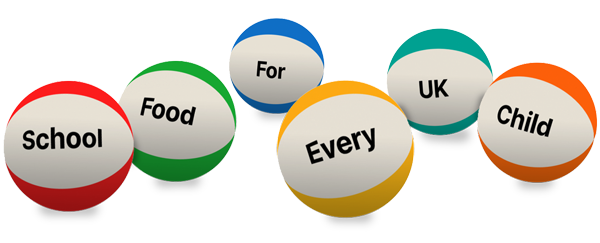 Ask your MP to end the school food postcode lottery now
Support our work
Your donation will help communities grow more food in gardens across London.