Join us in person on the day to hear from leading voices in food, farming and climate, to contribute to the debate and network with the sector.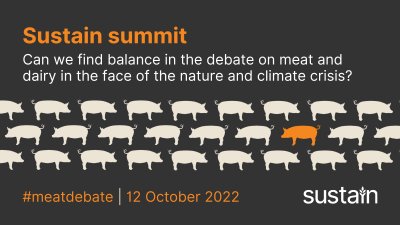 . Credit:
The summit will consider meat and dairy production and consumption in the context of the climate and nature emergency, where inspiring work and opportunities exist, and the assumptions and underlying values about meat which have shaped our policy to date.
From civil society to retailers, farmers to food writers, we will bring stakeholders together to explore the science and our many assumptions about meat and dairy, and where and how we can find common ground on this urgent issue.
We are thrilled to announce the following speakers on the day, with more to follow:
The Rt. Hon the Lord Deben, Chair, Climate Change Committee
Professor Tim Benton, Professor of Population Ecology, University of Leeds & former champion of the UK's Global Food Security Programme
Dr Rupy Aulja, Founder, The Doctor's Kitchen
Liz Bowles, Chief Executive Officer, Farm Carbon Toolkit & Devon pedigree sheep farmer
Jyoti Fernandes, Campaigns & Policy Coordinator, Landworkers' Alliance
Rob Percival, Head of Food Policy, Soil Association & Author of the 'Meat Paradox'
Simon Billing, Executive Director, Eating Better
Peter Greig, Founder, Piper's Farm
Book your tickets now using the registration link below. For any enquiries about the event, please email oliver@sustainweb.org.
Published 12 Oct 2022
Sustain: Sustain The alliance for better food and farming advocates food and agriculture policies and practices that enhance the health and welfare of people and animals, improve the working and living environment, enrich society and culture and promote equity.
Support our charity
Donate to enhance the health and welfare of people, animals and the planet.