Growing for Change Spring meet-up
24 Apr 2023 15:30 17:30
Regent's Park Allotment Garden, NW1 4NR
Join us for our second #GrowingforChange meet-up bringing together London food gardens in creating community, climate and nature resilience.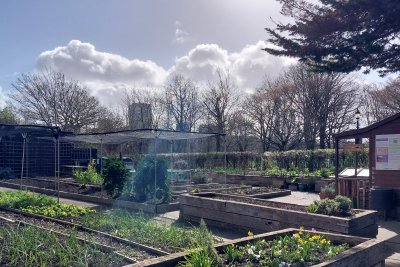 Regent's Park Allotment Garden on a sunny day in Spring. Copyright: Mayya Husseini
On Monday 24 April from 3.30-5.30pm, and as part of Good to Grow 2023 weekend of action from 21-24 April, we're inviting London food garden members to meet us at the Regent's Park Allotment Garden to find our more about our recently launched Growing for Change campaign and join May Webber from the Help Nature Thrive project at the Royal Parks, on a walking tour through Regent's Park from the perspective of a beginner naturalist.
On this introductory tour with May, you can learn about the habitats the Royal Parks manage, from the trees, to the meadows, to the lakes, all to help wildlife flourish for a deeper understanding of the key role this plays in climate-friendly food growing. Binoculars will be provided for those who wish to use them as we will be taking a closer look at birds too!
You'll also get the chance to network with other London food gardens and share your experiences and aspirations of Growing for Change to create community, climate and nature resilience.
An outline of the agenda and timings for the meet-up are:
3.30-4pm: Meet & greet at Regent's Park Allotment Growing introducing the Growing for Change campaign
4-5pm: A circular nature & biodiversity walk guided by May Webber
5-5.30pm: Return and close at allotment garden for hot drinks & biscuits
** If you would like to have a poke around the allotment garden beforehand, you may do so as it will already be open to the general public during the day.
Be sure to wear comfortable walking shoes and dress appropriately for the weather. When not on the walking tour, there will be access to toilets and indoor sheltered space with heating.
Published 24 Apr 2023
Capital Growth: We believe everyone should have the opportunity to grow food as part of a healthy, resilient food system and we are working with our network of growers in London to make this happen.
Support our work
Your donation will help communities grow more food in gardens across London.