Waste
What's the problem?
However much energy has been used to make food and its packaging, all of it is wasted when it is thrown away. For example, in the UK we throw away an estimated 6.7 million tonnes of food every year, accounting for around a third of all of the food we buy. About half of this is edible, with the rest comprising of peelings, meat bones, and so on. Food also makes up a high proportion of the waste from manufacturing, catering and retail outlets. Fruit, vegetables and salads make up about 19 per cent of the waste by weight from supermarkets. Artificially high cosmetic standards stipulated by supermarkets and caterers can also result in large amounts of a fruit crop going to waste.
That's not to mention all the non-food waste - for example packaging - which is thrown away every day by restaurants.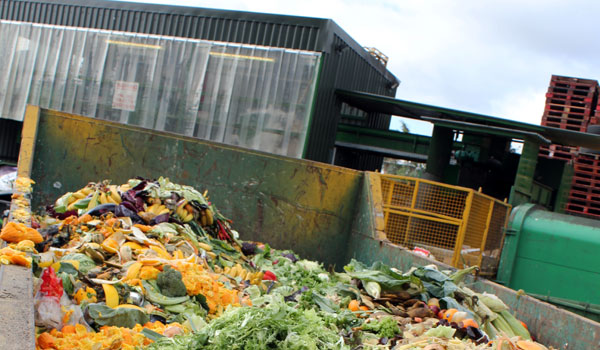 What can you do?
Adopt the waste hierarchy of 'reduce, reuse and recycle' Click the image below to find out more: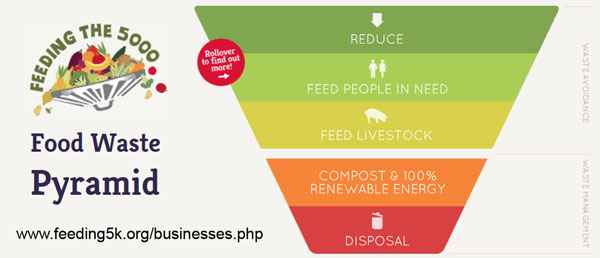 Cut down food waste you produce by designing recipes to make the best use of the food you buy, to use up leftovers, and to allow for creativity with what you've got.
Set up a food composting system, or get your food waste collected for composting.
In recipe dishes where the look of ingredients is less important than the taste, use blemished fruit and vegetables and riper fruits that might otherwise go to waste. Tell your supplier that you are happy to use such ingredients, and ask for them at a reduced price.
If you operate a retail and catering business, use produce near its sell-by date for cooking, to cut back on waste.
Make sure that any food that is still fit to eat does get eaten. Link up with a local charity to use your saved food. Schemes such as Fareshare and FoodCycle may be able to collect your saved food to give the homeless and disadvantaged people that they serve a chance for a good meal and a chat.
Cut down the amount of excess packaging you receive from suppliers, by telling them that you would prefer to receive goods in minimal packaging. Ask them to explore using packaging that is reusable, refillable or made from recyclable materials.
Buy in bulk. Weight for weight, larger boxes, cartons and bags use less packaging materials than smaller ones.
Choose goods that are (in order of preference):

Re-usable – washable crockery, jugs, cutlery and other goods are far better than those that get used only once and then thrown away.
Made from recycled materials – to support the market for recycled products.
Compostable or recyclable.

Avoid goods and materials that cannot be re-used, composted or recycled. If it needs to go in the bin, it will go straight to a landfill site, these are filling up rapidly and costs will only rise as space diminishes.
Encourage customers to recycle the materials they use – especially for take-away food – by labelling packaging, and providing waste bins clearly separated into different materials.
Separate waste products to reduce your disposal and landfill tax costs. Recycling 7,000 cardboard boxes a year could reduce your waste disposal bill by up to 20%, and some companies collect waste cooking oil for free and turn it into biodiesel. Landfill tax will keep getting more expensive as the government tries to encourage companies to recycle waste rather than send it to landfill sites.
In 2012 and 2013, we also worked with the 12 international food waste reduction partners on the GreenCook project to explore and promote food waste reduction practices across Europe.
Resources
Information for businesses about waste reduction and recycling is available from many organisations, such as:
Share
Get updates
Ethical Eats: Ethical Eats ran a network of London restaurants and catering businesses that care about sustainability.
Menu
Support our charity
Donate to enhance the health and welfare of people, animals and the planet.