Real Bread leftover recipes
With thanks to chef Kate de Syllas for these great café menu ideas that we tucked into - and cleaned out - at our Crumb Together workshop for community cafés:
You can find more recipe ideas for your leftover bread on the Real Bread Campaign website - including another take on bread and butter pudding with Chai spices, as well as Bread Sauce, Pineapple Spice, a classic Bread Soup and of course Toast!
And for even more recipe inspiration browse through Love Food Hate Waste's leftovers recipes by searching on "Bread" as an ingredient.
Nose-to-Tail recipes
With our thanks to the chefs, restaurants and pubs that kindly shared these recipes with us as part of our Nose-to-Tail Fortnight celebrations.
---
Panzanella
A lovely salad for your café menu as a starter or as a light main.
Serves 12 approx
1 medium loaf of bread (best 2-3 days old). Anything will do, but best is ciabatta or something with quite an open texture. Torn into large chunks
1 large cucumber or 2 small ridge cucumbers, roughly chopped into chunks - no need to deseed or peel, but you can if you prefer
2 red onions - finely sliced
10-12 large, ripe plum tomatoes - cut into 6 or 8 pieces each
3-4 yellow peppers roughly chopped
200ml good olive oil - you could also try extra virgin rapeseed oil
80 ml red wine vinegar
A handful of torn basil leaves
4 tablespoons of capers
salt and pepper
sugar to taste
You can also use red peppers, anchovies or different tomatoes depending on what you have.
Combine all the vegetables and basil in a large bowl.
Whisk together the oil, vinegar, capers and seasoning in another large bowl.
Add the bread to the dressing then add that to the vegetables, using your hands to combine well. It is really good if left to sit for 30 minutes or so.
If you want to leave it for longer, add the bread 10 minutes before serving so that it doesn't get too soggy.
A delicious savoury take on an old family favourite for a main course.
Serves 12 approx
2 large loaves, crusts removed and sliced to a medium thickness
150g butter
3-4 cloves garlic - whole or sliced
400ml milk
400ml cream (single or double will do)
10 egg yolks plus 2 whole eggs
400g gruyere or other tasty, hard cheese - grated
20 - 30 spears asparagus
200g smoked streaky bacon (if using) - chopped into lardons and cooked
200g parmesan - grated
salt and black pepper
Butter the bread on both sides and butter the sides and base of a large oven tray.
Make a layer of the bread, add a layer of bacon (if using) and asparagus and then another layer of bread.
Bring the milk, cream and garlic (and any herbs you wish to use) to a simmer in a saucepan.
Pour the hot cream mixture into a bowl with the eggs and whisk with 2/3 of the grated cheeses.
Pour the custard over the bread and top with a layer of the remaining cheese.
Bake at 150º C for about 35 minutes.
Best served with a simple green salad and a mustardy vinaigrette.
You can substitute an endless array of fillings in this dish - depending on what's in season - good ideas from the workshop were leeks with cider and wholegrain mustard or slow roast tomatoes with basil or pesto.
And to round off Kate's café menu, a sweet and sticky treat.
For two 28cm tart cases (loose bottomed)
Apologies to those who missed eating this!
Pastry
450g plain flour
220g unsalted butter (although a mix of half salted/half unsalted could add a nice salt caramel edge to the tart)
2 medium eggs, beaten
Filling
2 450g tins golden syrup
170g freshly made breadcrumbs of a rough texture
ground or fresh ginger if using - to taste
zest of 1 lemon and juice of half
zest of 1 orange and juice of half
Rub the flour and butter together in a bowl until breadcrumb texture.
Mix in the egg with a knife and then knead into a smooth dough.
Use the dough to line the tart cases and prick the base before blind baking with baking beans at 190º C for 13 minutes, then remove the beans and continue baking for 2-3 minutes more until it is lightly golden.
Mix together all of the filling ingredients.
Fill the cases before returning to the oven for a further 30 minutes.
These recipe ideas come from chef Kate de Syllas' cookery demonstration for staff and volunteers from community cafés and social enterprise restaurants at the Crumb Together bread workshop, organised by Ethical Eats and the Real Bread Campaign and hosted by The Better Health Bakery.
---
Lamb's kidneys baked inside potatoes
From Anissa Helou's Offal, The Fifth Quarter, published by Absolute Press (2004).
I found this way of preparing kidneys in Ambrose Heath's book Meat. I was immediately intrigued by the sound of it but wondered if the kidneys would still be good after so long in the oven – it takes at least 1 1/2 hours to bake a large potato. Still, I decided to try it and the result was amazing. The kidneys cooked completely, as I had expected, but remained moist and tender and were totally succulent. I guess this is due to the fact that they cooked slowly, nestled inside the potatoes. And the potatoes were luscious, soaked with kidney juices and slightly spicy because of the pepper inside them. All in all a great success, confirmed by my neighbour and friend, Kit Grover, who agreed to be guinea pig on the un-tried and un-tested recipe. We both agreed that it was one of those simple ideas that you wouldn't think of unless you are told, or read, about it.
To serve 6
6 large baking potatoes, washed and dried
6 lamb's kidneys, stripped of fat and cores removed
sea salt and freshly ground black pepper
Preheat the oven to 180º C.
Cut off, horizontally, one third of each potato, choosing the knobbly side for the top third - this will eventually be the lid to cover the kidney with and the flatter part will make it easier for the potatoes to sit straight on the baking sheet.
Using a grapefruit knife, core out enough of the inside of the larger part of the potato to create a snug nest for the lamb's kidney. Salt and pepper the inside of the cavity to taste and place the kidney inside it. Salt and pepper the kidney. Remove a little from the inside of the potato lid so that it sits flush on the bottom part. Salt and pepper its inside to taste and place it over the kidney to cover. The potato should look as if it still whole. Prepare and fill the remaining potatoes in the same way.
Place on a baking sheet, leaving a little space between each. Bake in the preheated oven for 1 1/2 to 2 hours, or until the potatoes are completely done. You can test for doneness by squeezing the potato to see if it gives. Serve immediately with a herb butter and a green vegetable such as creamed spinach or steamed broccoli.
Ben's Haggis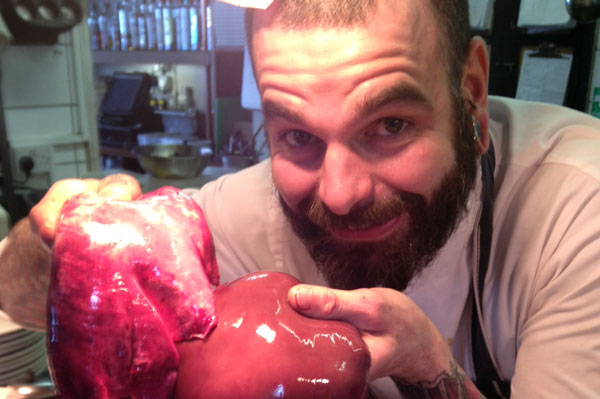 Ingredients
1 lamb pluck – that's lungs, liver, heart and kidneys (you'll need to find a good butcher who can supply it)
450g lamb trimmings (leftovers from a Sunday roast…)
2 onions, finely diced
140g ground oats
1 tablespoon salt
1 teaspoon ground black pepper
1 teaspoon dried coriander
2 teaspoons ground nutmeg
Water
Stock from cooking of the pluck
Method
Wash the pluck thoroughly.
Cook in enough water to cover, simmering slowly for 2 hours. Drain off the stock and keep to one side. Allow the pluck to cool sufficiently to handle.
Chop the pluck and trimmings roughly and put in a large mixing bowl.
Fry off the diced onions and add to bowl.
Add the spices, salt, pepper and ground oats.
Mix everything together, adding enough of the stock to create a moist, dough-like consistency to the mix.
If you can get hold of a stomach (as would traditionally be the case) use this to stuff all the mix into. If not, wrap the mix firmly and tightly in cling-film.
Place the haggis in a large cooking pot, fill with enough water to cover and cook slowly on the hob for three hours.
How to serve
Traditionally served with tatties and neeps (bashed potatoes and turnips).
Alternatively, Ben suggests Haggis on a stick! Take the cooked haggis, pull off a handful and shape into a sausage form on a bamboo skewer. Dip in batter and deep fry. Delicious with a dollop of brown sauce on the side.
Suckling kid's liver with sherry & onions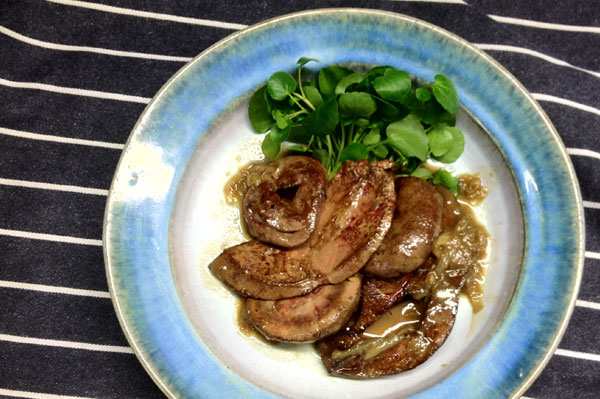 Now, if the sound of this is a bit too old fashioned for you, please do read on. This is no old liver boiled until it is green but the most delicious, tender, yielding flesh in a sauce which is both simple and luxuriant.
When I started washing pots at a hotel back in the 1980's I would scrape every remnant of this sauce from each pan as it hit the pile of dirties. So watching the guys in pot-wash doing the same thing, over 25 years later, does bring a smile. I use kid's liver here as I consider its texture (crunch) to be the finest of any I have tried (for flavour, a good young deer's liver is very hard to beat but a bit strong for this dish).
The key to this is good quality ingredients and knowing the importance of each cooking step.
To serve 2 you will need:
1 kid's liver (fresh & gleaming, if unavailable a lamb's liver will be delicious too)
2 big knobs of butter
2 red onions
a glass of good amontillado sherry
1 cup of strong gravy
1 shot glass of double cream
Method
Trim the liver of sinew and large blood vessels then slice in 1.5cm strips.
Slice the onion, season and fry in one of the knobs of butter until really softened.
Heat a heavy pan, add the butter and fry the liver quickly – don't shake in the pan – just place each piece in then, once they are all in, season and turn each individually. Remove from the pan once each is browned (but not overcooked) and set aside.
Deglaze the pan (scraping any of the caramelised bits off the bottom) with the sherry – don't be shy, a thimble will leave you unimpressed so a good old gulp!
Boil it until evaporated (to cook-off the raw alcohol taste) then add the onions and gravy to the pan, bringing to the boil.
Finally add the cream and check the seasoning before returning the liver to the pan, checking the liver is starting to firm without overcooking (cutting into a piece might help here, if it is still shiny and dark red then cook a little longer, if pale and hard then do not apply any more heat!).
Heat back up a little and serve onto warmed plates with a bunch of watercress for peppery contrast and some proper Jersey Royals (the muddy ones, not the cleaned-of-all-their flavour variety).
You might be lucky enough to have a butcher sell you the whole pluck, in which case, cut up the heart and sweetbreads and cook them all up together.
Seared ox heart with spinach & parsley purée, green peppercorns & capers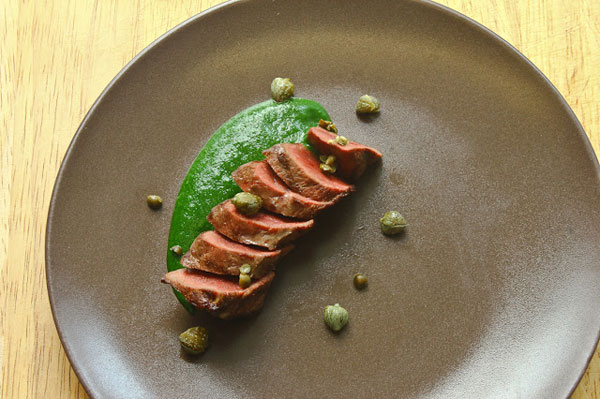 Photo: Josh Pollen
We like to serve ox heart quickly cooked on a griddle pan until medium rare. You can cook it to your desired degree; we find that too rare or too done and it can be a little tough. A good cross-section showing some pink in the middle is perfect, and sliced fairly thinly it is tender to bite. Heart is smooth muscle, so does not have a grain to the meat, like you would see with steaks. It is the mid-point between muscle meat and organ, exhibiting some of the qualities of liver, but less intense overall. Lamb and duck hearts are also especially worth seeking out.
Serves at least 8
2kg (whole) ox heart
Oil or clarified butter for frying
Salt
150g baby leaf spinach
Small bunch flat leaf parsley
Unsalted butter
White wine vinegar
Green peppercorns
Capers
First, butcher the heart. This is very straightforward. Cut down the heart lengthwise, opening the organ out so that it lies flat, butterflied, on your board. Trim the hard fat from the outside of the heart, remove any veins or arteries and trim away the heartstrings on the inside of the heart. Take a moment to reflect on the life of the beast in question.
Hearts were not designed for perfect portioning like a tenderloin; this only makes them the more charming. You are aiming for fairly even portions of single serving size. One approach is to make a piece or several of the thick upper part of the heart, and to cut the rest into fat (3–4cm) strips, lengthwise down the heart. If the heart is particularly large you may wish to divide these in half halfway up the heart. Salt the strips of heart to season them prior to cooking, and set aside for 30mins to rise in temperature from fridge-cold.
Meanwhile, make a spinach and parsley purée. Wash the spinach and parsley and dry. Heat a large frying pan to a medium-high heat, add a few tablespoons of oil and sauté the spinach leaves. As they begin to wilt, add 50g butter, a three-fingered pinch of salt and 150ml water. Wilt the spinach down fully, then take off the heat. Using tongs, squeezing out some of the moisture as you do so, transfer the wilted spinach to a blender. You should leave behind some of the butter and cooking water in the pan. Add the parsley – stalks and all – to the blender. Blend for a few minutes, adding enough of the cooking liquid to make a smooth purée, of a pouring consistency. Pass this through a fine sieve, if you wish. Add a couple of teaspoons of white wine vinegar, check for seasoning and adjust both salt and vinegar (perhaps even add a little olive oil) until you have a bright-tasting sauce. Reserve somewhere warm.
Get a griddle pan exceptionally hot. Brush the surface of the pan with cooking oil or clarified butter. Sear the portions of heart for about 5 minutes, turning frequently. Rest in a warm place covered with foil, for five minutes. During this time you can reheat the sauce if it has cooled.
Serve with the sauce, garnished with some chopped green peppercorns and capers.
Coda Alla Vaccinara – Roman oxtail stew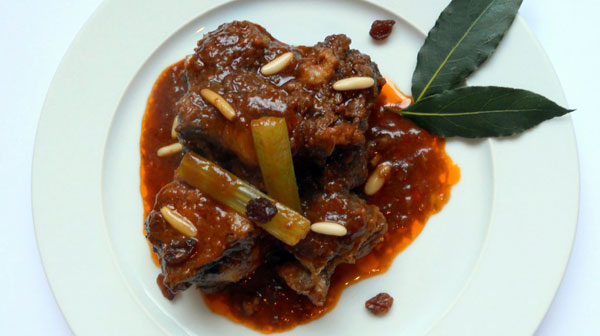 For several thousand years, right up to the Second World War, droves of oxen ploughed fields and pulled loads around Rome. The great oxen retirement home was the slaughterhouse, where their skins became leather, their horns a variety of accessories and their meat stews. The woman and men whose job was to slaughter, butcher and skin the oxen were called "vaccinari", from the word vacca, meaning cow. They were paid in kind with skins, offal and unwanted cuts of meat. This engendered a style of cooking associated with the neighbourhood.
Coda Alla Vaccinara is considered the archetypal Roman beef stew and is rich, tender and redolent of cloves and slow-cooked vegetables. Every family in Rome has its own version and some restaurants still offer it on the menu, especially in that neighbourhood. Some cooks add a tablespoon of bittersweet chocolate before serving; others use pine nuts, cinnamon, nutmeg, raisins or candied fruit to achieve sweet-and-sour piquancy. The longer it stews the better it tastes so it can be made a day or two ahead, because it's best of all reheated, most people say.
To serve 6 people
1 beef oxtail (1.1-1.3kgs)
12 celery stalks
1 clove garlic
1 carrot
1 medium-sized white onion
110g lard
2 tablespoons minced fresh parsley
4 tablespoons extra-virgin olive oil
salt and freshly ground black pepper to taste
1 cup of dry white wine
1 tablespoon tomato paste
2 cans Italian plum tomatoes
6 to 8 cups boiling water
5 cloves
1 bay leaf
raisins and pine nuts to taste
1 teaspoon of cocoa powder or a small amount of grated bittersweet chocolate
Preparation
Rinse the oxtail, chop it into sections along the vertebrae and dry with paper towels.
Peel and mince 1 stalk of celery and the garlic together with the carrot and onion. Mince the lard.
Heat the oil in a large pot over medium-high heat. Add the minced lard and sauté, then the minced vegetables together with a tablespoon of the parsley and stir until the onion becomes translucent, 4-5 minutes.
Add the oxtail, a generous pinch of salt and several turns of the peppermill. Brown thoroughly, stirring from time to time.
Pour in the wine and let it evaporate, 1-2 minutes. Stir in the tomato paste and add the tomatoes crushing and stirring. Add enough water to completely submerge the oxtail bones.
Add the cloves and the bay leaf and stir.
Lower the heat to minimum and simmer, partially covered, for 2 hours.
Slice the remaining 11 celery stalks into sticks the size of an index finger. Add them to the stew and simmer, covered, for 40 minutes.
Add 1 teaspoon of cocoa powder or a small amount of grated bittersweet chocolate dissolved in 1 cup of boiling water, pine nuts and raisins to taste, and mix well.
Stir in the remaining tablespoon of parsley and serve.
A trio of recipes from The Charles Lamb
Try cooking these at home or head over to The Charles Lamb to see what other nose-to-tail treats are on the menu.
Ox tongue salad
Boil the ox tongue to a well seasoned stock for 2-3 hours then leave to cool overnight in the stock.
Slice the tongue and reheat in a pan with shallots, sherry vinegar, salt & pepper.
Serve with a new season potato and watercress salad or on toast with wilted leaves.
Pork terrine
Boil 2 ham hocks with 3 trotters for 3 hours in a stock with leeks, onions, carrots, rosemary, thyme, bay leaf, all spice & black peppercorns.
Separate the ham hocks from the liquid and leave to cool.
Once cool enough then shred the pork and mix with a chopped half bunch of parsley, half a teaspoon of ground mace and some pepper.
Line a terrine tin with cling-film and fill with the mixture.
Reheat the jelly stock from earlier (if necessary) and poor over the mixture.
Cover with cling film and weight down with heavy item (books, tinned tomatoes etc).
Wait 24 hours.
Pig cheeks
Confit the pig cheeks in duck or goose fat with rosemary, bay, garlic and sea salt for approximately 1.5 hours.
Once confited the pig cheeks are preserved in the fat and when kept in the fridge they will last a couple of weeks (although they are always used up in days at the pub!).
You can slice and fry the pig cheeks and serve on toast with spinach or watercress or serve in a salad with potatoes and lardons.
You may also find pigs cheek pies, made in muffin tins with suet pastry and served with a little apple sauce or mustard, on the menu - mmmm - or how about lamb breasts, which are rolled and poached in a broth of carrots, leeks, shallots and rosemary. Served as a slice of rolled breast in the broth with new season potatoes.
Tamworth pig's trotter stuffed with kidneys and wild mushrooms
This will be on their feasting menu at the nose-to-tail supper club and will also pop up as a special on their regular menu over the Fortnight.
Ingredients
4-6 pig's trotters (boned and braised in chicken stock for around 3-3 1/2 hours at 160ºc)
For the chicken mousse stuffing
2 skinned chicken breasts
1 egg white
600ml double cream
Salt and white pepper to taste
75g sautéed chopped onion
200g sautéed mixed wild mushrooms
3 pig kidneys diced and lightly fried
2 tbsp chopped parsley
Method
Making sure all ingredients are cold, blend the chicken breast until it forms a paste. Add the seasoning and egg white and continue to blend.
Pour in the cream, being careful not to over whip it, as it could split.
Transfer the mousse to a bowl and fold in the onions, mushrooms, kidneys and parsley.
Take the cooked trotters, lay them on their back and fill them with the stuffing.
Place the stuffed trotters onto buttered tin foil and roll them tight, twisting the ends.
Cook the rolled trotters in simmering water for around 20-25 mins.
Serve with mashed potatoes and a port wine sauce.
Ankimo monkfish liver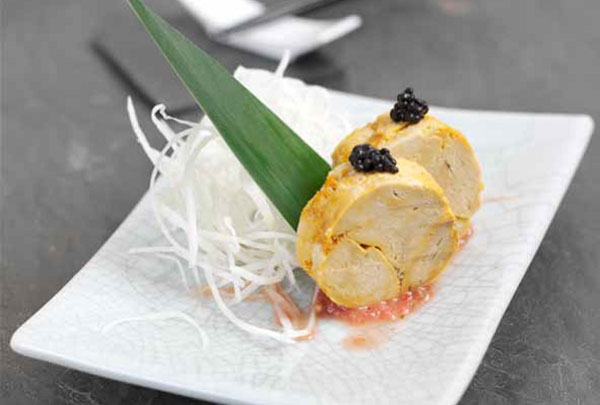 There are plenty of things that come out of our sea that we in the West tend to discard, and monkfish liver is just one example. In Japan they are described as the "foie gras of the sea," and indeed, they are not dissimilar.
Ingredients
ceviche sauce (see below)
1 monkfish liver
28g salt
1.15L water
caviar
chives
As always, make sure that your fishmonger is certain that the monkfish liver is fresh.
Remove blood vessels and the membrane from the outside with a small knife.
Soak the liver in salted water for about 30 minutes. You may need more than the litre or so if the liver is large. Pat dry.
Put the liver on a piece of plastic wrap and roll it into a cylindrical shape. Pierce a few holes in the plastic wrap.
Next, wrap the liver in aluminum foil.
Tighten the liver-sausage shape at both ends, then wrap it in a bamboo maki rolling mat and secure with a rubber band.
Steam in a colander over boiling water for 45 minutes.
Pour the ceviche sauce onto a plate.
Once cool, cut the sausage-shaped liver into 2.5cm thick slices and arrange on top of the sauce.
Spoon a teaspoon of caviar on top and decorate with chopped chives.
Ceviche sauce
The following recipes are inspired by the flavors of South America. Ceviche cooking has been championed in Japanese restaurants by Nobuyuki Matsuhisa at his restaurant, Nobu. The ceviche sauce is best paired with chopped, leftover pieces of shellfish or whitefish. The citrus and oil semi-poach the raw flesh. It is good Zen not to waste, and this recipe helps achieve that.
1 red onion
3 cloves garlic
1 fresh jalapeño
1 red chili with seeds
1 shiso leaf
1 scallion stem
2 tbsp. dashi
1 tbsp. soy sauce
2 tsp. lime juice
3 tbsp. olive oil
142ml shiso juice
sprinkle of black sesame seeds
Roughly chop the onion, garlic, jalapeño, chile, and scallion.
Mix the dashi, soy, lime juice, olive oil, and shiso juice.
Blend all the sauce ingredients together.
Sprinkle in the sesame seeds.
Sarapatel
From Cyrus Rustom Todiwala OBE DL DBA, Café Spice Namaste / Mr Todiwala's Kitchen

Cyrus has very kindly agreed to share his recipe for Sarapatel (which only a select few have previously been privy to!). He invites you to "Have fun and enjoy if you wish to make it, but make sure one tiffin is brought here for us!" It's on the menu at Café Spice Namaste until the end of June.
Affably known as "Sorpotel" (and, as Cyrus says, all too often pronounced this way) Sarapatel is a unique Portuguese influenced dish, which generally uses both pork and offal. It originated in the Alentejo region of Portugal, where it was often pickled to preserve it during long ship journeys, keeping the food good for many weeks. Generally pork, heart, lungs, liver and kidney are used in the preparation and the dish is finished with either fresh pork blood or coagulated, crumbled, blood. Whilst the original dish, which is also cooked in Brazil, is far from hot and spicy, the Goan and Manglorean versions are (naturally)! The ideal accompaniment to Sarapatel is steamed, fermented, red rice cakes (also known as Saanaas). However, steamed rice is good enough or some crusty bread.
Ingredients (6-8 portions)
1kg pork shoulder and belly, mixed
1/2 kg pork liver and heart
2 kidneys
250ml blood (if fresh, mix in some vinegar to keep it that way)
Masala
Puree together:
250-300ml palm vinegar (if not available use cider vinegar)
25-30 dry red chillies (best to mix some big and some smaller chillies, as available)
1 teaspoon turmeric powder
1 heaped teaspoon cumin seeds*
6-8 cloves*
6-8 peppercorns*
5-7cm piece of cassia bark or cinnamon*

*Toasting the cumin seeds, cloves, peppercorns and cassia bark or cinnamon is better for a smoother grind and flavour.
Prepare:
3 red onions, finely chopped
8-10 cloves of garlic, finely chopped
2 x 5cm pieces of ginger, finely chopped
6 medium green chillies, finely chopped

300ml of tamarind pulp. NB: If using prepared pulp, which can be quite strong, add by the tablespoon, then taste and decide if you need more. This is added to the dish much later in the recipe so keep it cool.
Method:
Cut the pork shoulder and belly into large chunks. Place it together with the liver, heart and kidneys (all whole) in a pot, cover with water, add a bit of salt and bring to the boil.
Once boiling, simmer for approx. 15 minutes, then remove the kidneys, heart and liver and set aside to cool. Let the pork continue to boil until nearly cooked and then remove to cool.
Traditionally, the water is sadly discarded but, if you like, it can be transferred to another pot, cooled, then clarified and boiled down to roughly 500ml.
Once cooled, finely dice all the meat (including the fat and rind) into 1cm pieces (maximum).
Put the pot back on the heat and add the diced pieces of meat. No oil is required, but start with a slow temperature and allow the fat to melt from the belly and shoulder. When the fat is released, raise the heat and sauté well until all the meat is well browned.
Drain in a colander and let the fat drain out in a bowl.
Put the fat back into the pot and add the onions, garlic, chilli and ginger. Add a little water to deglaze the base of the pan and scrape well.
Sauté these until well browned, then add the ground masala and sauté further until the fat is released again. You might need to keep deglazing the pan if the masala sticks to the bottom.
Add the sautéed meat, the tamarind pulp, blood and the reduced stock and bring slowly to the boil.
Cook until the sauce thickens and everything comes together well, check seasoning and turn off.
Sarapatel is best eaten after the second or third day, so remove into tubs, cool well then cover and chill; make sure it is well cooled before closing; DO NOT let any vapour form on the lids.
Enjoy it as Goans would at special occasions, weddings and other celebrations.
Share
Get updates
Ethical Eats: Ethical Eats ran a network of London restaurants and catering businesses that care about sustainability.
Menu
Support our charity
Donate to enhance the health and welfare of people, animals and the planet.