Nose-to-Tail Fortnight 2013
From 1st to 14th June 2013, a wide range of restaurants, pubs, street-food traders and pop-ups around London celebrated offal and other less familiar cuts of meat as part of our second Nose-to-Tail* Fortnight.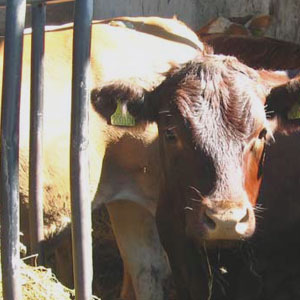 Participants included organic pub The Duke of Cambridge, avant-garde food designers Blanch and Shock, and newly-opened restaurant and seafood bar, Newman Street Tavern.
Widely eaten around the world, and once a regular feature on our own dinner plates, offal - literally 'off fall' from the butcher's block - is slowly regaining popularity in the UK, along with other forgotten cuts of meat. There are several reasons why; from changing economic conditions to greater intolerance of food waste. Adventurous chefs and diners are realising that offal and other less familiar cuts can be delicious, a good source of nutrition, and fantastic value.
Nose-to-Tail Fortnight was the Ethical Eats network's campaign to promote more thoughtful - and less wasteful - meat consumption. Restaurants and other eateries around London served up special nose-to-tail dishes, and some also ran special events such as butchery demonstrations. Ethical Eats provided participating restaurants with posters and postcards, and listed them on this website and our online Nose-to-Tail map. Chefs and diners were encouraged to tweet about their adventures in nose-to-tail cooking and eating to @ethicaleats, using the #nosetotail hashtag.
In 2013, we worked in partnership with supper club hub Grub Club, which promoted a whole range of one-off events around town, including The Wandering Chef's 'Heads, Shoulders, Veal and Toes' and Hill Street Chews' whole-pig cook-up.
The campaign was launched on 16 May at a nose-to-tail butchery and cookery workshop for chefs and catering students at Laverstoke Park Farm in Hampshire.
Diners could start their nose-to-tail adventures by finding out what's happening nearby and what participating restaurants were serving up for Nose-to-Tail Fortnight. And if they were up for cooking some nose-to-tail dishes themselves at home,we had a few to tryon friends and family!
*With thanks to Fergus and the folks at St. John for the use of their much-quoted phrase!
---
What happened during Nose-to-Tail Fortnight 2013?
From 1st to 14th June 2013, a wide range of restaurants, pubs, street-food traders and pop-ups around London celebrated offal and other less familiar cuts of meat as part of Ethical Eats' second Nose-to-Tail Fortnight.
To help Londoners find their way to all the tasty morsels being served up during Nose-to-Tail Fortnight 2013, we put together this Nose-to-Tail Fortnight map.

All the eateries that participated and special events that took place are also listed below.
On this page
​One-off events
Ghana Cuts from Nose to Tail
Zoe's Ghana Kitchen celebrates the underrated and tastiest cuts that get left on the butcher's block from 7-11pm on Saturday 1st June, going belly up with Slow Roasted Pork Belly and Plantain stew, Cornbeef Balls, Mutton Shoulder in Shallot Sauce and a cheeky chicken liver on lightly toasted sweet dough bread starter.
Book at: www.grubclub.com/nose-to-tail/
Spork
Spork present a performance dinner by Amanda Couch on from 6:30-9:30pm on Sunday 2nd June. This new participatory performance work reflects on the process and image of digestion through food and language. Gastronomic dishes, prepared from the alimentary canal; tongue, stomach and intestines, will be served alongside the presentation of a literary and visual text. Artistic, philosophical, historical, and physiological narratives will explore how we cognitively and bodily digest knowledge and experience. Together we will literally and metaphorically ruminate on ingestion, digestion, and embodied ways of knowing. Ticket includes a set multi-course meal, which is not suitable for vegetarians.
Book at: http://reflectionondigestion.eventbrite.co.uk/
Fishing and Foraging Cookery Course at Cookery School
In celebration of Nose-to-Tail Fortnight and Slow Food Week, Cookery School is hosting an evening with Caroline Bennett of Moshi Moshi and Chris Bax from Taste the Wild from 6:30-8:30pm on Wednesday 5th June. During the two hour session they will be discussing the best fish to buy and how to cook it, great seasonal foraged produce that may be right on your doorstep, forgotten foods and the Slow Food mission. All ticket sales for this event will go to Slow Food.
Book at: www.grubclub.com/nose-to-tail/
Cookery School
15B Little Portland Street
London W1W 8BW
Feed Your Soul: Arabian Nights
Feed Your Soul present their first themed dinner, Arabian Nights, from 7:30-11:30pm on Saturday 8th June, featuring their take on an Algerian dish, Kebda M'chermoula with lamb's liver as a starter. "Do not be afraid!" say your hostesses. "It is absolutely delicious and a great way to celebrate a more sustainable way of enjoying meat." All profits will go to the human rights charity, The Aire Centre.
Book at: www.grubclub.com/nose-to-tail/
Asado: Neck to Knee
From 7-10pm on Wednesday 12th June, Asado will be taking you on a tasty, lamby journey through the noble and delicious sheep. The ticket price includes 7 courses, wine pairings for each course and a party (should you feel like a bit of a Wednesday night boogie!).
Book at: www.grubclub.com/nose-to-tail/
Crown and Goose
100 Arlington Road
Camden NW1 7HP
Plucky Pig to Plate Dinner at Greensmiths Food Co
On 12th June, Martin, the Ginger Pig butcher, will demonstrate the cuts in a side of pork and discuss nose to tail eating including the pigs 'pluck' which is the intact collection of the right and left lung, the trachea and the oesophagus. After the demonstration Chris will serve up two different pork dishes matched with wine from the Waterloo Wine Company and will be at hand for some laid back culinary chat about the meal and more.
Book at: www.grubclub.com/nose-to-tail/
Greensmiths Food Co
27 Lower Marsh
London, Greater London SE1 7RG
Turkish Nose to Tail Night at Best Mangal
On 12th June, Best Mangal in Fulham Broadway will be laying on a feast of traditional mezze and dishes involving less well-known cuts with the wine included in the price. Starting at 8 pm, some of the friendliest staff in London are looking forward to taking us on a journey through some of Turkey's lesser-known dishes. They aren't less known to the Turks who love them all, only to others who may not have found out about these fantastic recipes due to the cuts of meat not being traditionally used over here.
Book at: www.grubclub.com/nose-to-tail/
Best Mangal
619 Fulham Road
London SW6 5UQ
The Wandering Chef: Head, Shoulder, Veal & Toes
From 7.30-11pm on Wednesday 12th and Friday 14th June the Wandering Chef will be wielding his scalpel and serving up five courses of unexpected veal-based delights in his pop-up operating theatre, alongside a cash bar featuring favourite medicines and bloody remedies.
Book at: www.grubclub.com/nose-to-tail/
2 Dinners 1 Lunch
Two dinners and a lunch over the weekend of 14th, 15th and 16th June featuring the stunning Dexter cow and a selection of June's finest seasonal produce. The beef is being aged, cured and smoked in Peckham and served in the upstairs room at the Gowlett pub, which will be transformed into a restaurant for the weekend.
Book at: www.grubclub.com/nose-to-tail/
The Gowlett SE15
62 Gowlett Road
London SE15 4HY
The Nose to Tail Trail
A collaboration between six independent eating places in East London: Unpackaged (London Fields), Better Health Bakery (Dalston) - below, A Little of What You Fancy (Dalston), The Towpath Café (De Beauvoir), The Russet (Hackney Downs), and The Windsor Castle (Clapton) - below. From Friday 14th to Sunday 16th June, each venue will offer a Nose-to-Tail dish for £5, including a beer from award winning London Brewery, Meantime. The Brewery's beer sommelier has matched their beers with our dishes – proof that good local food goes well with good local beer!
You have the whole weekend to move between all six participating venues. Visit all six and you can enter a free prize draw to win a tour of the Meantime Brewery – just post a picture of yourself, or your dish, at each of the venues on Facebook, Instagram or Twitter to enter. Find out more from Unpackaged.
Beast and Barley Butchery Class at Waterhouse Restaurant
On 16th June, Bates and Andy of Beast and Barley (formerly Hill Street Chews) will be hosting a butchery class for Nose-to-Tail Fortnight focusing on two of the lesser used, cheap and often squeamish-inducing cuts of the hog: the head and trotters. As a student, you will first be taught how to trim a pig's head and then get your own head to carve up, in order to learn the tasty little lessons of making a tete de fromage (headcheese). Next, you will clean and split the trotters to create a messy meat tendon and fat-chewing delight of sticky trotters - no forks or knives allowed with this dish. Your hosts invite you to come and join them for piggy parts and beer, "y'all be glad ya did".
Book at: www.grubclub.com/nose-to-tail/
Beast and Barley at Waterhouse Restaurant
10 Orsman Road
London N1 5QJ

---
​Eateries serving up nose-to-tail dishes throughout the Fortnight
Better Health Bakery
The Better Health Bakery in Haggerston will be serving up an offal sandwich (on fantastic sourdough bread, of course) from their new shop, open Tuesday to Friday, 8am to 5pm, and Saturday opening time 8am-1pm from 8th June. They are also involved in the Nose-to-Tail Trail from 14th-16th June.
Better Health Bakery
13 Stean Street
Hackney E8 4ED
Blanch & Shock Food Design
As part of their Kitchen Party residency, Blanch & Shock will be serving up lamb neck - a much undervalued cut - cooked in the manner of salt beef. To kick-off Nose-to-Tail fortnight, diners on Saturday 1st June can expect an offal-based snack, in addition to the normal menu.
Blanch & Shock at
Kitchen Party
42 Northampton Road
Clerkenwell EC1R 0HU
Café Spice Namaste
This June Café Spice Namaste will be offering two pork dishes: a Goan classic known as Sarapatel which contains various types of offal, and Collar Assado. Chef Cyrus Todiwala regularly serves dishes which use offal or the whole animal, and says, "It's a delight when one can use the entire carcass and not discard."
Café Spice Namasté
16 Prescot Street
London E1 8AZ
Eton College
The in-house caterers at Eton College, Sodexo, will be serving up nose-to-tail dishes to students, staff and visitors at breakfast, lunch and supper across five outlets.
Eton College
Eton
Windsor
SL4 6ER
Greenwich University (Medway Campus)
Greenwich University (Medway Campus)
Central Avenue
Chatham Maritime
Kent ME4 4TB
Home Cooking SE24
Home Cooking SE24 are a small, home-based, food business who cook and deliver (by bicycle) Italian food in Herne Hill (SE 24). As part of Nose-to-Tail Fortnight they will be offering lucky residents the chance to try "Coda Alla Vaccinara", a typical stew made of oxtail from Rome, in addition to their regular menu.
Delivering Italian food in Herne Hill SE24
For more information facebook.com/Home Cooking SEtwentyfour.
Island Grill - Lancaster Hotel
As a Sustainable Restaurant Association Three Star Sustainability Champion, The Island Grill at the Lancaster continues to improve sustainability and reduce wastage by offering nose-to-tail dishes over the Fortnight. Darren Marshall, Head Chef, says "Here in the Island Grill we look at different aspects of sustainability: only ordering cheese from within a hundred miles of the hotel; using day boat fish caught from the Kent coast; or simply using suppliers who deliver produce to us in re-usable crates rather than cardboard boxes. But, from a chef's point of view, one of the most interesting ways of being sustainable is to cook nose-to-tail. We embrace this style of cookery in our a la carte menu, but during Nose-to-Tail Fortnight we can go a little more offally than usual.
In the next couple of weeks we will be cooking up Tripe in the "roman style", and also "Callos" the Spanish stew with tripe, chorizo and chick peas. You will also be able to try "Brawn", the peasant terrine made from pigs head. We put lots of love into our dishes, so of course we will be braising some lamb hearts and, my favorite, lambs tongue with arrocina beans and fried onion rings. I hope to see you soon here in Island Grill."
Island Grill - Lancaster Hotel
Lancaster Terrace
London W2 2TY
Moshi Moshi
Sustainable sushi restaurant Moshi Moshi will be offering 10% off the three nose-to-tail dishes on their menu: the now legendary prawn head crispies; Salt & Sansho Pepper Cornish Catch of the Day, which is a flat-fish, usually plaice, dab, lemon sole or megrim, that is so delicately fried so that you can eat the fish bone basket the dish is served in; and ankimo or 'foie gras of the sea' – the liver of the monkfish. See also their Fishing and Foraging event at Cookery School on 5th June (above).
Moshi Moshi
Unit 24, Liverpool Street Station
London EC2M 7QH
(above platform 1, behind M&S)
Newman Street Tavern
Newman Street Tavern will have suckling kid liver cooked with sherry and onions on the menu. Chef Peter Weeden says, "Nose-to-Tail Fortnight is something I really look forward to, given that we butcher all our meat from carcass and use every last morsel to make stocks, sauces and braised dishes ... Buying whole carcass from specialist producers means we always have interesting tasty treats and it keeps the chefs interested, using their skills to do complex butchery and more challenging cooking with the less well-known cuts. This dish shows how such good ingredients, however simple, can become the most delicious dish if prepared and cooked carefully - and while the suckling kid season is drawing to a close, there will be plenty of lamb plucks to take their place."
Newman Street Tavern
48 Newman Street
London W1T 3DZ
NOPI
NOPI is a brasserie with a twist: serving dishes to share with robust, sunny flavours, typically from the Middle-East and Asia. NOPI is serving a nose-to-tail dish,"Lamb sweetbreads, black garlic, nettle, parsley purée", for lunch and dinner throughout the fortnight.
NOPI
21-22 Warwick Street
London W1B 5NE
Princess Victoria
Princess Victoria invites you to join them for the first of their ongoing monthly supper clubs - a 'Nose-to-Tail' dinner. Matt has created a feasting menu that celebrates every part of the beautiful Tamworth pigs, that friend Nick Francis delivers each week from Paddock Farm in Warwickshire. Patsy will also be matching several top wines with dinner, and will throw in a few surprises for you too! Tickets are £60, all inclusive, and available to buy through Eventbrite. Secure your spot now!
Princess Victoria
217 Uxbridge Road
Shepherds Bush W12 9DH
Quinto/Quarto
Quinto/Quarto brings Italian Nose-To-Tail eating to the streets of London. Their street food menu pairs gnocchi with under-valued cuts such as ox-tail, pig's ears and veal cheeks.
Find them at the Boiler House - Brick Lane Market E1, every Saturday & Sunday from 11am till 5pm (Shoreditch High Street Tube Station) and at Hoxton Street Market N1, every Saturday morning 9am-3pm (Hoxton Station Overground).
Roast
From 6th June Roast Restaurant will be serving Cornish lamb's sweetbreads with chargrilled courgettes, anchovies and capers. Roast is set in London's iconic Borough Market uses seasonal ingredients to create classical British cooking that both supports and celebrates Britain's farmers and producers, many of whom are stallholders in the market.
Roast
The Floral Hall
Stoney Street
London SE1 1TL
Tongue 'n Cheek
The Nose-to-Tail ethos is central to what Cristiano does - expect to see his famous Heartbreaker burger (containing 50% ox heart) on the menu, alongside ox tongue with salsa verde and pork cheeks served on a Sub, with porto wine reduction and spicy slaw. Follow him @tonguencheeks to discover where you can find this great street food.
Waterhouse Restaurant
Find out what the chefs are serving up on their deliciously tempting yet ethical menu during Nose-toTail Fortnight, they pride themselves on featuring the freshest seasonal ingredients all prepared in stylish canalside surroundings. Runner Up Best Ethical Restaurant - Observer Food Monthly Awards 2012.
Waterhouse Restaurant
10 Orsman Road
London
N1 5QJ
The Alma
The Alma will be celebrating Nose-to-Tail Fortnight with dishes such as braised ox cheek. Owner Kirsty Valentine welcomes the opportunity to encourage diners to try "other cuts of meat that we normally ignore or dismiss. It's about having a go and trying something different."
The Alma
59 Newington Green Road
Islington N1 4QU
The Charles Lamb Pub and Kitchen
A traditional, friendly, local pub, The Charles Lamb Pub & Kitchen offers an ever-changing menu of traditional French and English dishes. Throughout the Fortnight, diners are invited to tuck into nose-to-tail offerings such as ox-tongue salad, pork terrine, pig's cheek pork pies and onglet steak.
The Charles Lamb Pub and Kitchen
16 Elia Street
Islington N1 8DE
The Duke of Cambridge
The Duke of Cambridge serves delicious organic food and drink carefully sourced from independent producers, while keeping their environmental impact and food miles super-low. Their daily changing menu includes nose-to-tail classics such as pig's head terrine and rabbit consomme, courtesy of Marseilles-born chef, Ben Berenger.
The Duke of Cambridge
30 St Peter's Street
Islington N1 8JT
The Table
The Table Café in Southwark is supporting Nose-to-Tail Fortnight for the second time, and will be tempting its customers with a pork terrine entitled "Head, Shoulders Knees and Toast."
The Table
83 Southwark Street
London SE1 0HX
The Three Stags
The Three Stags pride themselves on sourcing the freshest, most local, produce they can. Their menu changes regularly according to the best seasonal ingredients available. Throughout the fortnight they will be serving up nose-to-tail dishes such as 'Angus steak & kidney pie with mash and gravy' and 'Pan-fried calve's liver, with wholegrain mustard mash, bacon shards, tobacco onions and gravy'.
The Three Stags
67-69 Kennington Road
London SE1 7PZ
The Windsor Castle
"Using the complete animal makes complete sense," says the newly re-opened Windsor Castle's head chef Oliver Rowe. "We've been using some more unusual cuts on the menu - I've been particularly pleased with our brawn and deep fried pigs ears." They are also involved in the Nose-to-Tail Trail from 14th-16th June.
The Windsor Castle
135 Lower Clapton Road
London E5 8EQ
We hope you enjoy trying out some of the great Nose-to-Tail dishes on offer around London.
---
With our thanks to the chefs, restaurants and pubs that have kindly shared these recipes with us, here are a few nose-to-tail dishes for you to try at home:
Lamb's kidneys baked inside potatoes
Ben's Haggis
Suckling kid's liver with sherry & onions
Seared ox heart with spinach & parsley purée, green peppercorns & capers
Coda Alla Vaccinara – Roman oxtail stew
A trio of recipes from The Charles Lamb
Tamworth pig's trotter stuffed with kidneys and wild mushrooms
Ankimo monkfish liver
Share
Get updates
Ethical Eats: Ethical Eats ran a network of London restaurants and catering businesses that care about sustainability.
Menu
Support our charity
Donate to enhance the health and welfare of people, animals and the planet.