Good food training & qualifications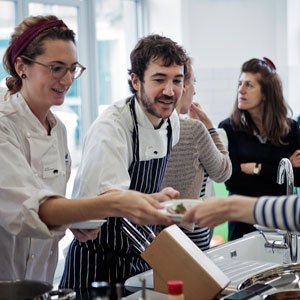 For several years, Ethical Eats and previous Sustain projects have worked with catering colleges in London, to improve skills in healthy and sustainable food, and to help young people from diverse backgrounds gain employment in sustainable catering.
Since October 2012, Ethical Eats ran a series of sustainable food workshops at catering colleges such as Westminster Kingsway and the University of West London, and three further colleges participating in a joint event held at the Southgate campus of Barnet & Southgate College. We aimed to make these workshops replicable, and encouraged the participating colleges to integrate such work into their curriculum, to give the work longevity and lasting influence - with some notable success. As an example of the benefits of this approach, we have supported Westminster Kingsway to run a Greener Cooks student ambassador programme, recruiting first-year students to be food waste champions. This ran as a pilot from September 2013, with the aim of it becoming a regular feature of the course.
Ethical Eats has also worked with the vocational education qualifications body, City & Guilds, on curriculum content for the new Sustainable Catering qualifications that was launched for colleges to use from September 2013. This has proved to be a valuable opportunity to collaborate with an influential educational body, and to use the expertise gained as part of the Ethical Eats project to influence what we hope to be lasting changes in the catering training sector.
We produced the Good Food Guide for chefs, caterers and culinary students, covering issues such as local and seasonal food, higher welfare meat and sustainable fish. Printed copies of the guide were distributed at events, and are downloadable from the Sustain website.
Share
Get updates
Ethical Eats: Ethical Eats ran a network of London restaurants and catering businesses that care about sustainability.
Menu
Support our charity
Donate to enhance the health and welfare of people, animals and the planet.