Fish
What's the problem?
Our appetite for fish has increased so rapidly over the past fifty years, matched by the increasing industrialisation of the fishing industry, that we are seriously at risk of losing some species from our seas for ever. Over three quarters of the world's fish stocks are currently either fully or over exploited, and some scientists estimate that, at the current rates of depletion, most of the world's fish stocks will collapse by 2048. As millions of people depend on fish for food and for their livelihood, this would have dire social as well as ecological consequences.
The environmental problems associated with fishing include:
Loss of marine biodiversity, not only from declining fish stocks but also from 'bycatch' – non-target (and often commercially useless) species such as whales, sharks, dolphins, sea-birds and young fish being accidentally killed by fishing gear;
Damage to sensitive areas of the sea bed and other marine environments by certain fishing methods, particularly bottom trawling.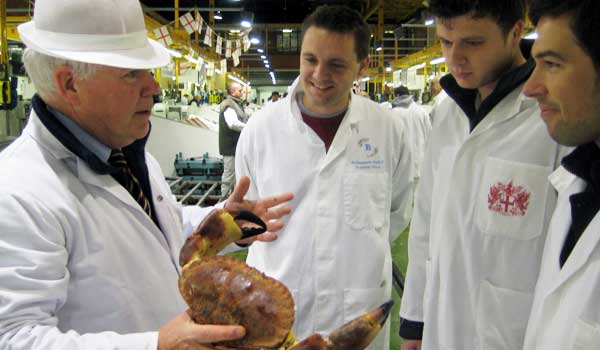 What can you do?
To play your part in conserving the marine environment:
Do not buy fish from overfished stocks or badly managed fisheries as listed on the Marine Conservation Society's 'fish to avoid' list.
Ask your fish supplier for assurances that the fish they supply has been legally and sustainably caught (and for evidence if you are not convinced by the answer). Most importantly, ask:

where the fish was caught – as the sustainability of some species varies according to location (again, see the 'fish to avoid' list) – don't be fobbed off with "it's from Billingsgate"!
how it was caught – bottom trawling is generally considered to be one of the most environmentally damaging fishing methods, but driftnets and even longlines are also associated with high levels of wasteful bycatch. More sustainable methods to look out for include handline (e.g. mackerel), diver caught (e.g. scallops), jigs (e.g. squid) and pots or creels (e.g. lobsters or crabs). Phrases such as 'traditional methods' are meaningless.

Promote sustainably-caught fish on your menu – many customers now understand that seeing phrases such as 'line caught mackerel' and 'diver caught scallops' on a menu mean that the restaurant is taking steps to make more sustainable choices.
Choose and promote fish with the Marine Stewardship Council (MSC) logo, which is certified as coming from well-managed fisheries and not from endangered stocks. The MSC can provide details of certified fisheries and suppliers of MSC-labelled fish, which include fishmongers and mainstream foodservice suppliers of fish and fish products.
Contact the Marine Stewardship Council for information on how to obtain permission to use the MSC logo on menus and publicity materials. If full MSC accreditation seems to be too expensive for your business, consider linking up with other food businesses to get joint inspection and accreditation, which can be much more cost effective. Jointly, you can also put greater pressure on suppliers to give you more information about the fish they supply, and to offer you more sustainable fish.
Given the controversy about some farmed fish and shellfish, you might want to consider whether to avoid the problem and not stock them. Not all farmed seafood is problematic, however; tilapia, for example, is a non-carnivorous fish (i.e. it eats plant food, not other fish) that can be farmed sustainably, and farmed mussels are tasty and sustainable and may be available from local sources.
Sign the Sustainable Fish City pledge

Adopt a sustainable fish policy and support the Sustainable Fish City campaign. You will be in good company. All Government departments, The National Trust, 15 major London universities, the Metropolitan Police, Transport for London, the Greater London Authority, the London 2012 Olympic & Paralympic Games, a host of restaurants and caterers, and one fifth of the nation's schools (together serving well over 200 million meals a year!), and lots more people and businesses have already done so. Please join in!
Resources
Share
Get updates
Ethical Eats: Ethical Eats ran a network of London restaurants and catering businesses that care about sustainability.
Menu
Support our charity
Donate to enhance the health and welfare of people, animals and the planet.