Sustainable Festival and Street-food Catering
Inspired by the sustainable food standards of the London 2012 Food Vision for the Olympic and Paralympic Games, and by the number of festivals and other events taking place, Ethical Eats turned its attention to festival and street-food catering. We worked with organisations such as A Greener Festival (which provides environmental audits of festivals and an award/accreditation scheme), The Association of Independent Festivals, environmental concultants Julie's Bicycle, the Nationwide Caterers Association, and street-food collective Eat St. Read a report about a workshop on our previous events page.
We developed two guides, one for stallholders and one for event organisers.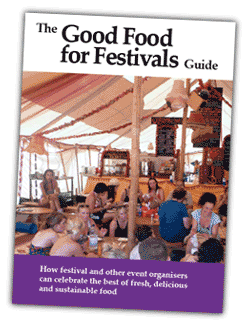 The Good Food for Festivals Guide is for organisers, and - along with A Greener Festival, Julie's Bicycle,and the Asoociation of Independent Festivals - has the backing of environmental campaign group Greenpeace, as well as festivals Bestival, Waveform and The Green Man. The guide – the first of its kind – provides issue-by-issue advice on tackling the sustainability of food and drinks served by mobile caterers. It covers the benefits of going local and seasonal, higher-welfare meat and dairy, sustainable fish, reducing waste and water use, as well as how festivals and events can celebrate their good food credentials. The guide also includes a checklist for organisers to give potential traders, to see how their food measures up environmentally.
The Guide includes inspiring case studies of what can be achieved on good food, from leading annual events such as Glastonbury Festival, Latitude, Shambala and the Thames Festival.

Order a PDF version of The Good Food for Festivals Guide - celebrate the best of fresh, delicious and sustainable food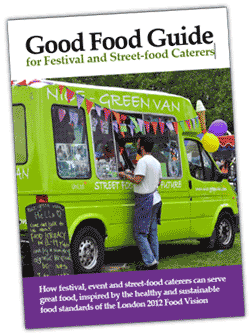 A template for an ethical and sustainable food checklist for traders can also be downloaded in Word format, for adaptation to your own needs.
To accompany this publication, we have also produced a Good Food Guide for Festival and Street-Food Caterers, which provides practical advice on how mobile caterers supplying festivals can make their eats more green and ethical. This also includes inspiring case studies from green street-food pioneers such as Sarah Moore, Street Kitchen and Squid & Pear.

Order a PDF version of The Good Food Guide for Festival and Street-Food Caterers - how to serve up sustainable food
Prior to the launch of the Guides, we ran a half-day workshop for festival and street-food caterers looking to learn more about building sustainable food principles into their dishes. The event kicked off with a tour of the New Covent Garden wholesale market, where attendees were introduced to market suppliers, and tasted some of the produce on offer.
The tour was followed by sessions on: using local and seasonal produce; sustainable fish higher-welfare meat; waste; and healthy catering. An 'ask the experts' panel, featuring speakers such as Petra Barran from Eat St, George Clark from the Sustainable Restaurant Association and Ian Fielder, festival manager of The Green Man Festival, covered topics such as managing costs, working as collective, and communicating good food credentials. Over lunch stallholders had the opportunity to network and to 'meet the suppliers', with a selection of local-to-London producers showing off their produce. Suppliers present included Chegworth Valley (juices, fruit and veg), Flour Station (bakery), Kappacasein (cheese), London Glider Cider, Peros Ltd (Fairtrade items), Cultivate London (community-grown salad and herbs) and Dalston Cola. A delicious lunch was made by Cristiano and Kirie from street-food trader Tongue n' Cheek.
Share
Get updates
Ethical Eats: Ethical Eats ran a network of London restaurants and catering businesses that care about sustainability.
Menu
Support our charity
Donate to enhance the health and welfare of people, animals and the planet.