Other previous Ethical Eats events
---
The Cracking Community Cafés get together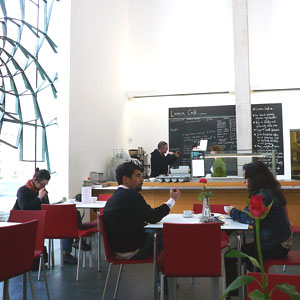 In 2013, we ran a get-together for community cafes to share their experiences, learn top tips from expert social enterprise advisors, and to build connections between people running similar ventures.
Where: Lumen Café, 88 Tavistock Place, London WC1H 9RS
When: 4.30-6.30pm, Tuesday 17th September 2013
What: We got together in the lovely, light-filled space that is Lumen Café - and their courtyard garden - for the final networking event of the Ethical Eats project.
Community cafés shared their challenges and successes and talking about ways in which the network can keep on growing and supporting its members.
There was plenty of time to chat to community café colleagues and to business advisors over a glass of wine and a bite to eat. Lumen's chef served up some super-local morsels in celebration of Urban Food Fortnight, using vegetables and herbs from local community growing spaces. Tickets were £10 per person.
During 2013, Ethical Eats ran a programme of events and one-to-one advice, to help people who run community cafes to be more sustainable. As a result of these events, and consultation with the community cafes and expert social enterprise advisors, we published the following factsheets, on themes such as marketing & promotion, getting the food right, money matters, and your people. Click on the covers below to download the PDF guides.
---
Looking forward to Urban Food Fortnight: Get Growing
Where: The Capital Growth Allotment Garden, corner of Chester Road and the Inner Circle in Regent's Park
When: Wednesday 3rd July 2013
What: Participants arrived at the lovely Capital Growth Allotment in Regent's Park to learn how easy it is to grow their own herbs, salad leaves and baby vegetables in containers or beds.
Trainers Ida Fabrizio and Paul Richens shared their wealth of urban food-growing experience, including tips and tricks for growing in containers and small spaces, adapted to a café's environment and needs. Everyone took away a starter kit of plug plants and seeds to get them going and left with great ideas to get a kitchen garden growing in time for this year's Urban Food Fortnight (14th-29th September 2013).
This event was organised by Sustain's Ethical Eats network and Capital Growth, London's food growing network.
---
Crumb Together: A Real Bread Workshop for community food enterprises
Where: The Better Health Bakery, 13 Stean Street, London E8 4ED
When: Tuesday 25th June 2013
What: Ethical Eats and the Real Bread Campaign welcomed participants to The Better Health Bakery, a new social enterprise in Haggerston, for an afternoon of bread-making, mixing, kneading, baking, cooking, eating and chatting. Everyone got hands-on immediately learning how to make various types of Real Bread to put on their own menus - from a country sourdough to soda bread.
While the breads were baking, chef Kate de Syllas led a cookery session on reducing bread waste, with great ideas for using leftover bread and breadcrumbs. She created a delicious café menu of starter, main course and dessert which can all be pulled together in an hour.
Participants - staff and volunteers from community cafés and social enterprise restaurants - also had a chance to learn more about Real Bread from Chris Young and to share experiences and chat with Robert Agren of The Better Health Bakery, and Pilar Lopez and Simon Poffley of the Hornbeam Bakers' Collective about setting up and running social enterprises.
This event was organised by Sustain's Ethical Eats network and the Real Bread Campaign, which are funded by the Big Lottery's Local Food scheme.
---
Looking Forward to Urban Food Week: Get Connected
Where: The Three Stags, 67/69 Kennington Road, London SE1 7PZ
When: Wednesday 29th May 2013
What: Ethical Eats teamed up with Capital Growth to bring together London's enterprising food growers and sustainable chefs in preparation for Urban Food Week, which is taking place from 16th to 22nd September.
The event was held on 29th May at the Three Stags in Kennington, where owner Richard Bell sources locally grown ingredients for his menus and even keeps his own bees. Community growers and local buyers had the opportunity to chat and learn more about how they can work best together, and we heard from growers such as Cultivate London who have already established trading relationships with restaurants.
---
A Nose-to-Tail* Day on the Farm
When: Thursday 16th May 2013
Where: Laverstoke Park Farm, Overton, nr Basingstoke, Hampshire, RG25 3DR
Participants enjoyed a day on Laverstoke Park Farm - a fascinating organic and biodynamic livestock farm, which produces a wide range of food including beef, pork, lamb, chicken, buffalo meat and dairy, as well as fruit and vegetables. Chefs, staff and students from London restaurants, community food enterprises and catering colleges were guided on a tour of the farm by staff to learn what higher animal welfare means in practice.
A nose-to-tail butchery demonstration by Mark, one of the farm's master butchers, introduced everyone to the less familiar cuts available from a lamb carcass. Participants later got hands-on with lamb cuts and offal that they might not normally use to create their own recipes after taking inspiration from a demonstration by chef Alan Stewart, featuring less familiar cuts and offal. You can have a look at the video of their day on the farm to see some of the tasty dishes it inspired.
* With thanks to Fergus and the folk at St. John for their much-quoted phrase!
This event was organised by Sustain's Ethical Eats network, which is funded by the Big Lottery's Local Food scheme, and GreenCook, a food waste reduction project funded by Interreg IVB. Trainers were Mark, Master Butcher at Laverstoke Park Farm, and chef, Alan Stewart, and Charlotte Jarman, Ethical Eats, and our visit was hosted by Simon McPhee-Clarke and his colleagues at the farm.
---
Inter-College Catering Workshops
When: Monday 25 March, 2013
Where: Southgate campus of Barnet & Southgate College
College students from across the London region joined together at the Southgate campus of Barnet & Southgate College for a series of demonstrations from chefs and caterers. Workshops were held in pasta making, advanced plating techniques, cooking with "ugly" fish and vegetable preparation inspired by modern cookery techniques.
Ethical Eats, Sustain's network for restaurants and caterers, was very pleased to be involved in the event and to hep organise inspiring practitioners to share their skills. Chefs Craig Keane from the House of Umami, and Mike Knowlden and Joshua Pollen from Blanch & Shock, were recruited by Ethical Eats to provide training with a sustainability bent.
First up to lure in students with the promise of "ugly" fish was Craig Keane, fish specialist from the House of Umami. He engaged the students in a workshop on cooking a less well-known fish, to relieve pressure on popular species – the Gurnard. None of the students had cooked with the species before and this provided a fitting way into issues around fish sustainability, highlighting the need for increased diversity in the fish that we cook with and eat. Students were introduced to some resources available to guide them in making more sustainable choices, with the Marine Conservation Society's Good Fish Pocket Guide proving a popular hand-out.
Craig showed how versatile Gurnard can be. Ably assisted by the students, he prepared Gurnard fillets in three ways; stuffed with herbs, lemon zest, anchovies and capers, trussed, pan seared and roasted-off in the oven; in a stew, infused with saffron and red pepper; and grilled with a breadcrumb and herb topping. Students left the workshop not only with a new appreciation for the Gurnard, but also mindful of how to make more sustainable seafood choices.

The second workshop we organised was run by the team behind Blanch & Shock, a food and design company. They showed students that vegetables don't have to be boring. Indeed, many of their preparations sparked unique reactions amongst the students, as not everyone's palate was accustomed to the sour, bitter, tastes on offer. Students were introduced to fermentation techniques, sampling turnips fermented in yoghurt whey and red-cabbage with onion seeds. Taking a classic British winter vegetable and adding a touch of spring, students sampled warm Jerusalem Artichoke sprinkled with the herb melilot. Otherwise known as 'sweet clover', melilot has an intense aroma of hay and is bitter to the taste. Opinion was divided about the Mustard spinach (Komatsuna) preserved in brine. By far the most popular taste, owing to its inherent sweetness, was beetroot syrup. Meringue was gently folded into the syrup resulting in an earthy-sweet treat. The workshop provoked a lot of discussion and opened students' minds to the many different uses vegetables can be put to.

---
Cracking Community Cafés: Two bite-sized business workshops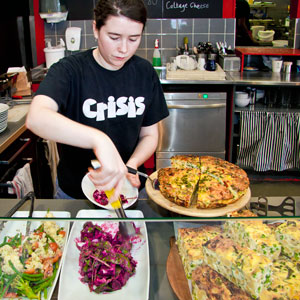 When:
Part 1: Tuesday 19th February, 2013
Part 2: Tuesday 26th February, 2013
Where: Crisis Skylight Café, 64 Commercial Street, London E1 6LT
Through these interactive sessions, community café managers and staff of community cafés learned about ways to improve their cafés, heard community café success stories and had the chance to sign up for free business support. The content of the sessions included:
Menu pricing and margins
Serving sustainable food while keeping costs down
Budgeting and keeping on top of the figures
Marketing and promotion - knowing what the customer wants
Getting the best from your staff and volunteers
These workshops were organised in partnership with the Making Local Food Work programme's Enterprise Support scheme. Our trainers were Maurice McCartney from Fresh Management Solutions, Simon Michaels from f3, Mel Taylor from Greenwich Co-operative Development Agency and Charlotte Jarman from Ethical Eats.
---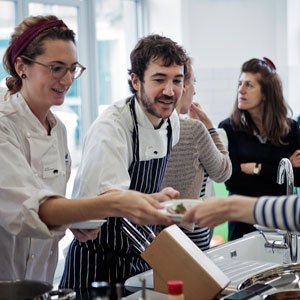 Beyond Chewing the Fat
When: 26th November, 2012
Where: Westminster Kingsway College, Victoria
A practical workshop for chefs and restaurateurs on preventing food waste in the kitchen and supply chain.
At this practical event for chefs, attendees heard from food waste campaigner Tristram Stewart, the Sustainable Restaurant Association, and Plan Zheroes - a new organisation helping tackle food waste. They then watched chefs from around London demonstrate and explain some low-waste dishes. The workshop ended with a practical session in Westminster Kingsway's brand new demo kitchen, during which attendees got to try their hand at some of the techniques discussed, producing their own low-waste, high quality dishes.
---
Urban Food Week
When: 10-16th September, 2012
Where: Across London
This September, London feasted on the fabulous local produce being grown, produced and cooked on its doorstep, with the capital city's first Urban Food Week.
The week was a collaboration between restaurant network Ethical Eats; Capital Growth - the campaign to create 2012 new food-growing spaces by 2012; and Capital Bee, which promotes community beekeeping in London, to highlight the importance of buying and eating local food, urban growing and planting forage for bees.
During the week, restaurants, cafés, bars and pubs across the city showcased dishes and drinks made with ultra-local fruit, veg and herbs from urban farms, and from London honey cultivated in community beehives. Any diner submitting a picture of their Urban Food Week dish or drink was entered into a draw to win a one-day urban foraging course, by Food Safari
If you are a restaurant, grower, beekeeper or urban food business or organisation, and missed Urban Food Week but are interested in supplying or buying ultra-local produce or honey get in touch.
---
Sustainable Fish Workshop
When: Wednesday 19th September, 2012
Where: Billingsgate Seafood Training School, Billingsgate Market, Trafalgar Way, London E14 5ST
Everything you always wanted to know about sustainable fish... but were afraid to ask
What: A half-day workshop to help participants get to grips with the slippery subject of sustainable seafood, which featured:
an optional tour of Billingsgate Market
an introduction to the issues from Good Catch
a tasting of alternative, underutilised and sustainable species
a hands-on prep session with the Seafood Training School's master filleter, Adam Whittle
some ideas for how you can be a part of the solution with the Sustainable Fish City campaign
a fishy lunch at Billingsgate's pop-up roof terrace restaurant
---
Nose-to-Tail Fortnight
When: 30th April - 14th May, 2012
Where: Across London
We asked restaurants to explore nose-to-tail meat use, by putting a special (or specials) on their menu featuring offal or another unloved cut between 30 April and 14 May.
We provided posters to advertise involvement to customers, and worked with the press to let London know what was happening. We published a map of participating restaurants, and featured them on the Ethical Eats website and encouraged restaurants to send us snaps of the dishes for us to tweet.
Why?
Nose-to-Tail fortnight was part of our campaign to encourage more thoughtful, less wasteful meat use by the capital's restaurants. During the preceeding months we looked into chefs knowledge of the meat industry, their connections with the markets and suppliers, and their knowledge of the quality and provenance of the meat they prepare and serve. We explored concerns about the environmental impact of animal farming and the international meat industry, and conducted research into consumer attitudes towards offal, spoke to butchers and suppliers about their trade, and to high-volume and niche establishments about the issues they face when it comes to sourcing and preparing the meat we eat.
Restaurants (and other eateries) that took part:
The Table; Blanch and Shock; Dock Kitchen; The Russet; Café Spice Namaste; Leong's Legend; Eton College; Island Grill - The Lancaster Hotel; Manson; Nopi; The Cinnamon Club; The Peoples Supermarket; Crispins Wine Bar; The Alma; Tongue n' Cheek; Corrigans Mayfair; The Duke of Cambridge; The Anthologist; The Drift; Square Restaurant; Kitchen W8; Moshi Moshi; The Charles Lamb; The Victoria; Tempo Restaurant; Benares; Greenwich University; Bite; Café Caldesi; Farm Direct; the kitchen at The People's Supermarket.
---
Festival and Street-Food Sustainability Workshop
When: Tuesday 8th May, 2012
Where: New Covent Garden Market
Ethical Eats, in conjunction with Sustain's Food Legacy project, ran a half-day workshop for festival and street-food caterers looking to learn more about building sustainable food principles into their dishes.
The event kicked off with a tour of the New Covent Garden wholesale market, where attendees were introduced to market suppliers, and tasted some of the produce on offer. The tour was followed by sessions on: using local and seasonal produce; sustainable fish higher-welfare meat; waste; and healthy catering. An 'ask the experts' panel, featuring speakers such as Petra Barran from Eat St, George Clark from the Sustainable Restaurant Association and Ian Fielder, festival manager of The Green Man Festival, covered topics such as managing costs, working as collective, and communicating good food credentials. Over lunch stallholders had the opportunity to network and to 'meet the suppliers', with a selection of local-to-London producers showing off their produce. Suppliers present included Chegworth Valley (juices, fruit and veg), Flour Station (bakery), Kappacasein (cheese), London Glider Cider, Peros Ltd (Fairtrade items), Cultivate London (community-grown salad and herbs) and Dalston Cola. A delicious lunch was made by Cristiano and Kirie from street-food trader Tongue n' Cheek.
A set of Festival Food Guidelines, which highlight the issues and provide practical solutions for festival and street-food traders, were launched at the event.
---
Nose-to-Tail workshop
When: 6th March, 2012
Where: Central Street Cookery School, Islington
Ethical Eats brought chefs from all over the city together with butchers, culinary experts, and local caterers, to learn about animal welfare, the energy issues associated with livestock farming, to explore whole animal butchery, and try some cooking with lesser-used cuts.
Alan Stewart of Manson Restaurant, and butcher Nathan Mills, of The Butchery, demonstrated their skills breaking down the Gloucester Old-Spot, provided by Billfields of London, before helping the participating chefs have a try.
Buying a whole carcass, means you are able to "offer value to the customer", said Stewart. "It becomes cheaper and more interesting for them. And it makes financial sense – I can't imagine doing it any other way," he said. "Ordering a leg on its own is expensive – but when you order the whole animal, that leg becomes relatively cheap." Echoing this notion, Mills added, "making money from the 'body balance' – those parts that aren't normally included in your order – and building that relationship with your butcher can be rewarding for you both." To chefs weighing the benefits of ordering a whole animal, Stewart suggests incorporating some dishes with different cuts into the weekly ordering plan. The savings accrued when ordering the whole animal, including those less popular cuts can then be passed on to the customer.
---
Adopt-a-plot showcase event
When: 17th January, 2012
Where: The Table Café, Southwark
Ethical Eats teamed up with Capital Growth, the campaign to get London growing, to offer restaurants the opportunity to 'adopt a plot' at their local community food-growing space.
Chefs and restaurateurs met with growers in order to discuss desirable varieties, supply logistics and pricing for the coming summer, and to gain an understanding of how each other works in order to establish hyper-local vegetable supply relationships.
---
Going back to our roots: chefs invited to trace a vegetable's journey from farm to market
When: 8th July, 2011
Where: New Covent Garden Market and Laleham Farm, Middlesex
Chefs, restaurateurs and caterers doned their wellies for a day at Laleham Farm in Middlesex and London's New Covent Garden Market. Laleham Farm is a LEAF (Linking Environment & Farming) accredited vegetable farm, committed to maintaining a variety of habitats for wildlife by practising environmentally-responsible farming methods. The farm supplies menu-inspiring produce such as ruby chard, cavolo nero, fennel and kohlrabi to both the local and London markets. The purpose of the day was to give catering professionals the opportunity to learn more about the practicalities of sustainable farming methods, and see for themselves how fresh, local produce is hand picked and packed on the farm before arriving at the London market less than 24 hours after harvest. Attendees were given an early morning tour of New Covent Garden's Buyers Walk, then transported to Laleham for a farm walk led by grower Charlie Bransden. The visit finished with lunch at a local pub, featuring super-fresh produce from the farm.
---
London Honey Festival
When: 21st August, 2011
Where: Across London
In a UK first, restaurants across London served up the Capital's honey this summer. In a link-up with the Capital Bee campaign, restaurants were connected with local beekeepers and encouraged to put 'London Honey Specials' on their menus in celebration of the London Honey Festival. A staggering half a tonne of urban honey 18 apiaries was made available to restaurants including: Caffe Caldesi, Dishoom, Eden Caterers, The Three Stags, Roast, Skylon, The Table Café, L'Eau a la Bouche, The Charles Lamb and Drake & Morgan.
https://www.capitalgrowth.org/bees/
---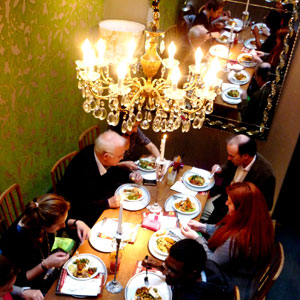 Vegetarian Restaurant Ramble
When: 26th May, 2011
Where: Soho and Shoreditch
This event - where three courses were served at three different ethical eateries - was aimed at raising awareness of the great things London's restaurants are doing to reduce their environmental impacts (for example using small-scale local producers), and to highlight to diners that reducing their meat consumption is one of the simplest and most effective things they can do to improve the sustainability of their eating choices. The journey began at Tibits on Heddon Street, where ramblers piled their plates with sumptuous veggie starters from the 'food boat'. This was a buffet with a difference – local and organic food is at the heart of Tibits' philosophy. Diners were then be treated to a VIP experience at the Soho vegetarian institution that is Mildreds. Serving up top class food since 1988, Mildreds knows a thing or two about vegetarian cookery, and is popular with veggies and omnivores alike. The main courses were served in the private dining room and featured organic ingredients from small-scale suppliers, accompanied by organic wine. Diners were then transported to the final stop, Saf in Hoxton. Voted London's best vegetarian restaurant by the Evening Standard in 2010, and with a focus on food that promotes wellbeing, Saf was the perfect place to end the tour with pudding and a digestif.
---
Sustainable Fish Workshop
When: 2nd March, 2011
Where: Billingsgate Fish Market
Sustainable seafood was the flavour of the day at the Billingsgate Seafood Training school on 2 March 2011, when over 40 chefs, caterers and restaurateurs attended a sell-out event jointly organised by Ethical Eats and the Good Catch sustainable seafood initiative, with the support of Sustainable Fish City. The training day started with an early morning tour of Billingsgate Fish Market, where chefs got the chance to meet seafood traders and see the incredible range of fish and shellfish on offer at the market. Attendees were also put to the test with a blind tasting, and challenged to 'name that species' – not as easy as it sounds! Lesser-loved fish species such as dab and gurnard proved popular with the chefs, who said they'd be interested in trying them out on their menus as tasty and often cost-effective alternatives to popular species that are currently under pressure – cod, haddock, salmon et al.
Share
Get updates
Ethical Eats: Ethical Eats ran a network of London restaurants and catering businesses that care about sustainability.
Menu
Support our charity
Donate to enhance the health and welfare of people, animals and the planet.