Customer communication
As a restaurant your choices matter! By talking about the changes you are making – and would like to make – with both your suppliers and your customers, you can help to encourage growth in both the demand for and the supply of sustainable food.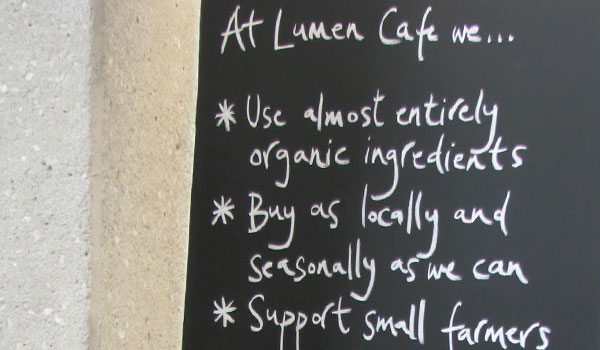 What can you do?
Tell your suppliers about the sorts of sustainable foods you would like to buy, so that they start to offer them to you.
Tell your customers about the good work you are doing, and explain why it is important.
Tell your customers why your menu features particular ingredients:

Food businesses that feature seasonal and locally grown food do not offer the same foods all year round.
Make a virtue of this by using seasonal produce as an opportunity to advertise and tell stories about your interesting new menu items.

Train your staff in the issues you are trying to tackle, get them involved in the changes you make and encourage them to promote this work to customers.
Highlight the most sustainable foods on your menu.
Turn sustainability into a selling point by making clear the company's commitment to improve its environmental performance.
Resources
Share
Get updates
Ethical Eats: Ethical Eats ran a network of London restaurants and catering businesses that care about sustainability.
Menu
Support our charity
Donate to enhance the health and welfare of people, animals and the planet.