The project: The Eat Somerset project ran from June 2006 to March 2009. Coordinated by Sustain, the project was funded in its first phase (to June 2008) by a charitable grant from the Esmée Fairbairn Foundation, with additional support from Friends of the Earth. The aim of the first phase was to develop trading links and new markets for local food producers, supporting 15 supplier businesses, and increasing the range of local produce available in six shops. The first phase of the project also involved Somerset Food Links, a not-for-profit organisation working to promote greater use of sustainable food. This series of Case Studies provides information on how the project developed, successes achieved and challenges faced in the first phase of the project.
Convenience stores
Working with convenience stores was always identified as one of the primary aims of the Eat Somerset Project. To this end, the Project Officer contacted 57 convenience stores around the Taunton area. This area was targeted in the hope that the project would work with a local producers' co-op called Source. Seven stores (12%) responded positively and follow up work was carried out with them including providing details of local food producers and Source to them. However, no significant sales occurred as a result of this initial work. We reviewed the situation and decided that more detailed support was needed to encourage convenience stores to stock and promote locally produced food.
In order to provide more dedicated support, two shops were chosen to work with more directly, with this work being undertaken by the project worker at Somerset Food Links - a Costcutter and a Village Store in villages near Taunton. These are independently owned convenience stores that are part of a buying group, and whose owners have expressed some interest in local food.
Milverton Costcutter
Milverton is a village west of Taunton with a population of around 1,400 people. Costcutter supermarkets represent around 1,500 stores throughout the UK and Northern Ireland. These symbol stores operate under group trading arrangements, but with individual flexibility for retailers to trade to local conditions. An interview with the owner of Milverton Costcutter, Emma Jenkins, took place in early 2007. Coming from an industry background and moving to the store with her family for a lifestyle change, Emma is committed to stocking as much locally sourced food as possible within the restraints of running a profitable business. The shop is the only retail outlet within walking distance of the village so the priority is to keep it open and thriving.
In 2007, the Milverton community launched an initiative called the Milverton Climate Change, encouraging people in the village to think about how and what they consume. Promoting local and seasonal food has become an important aspect of Milverton's approach to combating climate change. A Green Day was held, with Somerset Food Links arranging for local food producers to come and sell their wares to the public. The Milverton Costcutter participated in this event, and Emma Jenkins also networked with the producers. As a result she started to stock local Granny Gothard's ice-cream (made on the Somerset Levels). This has to compete against top national brands in the small ice-cream freezer. Emma reports that sales are good, but could be better. The manufacturer of Granny Gothard's was advised of this and encouraged to do additional promotion – consumer tests had shown that the product is tasty and consumers are likely to buy it once they have tried it.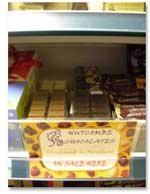 Ongoing contact has been maintained with the Milverton Costcutter by Somerset Food Links. As a result, other local produce is now being stocked, for example:
Rumwell Farm apple juice (from a farm about six miles from Milverton, near Wellington in Somerset). Emma was encouraged to try this out as an alternative to national juice brands. Apple juice is a key local product in Somerset and small producers are uniquely placed to supply it to retailers.
Nutcombe Chocolates (manufactured in Minehead, Somerset, about 19 miles from Milverton). These were promoted in the Costcutter with an eye-catching shelf sign (see note on marketing below).
Eat Somerset project staff have encouraged Milverton Costcutter to label all local produce with an easily identifiable sticker, label or shelf talker – so far, however, this has not happened.
Site-specific challenges encountered
Despite discussions with a local dairy farm, Gundenham (just over 2 miles from Milverton), local milk is still not stocked at the store. Discussions have taken place but the Costcutter has to order milk from Nisa-Today's – the independent retail sector's member-owned organisation that helps independent food retailers and wholesalers to coordinate orders and qualify for group buying discounts. Milk is a major product in the Nisa-Today system, so local stores have little incentive to change from their discount arrangements to dealing with a local supplier. The Milverton Costcutter did express interest in stocking glass-bottled milk from Gundenham Dairy as a premium product, but as the dairy delivers direct to the doorstep in the village they did not want two different prices and would also lose out on the glass bottles not being returned. Gundenham Dairy uses glass bottles as part of its commitment to reducing packaging waste.
Long Sutton Village Store and Post Office
Situated 3 miles outside the town of Langport, east of Taunton, the Long Sutton store is a busy Post Office and independent local shop that supplies a range of fresh, frozen and chilled products to the populations of Long Sutton and surrounding communities.
The Eat Somerset project visited the store on a number of occasions and carried out a retailer survey interview. During these discussions Mr and Mrs Talbot (the owners) were invited to join the Eat Somerset working party but were unable to do so due to limited time and business commitments.
Discussions with the Long Sutton Village Store and Post Office covered:
Identifying all products currently stocked that are local or regional, and the relative successes and problems associated with the products and suppliers;
Labelling and promotion of local items with appealing descriptions;
A possible trial of local labels on all local products to draw customer attention to them and help boost sales.
The project assisted the store with finding specific products to fill gaps in their supply (for example, local honey to make up for a poor harvest in 2007), and arranged for tastings of new products.
The Talbot's said that they are willing to run a trial in 2008, labelling local products clearly in a uniform way, to promote them as a range. Mr Talbot will create the labels himself.
Site-specific challenges encountered
The Long Sutton Village Shop owners find it challenging to consider new products, as wastage has been an issue in the past. This can be costly for a small store with a high degree of price sensitivity.
It is difficult for owners of small shops to spare the time for interviews, new product research, brand development and market research, and they are unable to attend meetings or events focusing on local food as they are needed in the shop.
Sales of specific products have suffered because customers have not realised the quality and difference between these and cheaper products. For example, the store had trialled Orchard Old Spot pork, which is of high quality, with a distinctive flavour and no additives. Yet sales have been disappointing. Labelling and promotion is not sufficient to drive new sales, despite the owner making eye-catching shelf labels to help overcome the price difference. It is possible that such products are seen by customers as 'premium', in an everyday store. The produce may find them more saleable at farmers' markets, where producers can meet customers face-to-face and explain the unique qualities and provenance.
Local products that are available only in single product lines are of less interest to a shop like Long Sutton than those that can offer a good range. For example, one line of locally produced muesli is of less interest than a range of cereal products, such as from Sun Foods in Dorset. These orders, deliveries, displays, sales and promotions are easy to manage.
What we have learned
Work with local retailers is time-consuming and intensive, and may be disproportionate to the gains achievable at this micro-scale, unless there is an engaged network of local producers and active community support. The type of support that project officers can offer is work to enable retailers to source, stock, display and promote more local produce.
The local independent retailers we have worked with need continued support in putting them in touch with local food producers. They find it challenging to undertake research, or to find the time to establish new trading relationships. They are also very price sensitive, so if experiments with local produce do not result in increased sales, this can cause wastage and loss of confidence.
We found that many local producers are used to selling direct to consumers at farmers' markets with minimal packaging, with display decisions under their control, and where the personal touch is an important selling point. When selling through retailers, the only information that a local producer can convey to the customer is what is on the label. We found that the local producers we worked with need advice on using marketing tools within the retail sector to draw customer attention to the unique qualities and local provenance of their products. A more concerted and well-communicated effort to promote a range of local foods may be needed, perhaps using the unified provenance branding popular among regional food groups (see the Institute of Grocery Distribution's report on the benefits of local and regional food branding at: http://www.igd.com/cir.asp?menuid=37&cirid=1533). Somerset Food Links is now working to develop such a brand, known as 'Levels Best' – to bring added value and marketing benefits to local produce, see http://www.levelsbest.co.uk/.
Where successes already exist, this is largely down to individual shop owners and their enthusiasm and commitment in sourcing and stocking local produce, which project workers can build upon, matching local products to the interests, skills and market opportunities of the shops, their owners and the communities they serve.
Share
Get updates
Eat Somerset: From 2006 to 2009 Sustain co-ordinated a food chain project in south west England that worked to increase trading between producer groups in and around Somerset and independent food retailers in the county, and create new markets in Bristol and Bath.
Menu
Support our charity
Donate to enhance the health and welfare of people, animals and the planet.