Sustain has been researching inspiring examples of edible (and other) roof gardens, helping inform our Capital Growth campaign for 2,012 new food growing spaces for London by 2012 (all types of growing spaces, not just roof gardens). See the separate campaign website at: https://www.capitalgrowth.org/.
---
On this page
---
In 2008, Sustain's network director Ben Reynolds organised a trip to the United States, sponsored by the US Embassy, to learn how Americans tackle issues of urban food growing and food access. With colleagues from several London-based food-growing and land-management organisations, he learned that there are huge opportunities to grow more food in our cities.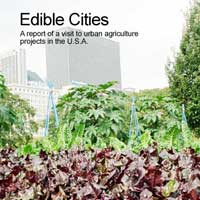 For information about Sustain's report on the visit, click Edible Cities, It looks at examples of urban agriculture projects in cities including New York, Milwaukee and Chicago (where green rooftops have become a common feature of the landscape, to reduce energy bills and cool the city - see Chicago City Hall below), and identifies a series of opportunities that other cities could be adopting.

Ben Reynolds comments: "We are all familiar with allotments, and community gardens as features of the city landscape, but more often than not a lot of space is wasted, where with a little support we could see projects like this in the UK, where salad crops, vegetables and even fish are produced commercially within the city."

Chicago has used parts of its public parks for food growing schemes. The City's Department of Environment also commissioned a City Hall Rooftop Garden pilot project as part of the Urban Heat Island Initiative with the US Environmental Protection Agency. The rooftop garden was designed to test its cooling effects and its ability to sustain a variety of plants in three different depths of growing media. Monitoring of the plants, birds and insects is underway.
Results from monitoring the cooling effects during the garden's first summer showed a roof surface temperature reduction of 70 degrees and an air temperature reduction of 15 degrees. Many species of plant are now well-established, and wildlife has been attracted to the new city oasis, as well as interested architects, engineers and policy-makers - especially those interested in reducing building energy use and helping to cool the city. Read a report on this project by the American Society of Landscape Architects.
---
An urban rooftop allotment is the latest project of eco-chef Arthur Potts Dawson, at Acorn House restaurant in the King's Cross area of north London. The restaurant already buys a lot of its food from ethical and sustainable suppliers, and also re-uses and recycles materials.

Details of the menu and training opportunities can be found on the Acorn House restaurant website
Acorn House has also been working with Sustain's Ethical Eats and Greener Food project to improve the sustainability of its ingredients and business practices
---
In his recent Channel 4 series River Cottage Spring, Hugh Fearnley-Whittingstall visited the rooftop of a Victorian terrace house in Hackney, to see eight beehives kept by teenager Philip Schilds and his father.

These city bees produce one hundred pounds of honey from each hive every harvest time - so with eight beehives, Philip Schilds bees make 2,000 jars per year. In the programme, Hugh Fearnley-Whittingstall estimated that it costs £250 per hive to set up in bee-keeping, and said that "Urban bees make good honey, and lots of it".
---
Global Generation is a charity aiming to develop an understanding of the importance of the environment amongst the younger generation and empower them to take a lead in generating change amongst businesses and local communities. The charity brings together people of all ages and backgrounds in practical projects that are creative and educational. Recently, Global Generation worked with the specialist advisory organisation LivingRoof.org to create the above living roof in Gray's Inn Road, London - making a shared rooftop space for 35 organisations in the offices below. Global Generation is also developing exciting plans for rooftop allotments, working particularly in North London.

See case study information for the Gray's Inn project at LivingRoof.org; and the Global Generation website.
---
RISC is an inspirational edible roof garden project atop the Reading International Solidarity Centre, a development education centre in the heart of the busy city. It is designed as a permaculture garden, following permaculture principles established in Robert Hart's permaculture forest garden in Shropshire. With a rooftop education room opening up onto the garden, the RISC roof garden is used for school visits and educational activities and is open occasionally to the public, through membership of the National Gardens Scheme.


The garden is well sheltered by surrounding buildings, and has dense plantings of over 180 species of edible and medicinal plants. It is fed by rainwater and composted waste from the centre. The RISC roof garden web pages give a wealth of information about the garden's construction, plants, water system and many other insights into roof garden installation and maintenance. Food grown on the roof is used in the RISC café on the ground floor, where there is also a shop selling Fairtrade products. The centre also houses conference facilities, and delegates are often fed on fresh roof garden produce, with zero food miles.
The photos above show before and after the transformation from a derelict roof to an edible roof garden. Dave Richards of RISC has produced several useful briefing papers on roof garden issues, especially for people interested in growing edible plants - see the contacts and publications link in the menu on the left.
---
The idea of a rooftop vegetable and herb garden is also catching on internationally. Toronto is home to a rooftop restaurant garden of raised beds at the Fairmont Royal York Hotel. Set up by the head chef and tended by 12 apprentice chefs, the green roof supplies a very wide variety of fresh produce, including kidney beans, cherry tomatoes, courgettes, squash, peppers, chile and cucumbers. The garden also supplies many fresh herbs and plants for flavouring and garnishing the restaurant dishes, including lemon balm, edible pansies, thyme, oregano, chives, lavender, mint and several kinds of basil.
---
An engaging and educational rooftop garden has been created by students in Environmental Sciences at the University of Quebec and Montreal (UQAM). Students manage the garden, which plays host to many other activities - from tomato-growing to early morning yoga - as part of the Rooftop Gardening Project.

Students take part in urban food growing, and are also encouraged to get involved in outreach activities with a social purpose. The garden's produce goes to the Red Roof Church for distribution to homeless people. UQAM students have produced a detailed guide to help others create an edible roof (download 2.3Mb PDF).
---
When Changi Hospital in Singapore was being refurbished and upgraded with environmental improvements, a rooftop hydroponic garden (pictured below, left) was installed, to be run by the hospital's popular volunteer gardening club. The roof garden provides shade to reduce solar heat gain, and yields a variety of herbs plus 440lbs (200kg) of cherry tomatoes annually, which are used by the hospital's catering service. A drip irrigation and suspended container system separate the plants from the roof membrane. The hospital also runs a composting scheme so that food waste from the kitchen is returned to the roof as natural fertiliser for the food plants and other green landscaping.


In the right-hand picture, a co-operative of high-rise apartment owners in Singapore operates two rooftop hydroponic units to grow bok choy for sharing among residents. Source: Geoff Wilson of the Urban Agriculture Network, published on the website http://www.greenroofs.com/archives/gf_nov-dec05.htm
---
Whilst the following roof gardens do not necessarily feature edible plants, they have nonetheless been useful sources of inspiration and information:
---
And many more! We will update this page with more examples as we find them. To be kept up to date with developments of our wider programme on urban agriculture, join the email update list - contact cityharvest@sustainweb.org
Share
Get updates
City Harvest: The City Harvest website collects information on the wide range of benefits associated with urban agriculture, aiming to strengthen the movement in the UK and across the globe.
Menu
Support our charity
Donate to enhance the health and welfare of people, animals and the planet.