To download 'Edible Cities' please click here.
This is a report of a visit to urban food growing projects in the United States by a group of four people from different organisations based in London.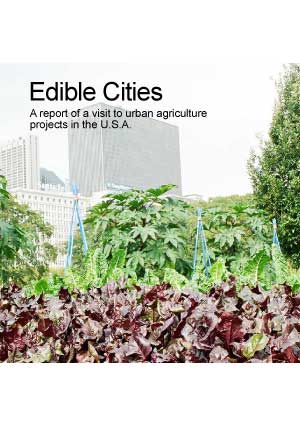 It was organised by Sustain's London Food Link officer, Ben Reynolds, and funded by the US Embassy, who had previously brought Will Allen to London to talk about his project, Growing Power, in the USA.
The group visited an inspiring range of projects in Milwaukee, Chicago and New York and noted a number of similarities to and differences from urban agriculture initiatives in London, including:
A commercial element to many of the US projects, which is much less common in the UK;
A more liberal situation in the US than in the UK to encourage composting, but less willingness than in the UK to include animals in some urban agriculture projects;
Different approaches to fencing and public access to projects, which varied within the US, depending on context;
Imaginative and productive ways of growing without access to subsoil, either in raised beds on hard surfaces or, in one case, in hydroponics on a barge;
Inspiring use of an holistic and sustainable approach to fish farming in an urban area which produces marketable quantities of tilapia.
The trip stimulated a number of ideas for how to promote more food growing in more cities. These include:
Using the many possibilities of urban tree planting to promote traditional varieties of fruit and nuts;
Untapping the potential of both Royal Parks and other parks to accommodate some food growing in their grounds;
Exploring under-utilised spaces such as derelict council property, private gardens and social housing to grow food;
Making use of the abundant buildings in urban areas to grow food on rooftops, up walls and in window boxes;
Building on the food growing expertise that already exists in a multicultural community, as well as providing education and training for new growers.
It is hoped that this visit and report will mark the next stage in the development of urban agriculture, an issue we believe is set to rise up the policy agenda in an age of climate change and increasing concern about the sustainability, healthiness and security of our food supply.
To download 'Edible Cities' please click here.
Share
Get updates
City Harvest: The City Harvest website collects information on the wide range of benefits associated with urban agriculture, aiming to strengthen the movement in the UK and across the globe.
Menu
Support our charity
Donate to enhance the health and welfare of people, animals and the planet.