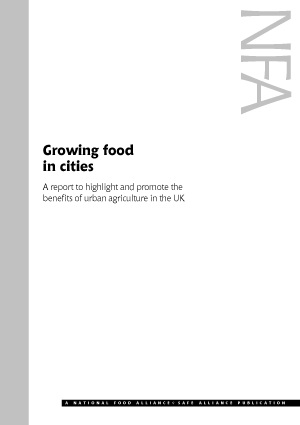 In 1996 Sustain produced Growing Food in Cities, which drew on some of the already considerable experience of urban agriculture in the UK and recommended that more should be done to support and promote it. This message was re-emphasised in 1999 with the report, City Harvest, which examined food growing in London in more depth.
Both reports drew attention to the multiple benefits of urban agriculture including:
the educational value of growing food, for adults as well as children;
appreciation of how food is produced as part of encouraging a healthy diet;
improvements in physical and mental health, as a result of regular outdoor activity, contact with nature, and the sense of achievement;
the empowerment of disadvantaged communities with useful skills,
and the importance of preserving green space in urban areas both for its social and environmental benefits.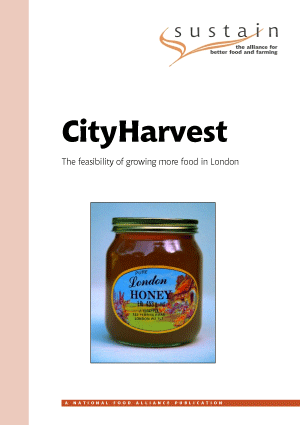 Since these reports were written, the urgent problems of global warming have rapidly risen up the public and political agenda. It is now widely agreed that our current food and farming system is unsustainable, based, - as it is - on finite supplies of oil, the use of which contributes to climate change. This crisis is compounded not only by many other environmental problems caused by industrialised agriculture – loss of biodiversity, pollution, over-use of water and land, to name but a few – but also by escalating health problems caused by industrialised food production – including obesity, cardiovascular diseases, some cancers, and diabetes – alongside continuing problems of hunger and malnutrition, worldwide.
Now, more than ever, we need to grow more food, closer to where people live, that is tasty, wholesome and nutritious, that enhances rather than destroys the environment we depend on, and that satisfies people's need for a secure and trusted food supply.
---
Edible Cities report

At the end of 2007, London Food Link organised a visit to urban food growing projects in the United States.

This visit is the subject of a report: Edible Cities: A report of a visit to urban agriculture projects in the U.S.A

Edible roof gardens

Roof gardens are beautiful, inspiring and offer a host of benefits. Sustain has been researching inspiring examples of edible (and other) roof gardens.

Growing Round the Houses report

This briefing paper explains how social housing providers and their tenants can work together on their estates to grow food.
Inspiring examples of edible (and other) roof gardens
Share
Get updates
City Harvest: The City Harvest website collects information on the wide range of benefits associated with urban agriculture, aiming to strengthen the movement in the UK and across the globe.
Menu
Support our charity
Donate to enhance the health and welfare of people, animals and the planet.