Community farm in Cambridge on a mission to support climate and nature through food growing
CoFarm is a community farm set up in Cambridge to share knowledge about climate and nature friendly farming and show the importance of unlocking land around cities for food growing.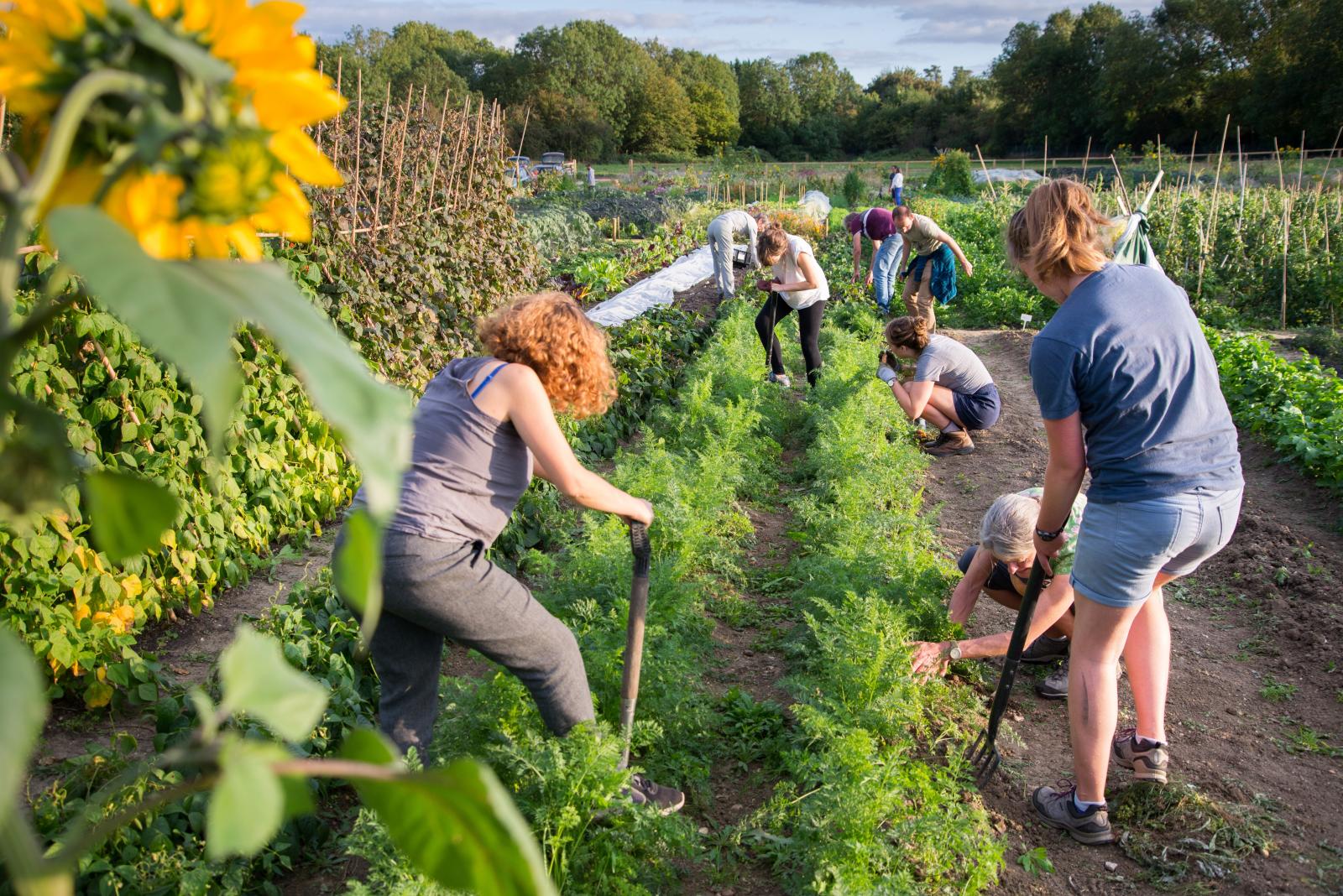 Tony Buckingham
The newly established community farm in Cambridge was co-designed and co-created with and for the community and exists to facilitate knowledge sharing around climate and nature-friendly food and farming. As it was set up in the midst of the pandemic, it has also provided a vital source of food for the city.
Why was the farm set up?
Our food system contributes to around 30% of greenhouse gas emissions and is the largest driver of biodiversity loss. One element contributing to habitat loss and carbon leaching is mismanagement of land and poor farming practices. Founder of CoFarm, Gavin Shelton, was keen to show the possibilities of growing sustainably on the fringes of the city, which in turn supports biodiversity, minimises food miles, builds community wealth, and brings people closer to their food both physically and socially. The pandemic has highlighted both the need for a resilient food supply as well as the importance of access to nutritious food, so the inception of the farm was very timely and is proving to be an invaluable asset to the community.
Supporting the community
The community farm is linked in closely with Cambridge Sustainable Food, and the food currently grown at the site by professional growers and volunteer co-farmers has supported the emergency food response coordinated by the food partnership. The produce is still being donated to nine food hubs across the city which supply people experiencing food insecurity with nutritious food. As the UK's most unequal city, the fresh, organically grown and sustainable food also helps to instill the message that access to healthy and organic food should not be a privilege.
Growing agroecologically
CoFarm uses agroecological farming techniques to create a thriving ecosystem that not only results in a natural regulation of pests but brings many benefits to food production and the local environment. Inside the market garden, CoFarm is growing an incredibly diverse range of crops – almost 100 types of fruits, vegetables and herbs – which in turn increase the diversity of insects such as ground beetles, spiders, ants, and ladybirds, which all eat pests. When managed correctly, growing food can promote biodiversity and deliver vital ecosystem services, such as locking away carbon in soil, trees and plants to help regulate the climate or by enhancing water management to prevent floods.
Growing the movement
CoFarm Foundation is working to create a distributed network of community farms across the UK which are adopting the CoFarm model, with the aim to have at least one in every local authority by 2030. All of which build health, social and natural capital and contribute to more inclusive local economies through regenerative growing practices.
'Co-farming provides a positive and holistic solution to some of the most pressing issues of our time - climate change, health inequalities, biodiversity loss and food security,'
said Gavin Shelton, CoFarm Foundation's founder and CEO.,
'But the really good news is that it is also a lot of fun!'
Unlocking more land for agroecological food growing around urban areas is a key way to reduce the ecological impact of food but also offers a host of other benefits including local food security, community wealth building, improving biodiversity and creating more good food jobs.
Do you want to see more land unlocked in your area to support agro-ecological food growing? Sign up to the new Food for the Planet campaign.
Ren is the Sustainable Food Places Local Action Coordinator (on maternity cover) and leads the Programme's Good Food Movement work, Good Food Economy and coordinates the Sugar Smart campaign. She previously coordinated Feedback's Gleaning Network and is a Registered Associate Public Health Nutritionist.
Ren Piercey
Campaign Coordinator
Sustainable Food Places
What we're fighting for 2023
Support our charity
Donate to enhance the health and welfare of people, animals and the planet.