Why Urban Food Fortnight is good for business
Cyrus Todiwala is the founder and owner of Café Spice Namaste, a Sustain Patron, long-time London Food Link supporter and Jellied Eel magazine reader. Here he shares his thoughts on how Urban Food Fortnight helps the good food business community.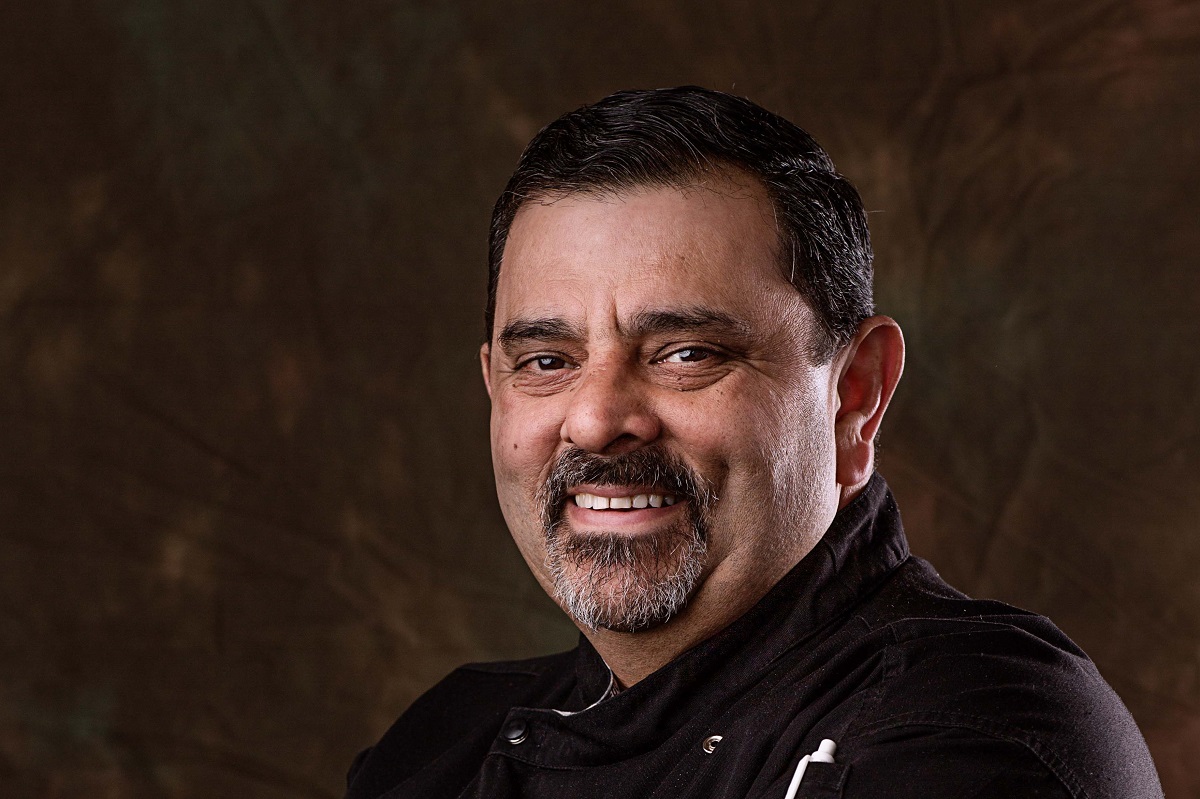 Cyrus Todiwala © Café Spice Namaste
I set up my first restaurant 25 years ago and Café Spice Namasté twenty three years ago. Since this time I have focused on quality produce and have relationships with all my suppliers whether that be local or Britain wide. Most importantly we have a stringent policy on vetting all our suppliers and whether or not they comply with our own ethos and ethics.
Being the patron of the British Lop Pig Society and Chef Ambassador for The Rare Breeds Survival Trust, as well as The Shellfish Association of Great Britain, and several other commitments, means that we ourselves first and foremost believe in what we are representing and committing to the environment and all things British as closely as we can.
Why good food is good for business
I believe that good food and ethical supply chains have to be at the heart of any sustainable business and increasingly our customers are asking for this; they want to know that they are eating food that has helped and supported communities, farmers and people working in the food system, that on the way animals are well treated and happy that it is not contributing to excessive food and other waste.
London Food Link
I have been a supporter for London Food Link and the Jellied Eel magazine for many years, and am proud to be a patron for the work of Sustain, the charity that runs them both. I know how passionately the team feels about supporting small, local producers, and have worked with LFL to get dishes featuring local produce on my menu. I have also helped them fundraising for the Capital Growth community food growing network as this is an issue close to my heart.
Urban Food Fortnight inspires
Over the last seven years, I have seen how Urban Food Fortnight does a fantastic job of raising the profile of the wonderful things that are going on in London's small food businesses. This includes celebrating the brilliant people behind them, as well as inspiring new events and collaborations.
Producers like Sutton Community Farm, who we had the pleasure to work with and are growing tonnes of pesticide free vegetables within the M25 for local restaurants and their local box scheme. Other great folk are the urban beekeepers, and those using surplus produce in their jams and chutneys. I hear there is even someone fishing crayfish from the local waters, and that Forty Hall Farm is producing organic meat in north London! The fortnight reveals all of these hidden gems, and LFL works year round to continue doing so.
Many of us working in good food have lots of passion but lack the time to really shout about what we are doing. Urban Food Fortnight helps us to focus our energy on engaging new audiences to support all of our businesses. It also brings us closer together with each other, to collaborate and support each other's businesses and I think that's a great thing.
Support Urban Food Fortnight #UFF2019 by visiting an event or joining the network.
Cyrus Todiwala OBE DL is a restaurateur, author, educationist and popular media personality. Together with Pervin Todiwala, he runs three London restaurants: Café Spice Namaste, the longest standing recipient of a Michelin BIB Gourmand award, and home of the Parsee-inspired 'Khaadraas Club' Dinners; Mr Todiwala's Kitchen and The Park Café. In 2015, he opened the River Restaurant in Goa and is planning other new restaurants. He also has a line of hand-made pickles and an outdoor and private catering business. A recipient of an Education & Training CATEY, the hospitality industry Oscars, he is also a Fellow of the Craft Guild of Chefs, founding member of the Guild of Entrepreneurs and Ambassador of The Clink Charity. He founded the national competition, Zest Quest Asia, to nurture Asian culinary skills among 'homegrown' British chefs. He cooked the first luncheon for HM The Queen's Diamond Jubilee.
Cyrus Todiwala

Support our charity
Donate to enhance the health and welfare of people, animals and the planet.