On Tuesday 8 November, parliamentarians were invited to a special Feed the Future campaign event in Westminster to explore the educational, social, health and economic benefits of expansion of free school meals. They were presented with a new evidence dossier called The Superpowers of School Meals, including the case for taking a universal approach to future food provision.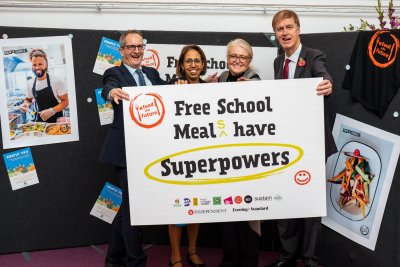 Political support for school meals with Lord Bethell, Munira Wilson MP, Chair of Food Foundation Laura Sandys and Stephen Timms MP . Copyright: Will Hearle @willhearlephoto | Food Foundation
Our joint coalition campaign Feed the Future in partnership with the Evening Standard and Independent is asking people to write to their MPs to call on the Prime Minister to extend Free School Meals eligibility.
On Tuesday 8 November, the campaign held a major event in Westminster, where attendees of the Superpowers of Free School Meals event included young people, MPs, former children's commissioner, council leaders, high profile chefs and food campaigners. A newly published evidence dossier of the benefits of school meals, including brand new analysis from our partners Impact on Urban Health which shows that every £1 invested in universal school meals now could deliver a return of £1.71 - or £41.3 billion over 20 years - as a result of improved educational attainment, health and wellbeing, and wider economic contribution.
The evidence pack contains case studies, facts and figures about the history of policy intervention on school food programmes, voices of MPs and young people, as well as a look into examples of where universal school meals are already a reality.
Where are Universal Free Schools Meals Already a Reality in the UK?
Some local authorities in England have made the choice to expand Free School Meal provision, using money from their own budgets, to provide this service in their schools. Universal Free School Meals at a primary level are already a reality in Islington, Newham, Tower Hamlets and Southwark in London. Meanwhile, in Scotland and Wales, the devolved governments have funded this policy nationally, and in both nations this is currently being rolled out to all primary children. In Hammersmith and Fulham in London, pilots show that Universal Free School Meals do have a positive impact on secondary school children too. Here are just three examples of what's been happening.
Scotland
In 2020, the Scottish Government committed to extending Universal Free School Meals (UFSM) to all primary-aged pupils in Scotland. Before this announcement, UFSM had only been available to pupils in years P1 to P3 (ages 5–7).
Support for this policy comes from Scotland's children's commissioner, Bruce Adamson, who has highlighted the levels of food insecurity in Scotland and the stigma resulting from means-tested school meals.
Bruce Adamson, Children and Young People's Commissioner Scotland says:
'We have long accepted the universal provision of the rights to education and healthcare, and children's right to food should be fulfilled as a necessary universal good in the same way'
Implementing a policy change of this size has its challenges – in particular, kitchen and dining facilities in schools were not always ready to meet the huge increase in demand. The Government has responded by pledging an additional £30 million investment in extending school kitchens and dining rooms to prepare schools for UFSM. Years P4 and P5 started to receive UFSM in August 2021 and January 2022 respectively. The Scottish Government is planning to reach years P6 and P7 during the academic year 2022/23.
Newham
In 2009, Newham Council took part in the Government's Universal Free School Meals pilot. When the pilot came to an end in July 2011, Newham decided to extend the scheme through its pioneering Eat for Free programme, ensuring all primary school children in the borough continue to receive Free School Meals. Benefits of the programme are clear from the number of students eating a school meal in Newham: over 90% of Key Stage 2 pupils eat lunch at school, which is a massive increase on the 45% uptake before the scheme began.
The council has received positive feedback about the programme from schools and parents across the borough. A consultation on Newham's Eat for Free programme demonstrated the popularity of the programme, with residents, parents and teachers overwhelmingly supporting keeping UFSM, with over three-quarters of respondents thinking the council should provide FSM for all pupils.
In Newham, a school meal is much more than the food on a plate. They have been setting the example of what a whole school approach to food looks like. In collaboration with schools, Eat for Free grant conditions mean healthier and more sustainable food is served and better food education takes place. The programme also increases investment in the local economy, securing good food jobs at or above the living wage
Andy Gold, Head Of Food Strategy, Newham Council Public Health Department, says:
'Ten years on the scheme, with its grant conditions and principles, continues because it clearly addresses health and well-being, pupil performance and attainment, and community wealth building.'
Hammersmith and Fulham
After hearing from schools about families experiencing food poverty and with the number of pupils eligible for FSM rising, Hammersmith and Fulham decided to take action, launching an innovative pilot scheme in 2019 in which two secondary schools offered Free School Meals to all pupils.
While previous Universal Free School Meal pilots have looked at primary schools, Hammersmith and Fulham chose to focus on secondary schools. The rationale for this decision is, because secondary school is an incredibly important time for a student's development and as it is a time when young people are making more independent choices around the food they eat, the pilot would be able to show how UFSM can change behaviour, instilling healthier food habits as young people transition into adulthood.
Unfortunately, the impact of the Covid-19 pandemic has made tracking comparative data on some outcomes – such as educational attainment – very difficult. Nonetheless, findings from the pilot are encouraging. There has been a huge increase in the uptake of school meals, with the percentage of students in one school eating a school meal on an average day increasing from 39% to 68%. As similar pilots have found, there has also been a large increase in the number of students who were previously eligible for Free School Meals eating a school lunch. Marcus Robinson, from the borough's children's services, comments: 'Universal programmes reach the target groups more effectively than a targeted programme.'
Encouragingly, a pilot-school head teacher has reported positive changes in eating habits, bringing students who wouldn't usually sit down for a meal into the lunch hall and improving social interaction. Teachers have also reported improved behaviour and engagement from students in afternoon lessons. The Hammersmith and Fulham pilot has shown that UFSM can be implemented successfully, with benefits to the whole school community.
Marcus Robinson, Programme Lead, Hammersmith and Fulham's Children's Services, says:
'There aren't many interventions that have such a broad impact for only the cost of a meal'
These case studies show that universal free school meals can be delivered successfully with benefits to children, the school community and the local economy. The evidence is there, we just need our leaders to listen.
Support our campaign
Your donation will help us champion children's rights, parent power and government action to improve the food environment children grow up in.