Recent years have seen an explosion in the market for commercial baby and toddler foods, creating an informational minefield for parents trying to ensure their children get the healthiest start. This Sugar Awareness Week, Mhairi Brown from Action on Sugar takes a look beyond the packaging.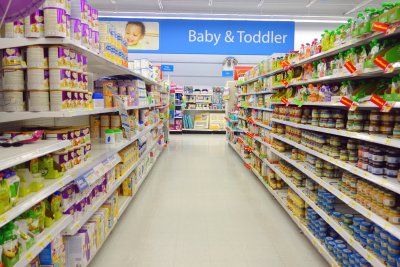 Baby and toddler food selection in a supermarket. Copyright: ValeStock | shuttterstock
Childhood is a crucial time to shape food preferences. A healthy diet, high in nutrient-dense foods with plenty of vitamins and minerals, is an important factor in helping children develop a healthy relationship with food, grow to their full potential and thrive in school. Such a diet can also help to prevent overweight, obesity and related illnesses including high blood pressure and type 2 diabetes later in life.
The need to focus on early years
Worryingly, the reality is far from this ideal. According to the latest National Diet and Nutrition Survey (2018/2019), children aged between 18 months and three years are getting almost a tenth of their daily energy intake from free sugars, more than the recommended maximum of 5% for those aged 2 years and older. This is especially excessive considering that children under 2 years aren't supposed to have any free sugars at all. Child health is paying the price of this excess: sugar sweetened food and drinks are the main cause of tooth decay in children, with the Local Government Association announcing in August 2020 that nearly 45,000 hospital operations were performed on children to remove rotten teeth - equivalent to nearly 180 operations a day - costing the NHS £40 million.
The National Diet and Nutrition Survey also highlights that a leading source of free sugars for children aged between 4 and 9 months is the growing use of commercial baby and toddler foods. The government's review of how these products align with dietary advice for children aged up to 36 months, published in 2019, painted a worrying picture. The review highlighted that many commercial baby food and drinks contain added sugar and salt – or ingredients high in sugar or salt; displayed inappropriate age guidance on product packaging i.e., marketing products to children under 6 months of age despite government guidance stating that solid foods should not be introduced prior to 6 months; and displayed health and nutrition claims on pack which may imply that the product had a healthier nutritional content than it actually did.
Following this review, the government published a green paper (a report that contains several proposals for action), Advancing our health: prevention in the 2020s, which committed to publishing nutrition guidelines for the food industry in 2020 to help make commercial baby and toddler products healthier. The green paper stated that "Industry's progress will be monitored and reported to the government. If insufficient progress is made, the government will consider other levers", and also committed to improving the marketing and labelling of products targeted to young children. We were pleased to see draft commercial baby food and drink guidelines sent out for comment in 2020 for consultation with limited stakeholders. While these guidelines could have been stricter, they would have been a positive step in ensuring that products available in the baby aisle were nutritionally sound. However two years have since passed, and to date these guidelines have not been implemented.
Desserts for breakfast?
As part of Action on Sugar's wider work addressing the nutritional content and marketing of commercial baby and toddler foods, we released results this week from a survey of breakfast items available in the baby aisle. The sugar content of products such as ready-to-eat baby rice, porridge and yogurt-based breakfasts was as high as 14g of sugar per serve, equivalent to 3 teaspoons of sugar. What's more, all of the products included in our survey displayed at least one health or nutrition claim on the product packaging, with over three quarters displaying a 'No Added Sugar' or 'Only Naturally Occurring Sugars' claim. The use of these claims - when the products contain free sugars from processed fruit and vegetables used for flavouring - misleads parents into believing that these products either do not contain sugar, or that the sugars in these products are not harmful
These results reveal the scale of the problem and the minefield parents face in trying to give their young children a healthy and nutritious diet.
What can we do?
This Sugar Awareness Week we are calling for the removal of misleading health and nutrition claims on baby and toddler food and drink, and urge the new Secretary of State for Health Steve Barclay to ensure that any product marketed to young children meets the highest nutritional quality.
The baby aisle, at the very least, should be a safe space for parents and children alike; we very much hope that the government agrees.
Mhairi Brown is Policy and Public Affairs Lead for Action on Sugar, where she is responsible for developing the influence and profile of the charity, and gaining impact with key decision makers. Her doctoral research focuses on evaluating salt and sugar reduction policies in the UK. Mhairi has previously worked for a range of organisations championing nutrition science and its application to improve population health.
Mhairi Brown
Action on Sugar
Support our campaign
Your donation will help us champion children's rights, parent power and government action to improve the food environment children grow up in.