A taste of climate action in Cambridge
A taste of climate action in Cambridge was a virtual learning network showcasing local action on climate change in Cambridge. Attendees were bursting with ideas on how to use food and climate action to achieve a just transition which Cecily Spelling, Food Learning Forum Coordinator at Sustain, summarises in this blog.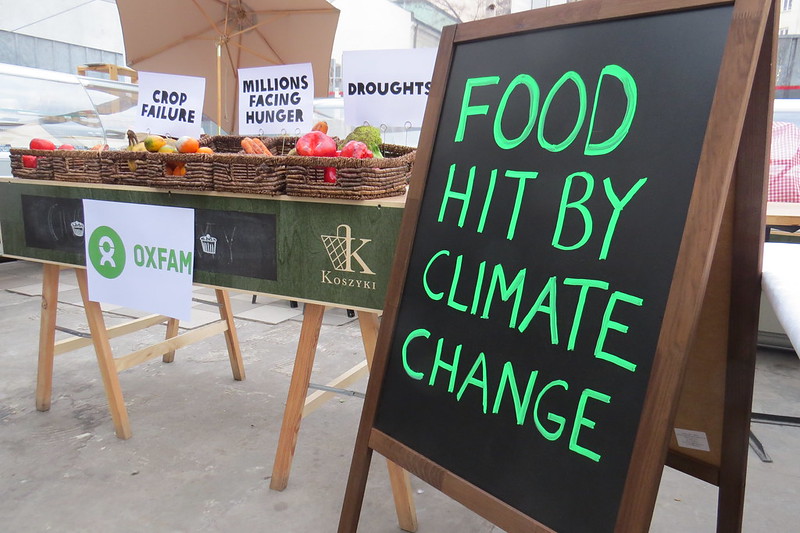 Climate and food / Oxfam International
Earlier this month Sustain and Cambridge Sustainable Food Partnership hosted local and national organisations from the Sustainable Food Places network, Cambridge and the Food Learning Forum to showcase local action on food and climate and explore how this can help achieve a just transition for all. 
Attendees heard inspiring quick-fire talks from Cambridge Sustainable Food, Cambridge Food Hub, CoFarm, National Lottery Community Fund and Youth4Nature. After which they were invited to share what they were doing, either as individuals or within their organisations, to tackle the climate and nature emergency. The answer was lots! Whether promoting and undertaking research to support sustainable agriculture, funding local community projects, delivering climate focused events to increase awareness and understanding of causes and solutions and promoting sustainable food growing – the array was impressive. In Cambridge specifically, one attendee had successfully replaced single use takeaway boxes with reusable alternatives and reduced meat on the menu at Darwin College, University of Cambridge.
After sharing their own climate action, we moved onto discuss the steps we all need to take to deliver effective climate change projects at a local level and secure a just transition. Here's a taster of what they came up with:
Climate-focused projects should be open and inclusive with targeted support as needed. 
Some groups have a greater impact on the climate and nature emergency than others and this is not always accounted for when designing community projects. For example, food waste projects are aimed at low-income families who are unlikely to waste food, so are they the best target? Many felt it was better to ensure projects are accessible to everyone with targeted support for people that can benefit the most or who might face barriers to involvement. One idea was to frame projects around community action rather than behaviour change, because behaviour change can be costly e.g. switching to oat milk instead of cows milk, making it an inaccessible option for some.
Co-develop projects and campaigns with people from under-represented backgrounds.
Often those with privilege can leverage change more easily, but this should not mean they make all the decisions on how to leverage change or what the desired outcomes are. An inclusive project should challenge power imbalances to ensure a range of voices are heard, issues are interwoven, and a wider community is supported and able to benefit.
Put a just transition at the heart of our work
Start by bringing as many people on board as possible and develop a clear understanding of where the resistance to change lies. This should involve building a vision for a better food system and stronger communities by finding common ground and creating opportunities for people to thrive. But first we also need to be honest and frank about our privileges as individuals and institutions, give platforms to marginalised voices, collaborate and use our research, funding and resources to promote not just climate justice but social justice and a just transition - because we really can't have one without the others.
You can catch up on the speakers and discussion in full here.
Cecily joined Sustain in September 2020 as the Communications and Network Coordinator for the Food Power project and the Food Learning Forum (on maternity cover).
Cecily Spelling
Communications and Events Coordinator Food Power
Support our charity
Donate to enhance the health and welfare of people, animals and the planet.