Microbaking in the new abnormal
Real Bread Campaign ambassador Ian Waterland gives an insight into how things have changed for his business since the UK went into lockdown.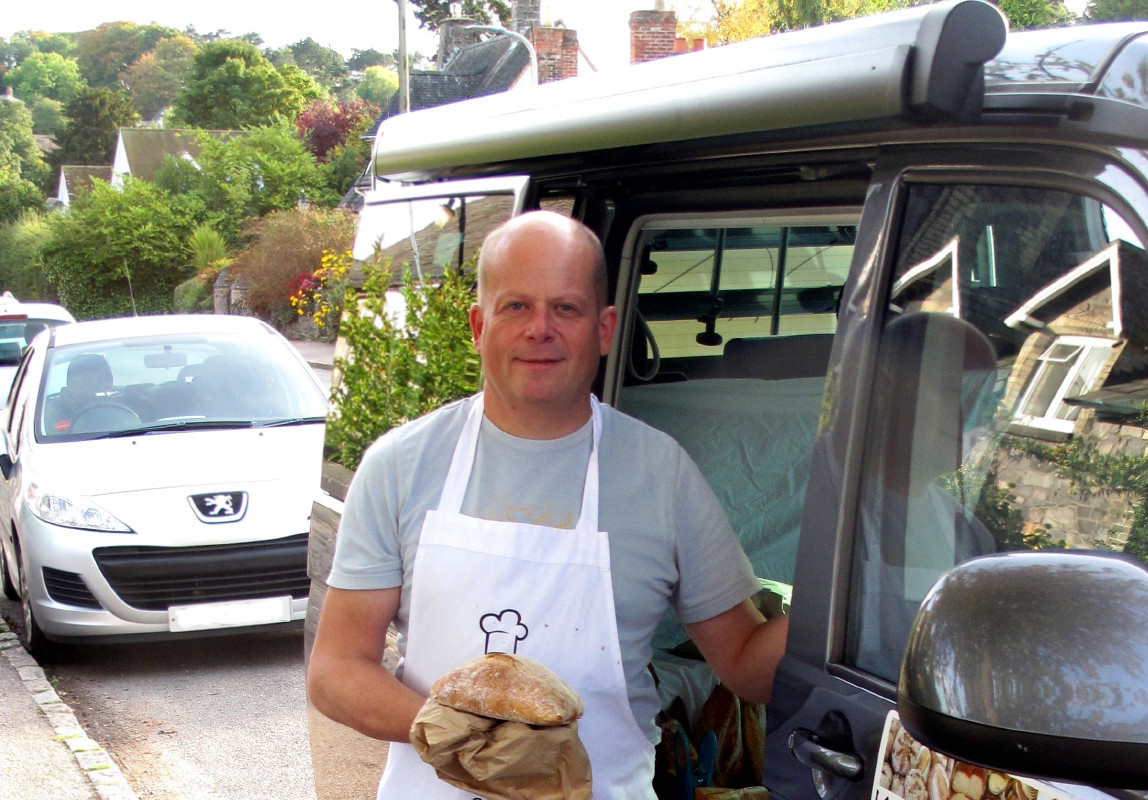 Imagine the scene…
It's Monday, the Knead Good Bread microbaker has posted this week's selection of Real Bread on Facebook and regular customers respond with their orders. The baker kicks off his normal pattern of pre-ferments, roughly knowing how many loaves will be needed in a few days' time. Fast forward to Thursday, a van pulls up and opens its sliding side-door facing the pavement. The baker (for he is also the salesman) puts out his signs advertising the extra loaves he's baked to passers-by: 'Fresh Real Bread, baked today'. He checks his list of pre-ordered loaves and hands them to customers in the queue, taking people's money or holding his contactless payment machine while they tap their card.
Face to face
People stop and chat, some lean into the van to see the extra loaves and sweet treats that are on display and available to buy on impulse. Some customers even give the baker a friendly pat on the shoulder or a hand shake, before they walk home with their loaves. Several customers buy loaves and distribute them to family and neighbours, an outgoing wave of personal contacts in surrounding houses and villages. Approximately forty people have rubbed shoulders with each other and the baker, in the space of ninety minutes at the van. On his way home, the baker stops and delivers a handful of loaves to customers who, for one reason or another, can't make it down to the van. He knocks on their doors and hands the loaves over when they answer - another half a dozen face to face contacts.
That was then.
This is now
Imagine the new scene, post-lockdown: The baker, for it is still he, posts on Facebook and emails his contact list to advertise loaves available to pre-order and reserve. In response to a tsunami of interest and newbie customers over the seven days since lockdown, this week he has limited orders to existing customers. He calculates the maximum amount of loaves he can produce, scales up his pre-ferments and sleeps fitfully. The orders mount quickly and within a couple of days, the new maximum capacity is breached.
Every loaf already has an owner and mistakes cannot be made. With all of the extra orders, making and baking over two days is now a more stressful activity. Maths is checked and re-checked. The retarder is over capacity, although having remembered to fire it up well in advance and staggered loading times, it copes well.
Baking day comes round and it's an earlier than usual start. The van has been cleaned in preparation, and is now nearly filled with the biggest bake this baker has ever achieved. It's a short drive down to his usual pitch, where there's no need for signs as there are no spare loaves to sell. Donning disposable gloves, his now standard wear, and having checked his mobile phone and contactless machine are both working properly, he sets to work selling.
Contactless
A re-purposed advertising A-frame chalkboard directs customers to all queue from one side, spaced two metres apart. A table is positioned so that the correct loaves, now all pre-bagged, can be placed onto it as each customer approaches for their order and the baker steps away, to remain at a safe distance, as the customer picks it up. The contactless machine, attached by a new two-metre long cable, means customers can pay without touching, which, with an open jar for correct cash only and online pre-payment, means three options are now live. Loaves are collected and paid for, chat is less and some people scurry away quite quickly with their prized loaves. One customer arrives in a facemask, looking slightly incongruous, but everyone knows why.
After all orders have been collected, the baker sets off to deliver loaves to customers who are self-isolating, either with symptoms, due to health vulnerabilities, or because they work in the NHS and are putting in long hours. Bags of various descriptions hang on front doors ready to accept the ordered loaves. Some have cheery notes from grateful customers attached. The baker knocks on the door and retreats, hoping the customer will get to their loaves before anyone (or anything) else does. A couple of customers shout through letter boxes, or wave through windows.
From this point on, the baker's work has not changed. It's back to the bakery for a couple of hours' cleaning, before sleeping, now much more peacefully than before the bake. An occasional dream of an actual tsunami of customers next week being the only dampener on a very busy, but successful bake.
---
SHARE