Charlie Gabriel took the Urban Food Awards 2020 by storm with his inspiring ways of engaging children in food. Phoebe Bracken finds out about Charlie's approach and how the Chefs in Schools scheme is putting food at the heart of the timetable.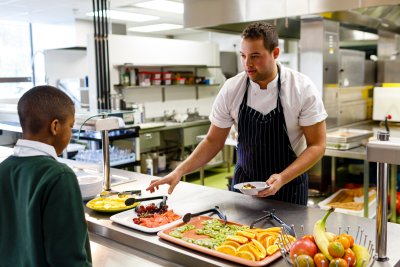 Chef Charlie Gabriel. Credit: Miles Willis
Rewind a few years and Charlie wasn't sure what his future held. A weekend in Devon changed that. Following a course at River Cottage HQ he fell in love with the idea of a career in food. He joined their team and hasn't looked back.
Now he spends his days serving the most honest of customers – school kids, who make it very clear what they like and what they don't. Charlie is Head Chef at Stormont House School, which is for students with special educational needs, based in Hackney. He works alongside the charity Chefs In Schools to challenge the perception of what's possible in school food. Using his know-how and contacts, Charlie serves pupils the freshest of fish caught on the Devon coast and organic meat that's also used by a restaurant with three Michelin stars.
Charlie says: "I started as a pot wash at River Cottage and worked my way up the ranks. What I learned there informs how I work now. We'd go out to the gardens, see what looked good and we'd cook it that day."
Key ingredients
Charlie decided he wanted to give back and contacted Chefs in Schools having seen them on social media. He now leads a small team made up of Sara and Satnam and Gosia. From bread to sauces, and the occasional dessert, they thoughtfully cook from scratch, introducing new flavours.
Charlie explains: "Most of the students have autism so textures and flavours are really important. The food they've been used to was lots of soft textures, vegetables without any crunch. We introduce flavours gradually. For example, we've served up beetroot brownies, then we'll phase out the chocolate, so they are comfortable with how beetroot tastes, then we'll have beetroot salads."
They have to work smartly to make the most of the produce with tight budgets. With recent increases in cost this is now around £1 to £1.15 a plate.
Top of the class
Charlie and his team are not the only ones making big changes to school food. Having started in 2018, Chefs in Schools now supports around 60 other school kitchen teams, feeding 20,000 children a day.
Nicole Pisani, Chefs in Schools' co-founder and executive chef, says: "We want people to see school food as more than just a meal. It can improve wellbeing, benefit child health and increase their chances of doing well in life. Kids are our future – let's feed them like they are!"
The charity targets areas where pupils rely on free school meals and schools struggling to meet the school food standards. They teach school kitchen teams to serve up healthy, inexpensive, generation-powering food. They also have developed resources to help schools, including a School Food Charter and a What Works Well checklist.
Next on the menu
The charity is piloting a school chef qualification which teaches school food standards, nutritional information and how to introduce food education. They also have their first cookbook out, with proceeds supporting their work. It features Ethiopian chicken, inspired by a dish Sara loves cooking at home, and a favourite of Charlie.
Charlie adds: "I love seeing the smiles on their faces when they try the food and learn something new. They ask lots of questions, but the minute the food is served up, silence falls and that's when we know it's all gone to plan."
www.chefsinschools.org.uk
@chefsinschools_uk
Catch another feature from our most recent print mag, our Roots to Work with plant-based chef, Sareta Puri
Published 1 Sep 2022
London Food Link: London Food Link brings together community food enterprises and projects that are working to make good food accessible to everyone in London to help create a healthy, sustainable and ethical food system for all.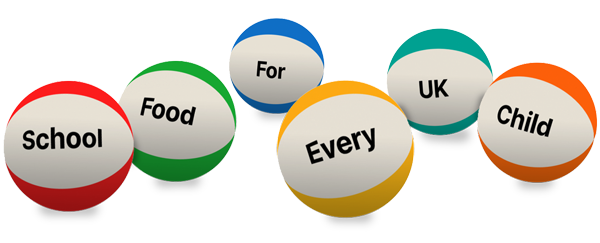 Ask your MP to end the school food postcode lottery now
Support our work
Your donation will help support community food initiatives and enterprises to thrive as part of a more sustainable food system.