Safiya Robinson is the founder of Sisterwoman Vegan, a plant-based social enterprise exploring wellness through food. She invites critical food conversation through supperclubs, private catering and cooking lessons. While focused on the black experience, most events are open to all.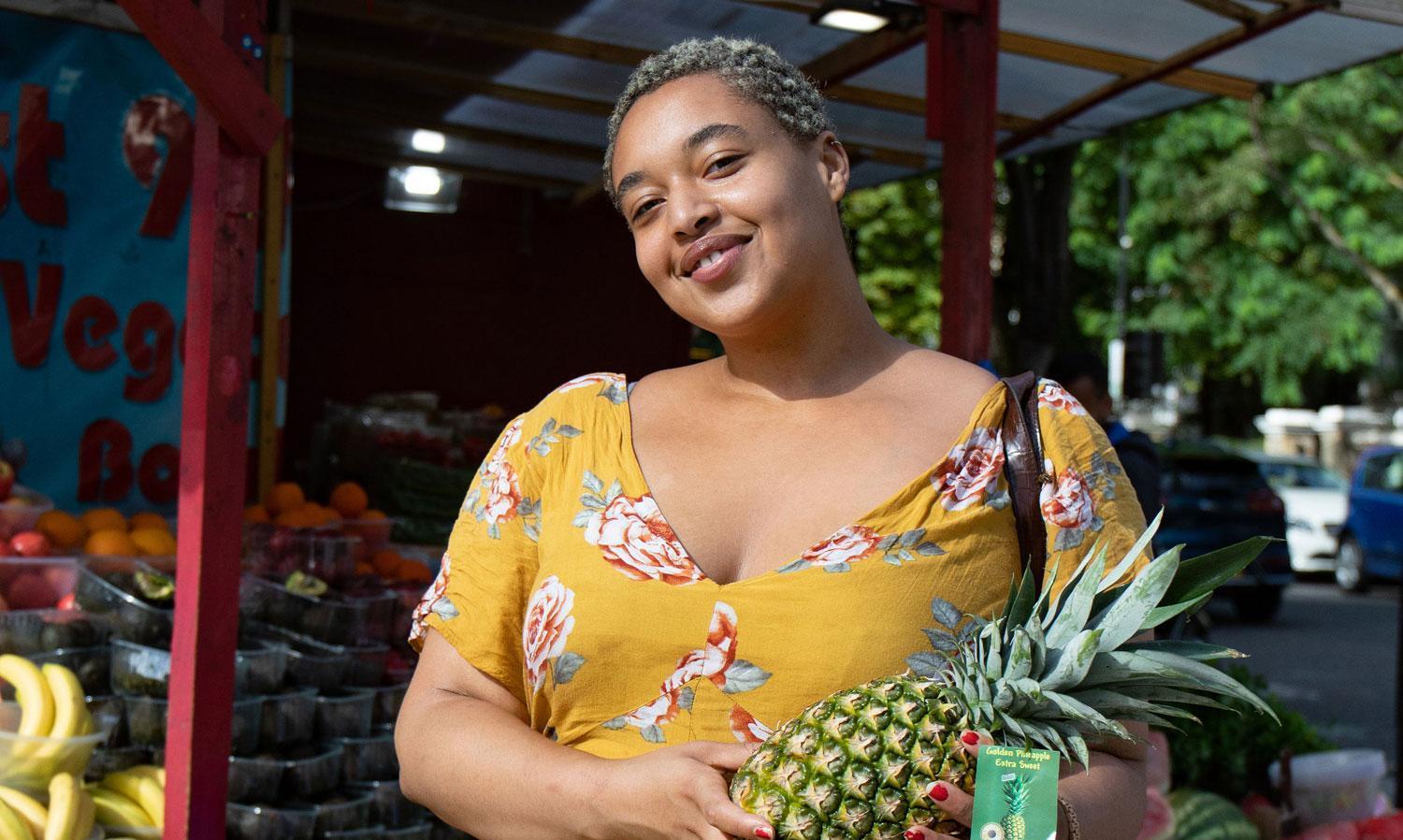 Photo: Safiya Robinson by Zoe Warde-Aldam
WHY FOOD?
Culturally (I am Jamaican, African-American and British), food has always been what brings us together, and most of my food memories involve family, love, laughter and comfort. Food has always been the thing. It's my love language. I'm currently reading Notes on a Banana: A Memoir of Food, Love and Manic Depression by David Leite and he describes my love for food and, more specifically, cooking food perfectly:
"(It's) the primitive, intimate connection it forges. The way it says 'you matter to me.'(It's) the naked vulnerability of hoping you'll please another.
WHAT INSPIRED YOU TO START SISTERWOMAN VEGAN?
Sisterwoman vegan came about while I was at university. I had just turned vegan and was experimenting with different dishes. Away from my beloved London, authentic Caribbean food was difficult to find and expensive. I cooked for my housemates every 'meat-free Monday' and this turned into a meal prep service in my final year. I was also studying politics and sociology and getting involved in student activism, so Sisterwoman seemed a natural next step in bringing all parts of me together.
TELL US ABOUT A MEMORABLE MOMENT IN YOUR CAREER.
Pre-Covid, I cooked a monthly lunch for the Islington Migrant Centre. A lot of the participants are West African, with insecure immigration status and no recourse to public funds. This means they have no income, and usually little choice in what they eat. I cooked up a Ghanaian feast with red (stewed black-eyed peas), kelewele (seasoned plantain and peanuts) and yam. There was so much happiness in the room and they all thanked and embraced me. I really felt like I had given them a piece of home!
WHO HAS HELPED YOU MOST ALONG THE WAY?
I was so lucky to be part of Impact Hub's Feeding the City, a start-up incubator for sustainable food businesses. The business support and funding has been invaluable, and my mentors Emma and Harriet really helped me to develop my ideas. Shoutouts go to my big sis and my mum, who once raced down to my kitchen at midnight with a replacement blender when mine broke mid-job.
IF YOU WERE IN CHARGE OF LONDON, WHAT'S THE FIRST (FOOD-RELATED) THING YOU'D DO?
Introduce Universal Basic Income and extensive subsidising of plant-based whole foods. Being vegan is a privilege, because it assumes that you have choice or agency about what you eat and where your food comes from. The reality is very different.
WHO'S YOUR GOOD FOOD HERO AND WHY?
Ruby Tandoh! I love the way that she encourages a positive relationship with food and her passion and joy for food is infectious. Her belief that "a balanced diet isn't balanced if it takes up all your time" has really inspired my approach to Sisterwoman and the way that I think about food.
WHAT LONDON FOOD SECRET WOULD IT BE SELFISH NOT TO SHARE?
My London food secret is definitely Fourteen87 in Catford. It has incredible vegan options and a great vibe, run by Caribbean chef Dom Taylor. I'm also super excited about Nyami Project, a collective of black chefs and creatives led by Kat Lopez.
WHAT'S NEXT ON THE AGENDA?
I've been working on a couple of e-books and launched an IG live series around food and wellness. I have also resumed my private chef's services – it's so great to get back into the kitchen! My supperclubs will definitely be resuming soon, Covid restrictions willing.
---
www.sisterwomanvegan.com
@sisterwoman_veg
Published 1 Jan 2021
London Food Link: London Food Link brings together community food enterprises and projects that are working to make good food accessible to everyone in London to help create a healthy, sustainable and ethical food system for all.
Support our work
Your donation will help support community food initiatives and enterprises to thrive as part of a more sustainable food system.