In this guest feature from sustainable pizzeria Flat Earth Pizzas, we hear from co-owner Sarah Brading about her experience of setting up a bricks & mortar restaurant with partner Rich.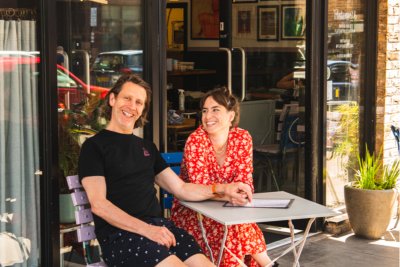 Sarah and Rich of Flat Earth Pizzas. Credit: Aleksandra Boruch
Rich Baker and I have entered month 4 of trading our restaurant and it's only now that I can fully reflect on the rollercoaster so far. I know so much more now compared to what I knew in March of this year. Sometimes I've been learning at such a rate that it feels like my head will explode. So, here's the lowdown of the first 100 days of my very first bricks & mortar restaurant, Flat Earth Pizzas.
First and foremost, when I've heard others say 'it's all about the people' I never expected it to be THIS true. This is the most challenging and most rewarding aspect. There's nothing more satisfying than seeing my team working all towards the same goal on a busy shift or coming up with great ideas to help move the business forward. We have a really strong team currently, people who are kind to one another and create an environment I love to be in. However, as with the transience in hospitality, I'm acutely aware that this calmness I feel won't last forever.
It's not always like this. In fact, we've had some excruciating times that have taken me through a baptism of fire. Note that in my career to date, I've never really been a manager - nor have I ever wanted to be, hence my freelance life since 2016 - so managing a team and being responsible for their paycheck every fortnight is a bit of a gear change. I am now fanatical about culture, becoming an excellent leader and understanding different management styles for different people. I've learnt that clarity is key and by understanding motivations, I can understand actions.
I've had a fast track lesson on pronouns, disabilities and general mental health. We're now signed up to Hospitality Action as a means of additional support to the team.
The first 3 months were brutal. Every day there was something that I hadn't expected, a curve ball thrown by the direction I least aniticpated. My resilience has grown day by day - I'm yet to become unflappable but I know I'll get there.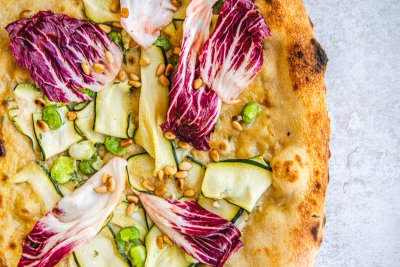 In all of this though, Rich and I have managed to build a business that has grown in following and sales that don't make for a bad start. We have many regular customers that come throughout the day (coffee in the morning, pizza at night). We have a strong tribe of people who visit regularly to fill up their glass bottles with our organic wine on tap. We also see recurring names on our Deliveroo tickets. Our Google rating is a strong 4.7 over 80 reviews, slipped from 4.8 by someone marking us down for being actual Flat Earthers… note: we do not think the earth is flat but aware that it's a rod we've created for our own backs.
Lunchtime sales were difficult so we launched some jam-packed sourdough sandwiches for the lunchtime creatives in the week; bursting with seasonal fillings and - just like our pizzas - regularly changing so never a dull combo. We've listened to feedback and feel firmly set within the local community. Get us on a good night and it's the best place to be in London: buzzy, vibey, a friendly team, genuinely nice customers and unforgettable food. Oh and the wine - delicious and sourced sustainably! What a wonderful way to fulfil the whole iteration of what we want Flat Earth to be.
The interior design of Flat Earth was a personal achievement and a joy to do. I worked with our ex-cookie-supplier-turned-creative-genius, Alice Hughes, who funnelled my ideas into a workable, coveted design. We filled the space with plants, colour and touches like recycled scaffolding planks to add depth to the bar, and lampshades made from orange peel and Christmas tree needles. We used vegan, eco-friendly paint. All aspects emphasising our need to be sustainable in everything we do. Speaking of, in our second month, we were selected to be featured in Hoxton Mini Press' new book 'An Eco Guide to Sustainable London' - a roundup of the most planet-friendly brands in the Capital, out this month! We've also been featured in the top pizza restaurants by the likes of Olive and Conde Nast Traveller. Not too shabby.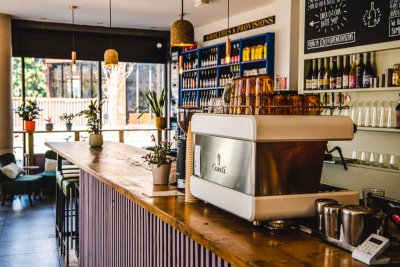 We've changed our menu once already to keep in line with the seasons. Next change is coming imminently to make the most of Enfield-grown aubergines that we're looking forward to cooking. We've been hit rather hard by the heatwave. Fortunately, we have utilised the outside space; less fortunately, inside our restaurant is boiling - no air con and a 400 degree oven is not for the faint-hearted. We have our doors open wide and strategically placed fans, mostly for the chefs. Air con will be fitted by next summer!!
On a downer, we (like everyone) are seeing humongous price hikes of anywhere between 10-30% across key ingredients such as cheese, rapeseed oil and mushrooms, as well as energy prices of course.
We have so much planned for the future. Sometimes it gets quite difficult as Rich and my time is limited - taken up by working on shift (him back of house, me front of house) plus I still do marketing for another restaurant. Needless to say that my social life has taken a bit of a hit. Luckily our lovely friends come for dinner regularly. They know where to find us!
Upcoming plans include (but are not limited to) a plastic-free Christmas shop in the adjoining room, retail kimchi, joining the Sustainable Restaurant Association, increasing from 5 to 6 days a week trade, a new chef starting in September, enriching our onboarding and general team engagement, Christmas, expanded drinks menu, team socials, interesting events, a brand bible and much, much more.
We're funded by a bank loan from a SWIG Finance who fund ethical businesses, as well as personal contributions, so don't have lots of money to play with but with that comes creativity, innovation and a sleeves-rolled-up attitude.
Book your table at Flat Earth here and check out their insta here.
Want to know more about what it takes to run an ethical food business? Check out Flat Earth and other enterprises putting people and planet first.
Published 31 Oct 2022
London Food Link: London Food Link brings together community food enterprises and projects that are working to make good food accessible to everyone in London to help create a healthy, sustainable and ethical food system for all.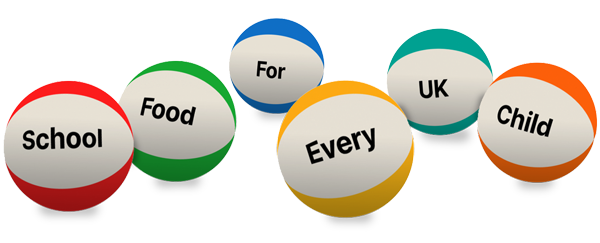 Ask your MP to end the school food postcode lottery now
Support our work
Your donation will help support community food initiatives and enterprises to thrive as part of a more sustainable food system.