Ahead of the publication of the new Jellied Eel mag, and to celebrate this year's International Women's Day, Hannah Crump speaks to three women driven by a passion to change our world for the better through preparing and serving delicious sustainable food.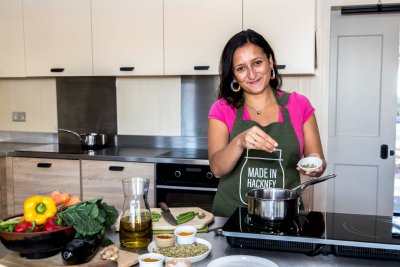 Sareta Puri. Credit: Elainea Emmott
Traditionally, women have often been seen as cooks and food preparers, while rising to the prestigious role of chef has tended to be seen as the preserve of men. Abi Glencross, Chantelle Nicholson and Sareta Puri are just a few of many women chefs who thrive in professional kitchens, while wearing many other hats. Between them they tick off a multi-award-winning chef, author, writer, restaurateur, sustainability advocate, cooking teacher, farmer, miller, bioengineer, and business founder.
Breaking tradition
Our first interviewee, restaurateur Chantelle is the former chef owner of Tredwells, which received a green Michelin star in 2021, and soon to open Apricity (which we can't wait to review). With an outstanding career in food, she talks about being motivated not just by her love for food but also the challenge of figuring out how to do things better, encouraging others to take up a career in what she describes as a "100% a rewarding, varied and interesting industry'.
Sareta describes "using her skills to help others make a difference" as what she loves the most, motivated by enabling diversity and equity. Despite experiencing imposter syndrome, she feels it's important women claim the use of the term 'chef, without having had traditional careers or training. She adds "it's a confidence thing and it's about going against what you think the norms and traditions are"
Sustainable Food Story's Abi is also no stranger to breaking traditions, with her route into food having started in biotech. She says, "when I started my career, ssometimes I would be seen as 'the tea lady' and I found standing up and believing in yourself are not things women are naturally taught". She feels a big part of her purpose is "making the world a little bit less crap than it was before".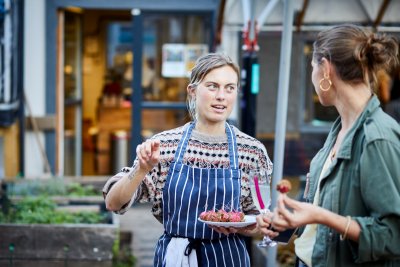 Creating a new world of respect
With persisting reports of sexism in the industry, coupled with challenging hours often not compatible with caring, it is perhaps no surprise women are finding their own ways of doing things.
This is something Sareta touches on; having worked in kitchens where harassment and bullying were common, she made careful choices about where she worked. She explains, ''I've been incredibly lucky to have worked in a lot of women-led spaces and businesses since going freelance. That isn't an accident. There are so many inspiring female founders out there and I'm lucky to have worked with people like Sarah [Bentley] at Made in Hackney". Sareta also name checks Asma Khan, chef and owner of Darjeeling Express, and others who have spoken out to expose the sexist culture that has gone unchallenged. Abi adds, "Don't get me wrong, I feel like being a badass lady has opened many doors, but I think the old world of what is accepted is being (or starting to be) replaced by a new world of respect."
Cheffing for the planet
Sustainability was high on the agenda for all three women, each championing plant-based food. Abi is conscious of the balance involved when selecting a plant-based diet for sustainability. At Sustainable Food Story, meals are based around veg with meat and dairy as a garnish. "We do use plant-based proteins, such as beans and pulses, or look to alternatives meats and dairies". But she goes onto explain "we are conscious of the environmental impact of many of the alternative ingredients so choose those made from EU soybeans, or crops such as fava bean". She adds ''I love good grains, and we are lucky that we grow so many at Duchess".
For Sareta, sustainability goes beyond how each ingredient is used to maximise taste and minimise waste, to the impact of food on people. She reflects, "are people being paid adequately and fairly, do they have reasonable working conditions? Not many people can afford to live on a basic hospitality wage so end up doing multiple jobs or excessive hours. That is not sustainability.''
Chantelle has been a champion of veg in previous ventures and her new restaurant has sustainability at its core, and not just on the menu. Her vision for the restaurant "'to be a little hub whereby we challenge ourselves not only to cook delicious food, and be a really good place to work, but also to see how we can find a better way of operating in terms of both people and plane"'.
Sustainability comes with challenges, but creating business, restaurants and menus that work for the planet is something many more women are taking up to create a good food scene that is better, brighter and - dare we say- more inclusive.
Check out the women bringing fresh produce to Londoner's in our Women Who Farm feature.
Published 7 Mar 2022
London Food Link: London Food Link brings together community food enterprises and projects that are working to make good food accessible to everyone in London to help create a healthy, sustainable and ethical food system for all.
Support our work
Your donation will help support community food initiatives and enterprises to thrive as part of a more sustainable food system.