Indie Farmer Nigel Akehurst continues his agricultural road trip with a visit to Just Kidding in Wiltshire.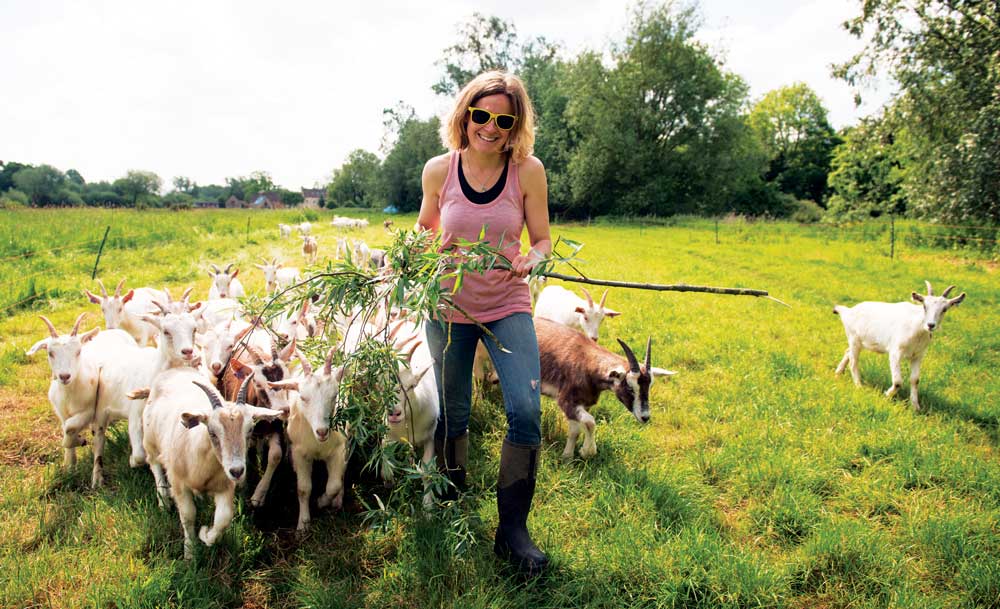 Lizzie Dyer by Sean Allard
With the rapidly rising demand for their milk and cheese, goat dairying has become big business in the UK. For an animal to produce milk, it has to give birth. What people (myself included, until I visited Lizzie Dyer at Dartland Farm in Wiltshire) might not know is that, while nanny (female) goat kids are kept and reared for their milk, the billy (male) kids are often put down at birth. Lizzie, a graduate of Royal Agricultural University, told me that as there is little demand and no established market for kid goat meat in Britain. Billy kids are generally seen as a waste by-product and discarded.
Having completed her degree but with no blueprint or market for rearing billy kid goats for meat, in 2013 Lizzie took a bold decision. She started her surplus-saving business, Just Kidding, with Jamie Beard at his farm. They take billy kid goats from a local higher-welfare dairy farm, extensively-rearing around 100 to 150 at a time in small groups. Lizzie explained that – unlike animals that are intensively reared indoors on imported maize, soya or cereals – the billies are pasture-fed, with wooden huts for shelter, in paddocks that are doubled-fenced to stop the mischievous little goats escaping!
The billies are reared for at least six months, after which they are slaughtered. Lizzie and Jamie have worked to build demand by developing good working relationships with chefs and selling most of the meat to restaurants and hotels, including Andi's Restaurant in Stoke Newington, Bar Douro in Southwark, and Lamberts in Balham. They have recently collaborated with Foodchain, which introduces London chefs directly to farmers like Lizzie and Jamie in an easy and seamless way. Between 2014 and 2017, five of Just Kidding's cuts picked up a gold star each in the prestigious Great Taste Awards.
Lizzie is a firm believer in sustainable farming and whilst she feels that it would be no good if everyone became a vegetarian, she does believe in eating less but better meat. Thanks to higher-profile cooks and chefs like Jamie Oliver, there is now a growing awareness of this delicious and healthy food from animals whose meat would otherwise have been wasted.
It was meeting farmers like Lizzie that inspired me to move back to my parents' farm in East Sussex and start direct retailing our own native breed Sussex beef and lamb. Having just come back from this year's Oxford Real Farming Conference in January - where I saw Michael Gove the Secretary of State for Environment, Food and Rural Affairs being interviewed by MP Zac Goldsmith - I feel a new sense of optimism for agro-ecological farming, which is very exciting for the new breed of farmers like Lizzie doing things differently.
Learn more about the farmers who feed London in this ongoing series, which includes Indie Farmer and Fosse Meadow.
---
This feature first appeared in The Jellied Eel magazine issue 56, February 2018
Published 18 Jun 2018
London Food Link: London Food Link brings together community food enterprises and projects that are working to make good food accessible to everyone in London to help create a healthy, sustainable and ethical food system for all.
Support our work
Your donation will help support community food initiatives and enterprises to thrive as part of a more sustainable food system.