Bridget Callaghan is the founder of Well Kneaded, a social enterprise making award-winning sourdough pizza and employing young people from marginalised communities in South West London. She was also one of the winners of the Women in Food award at the 2019 Urban Food Awards.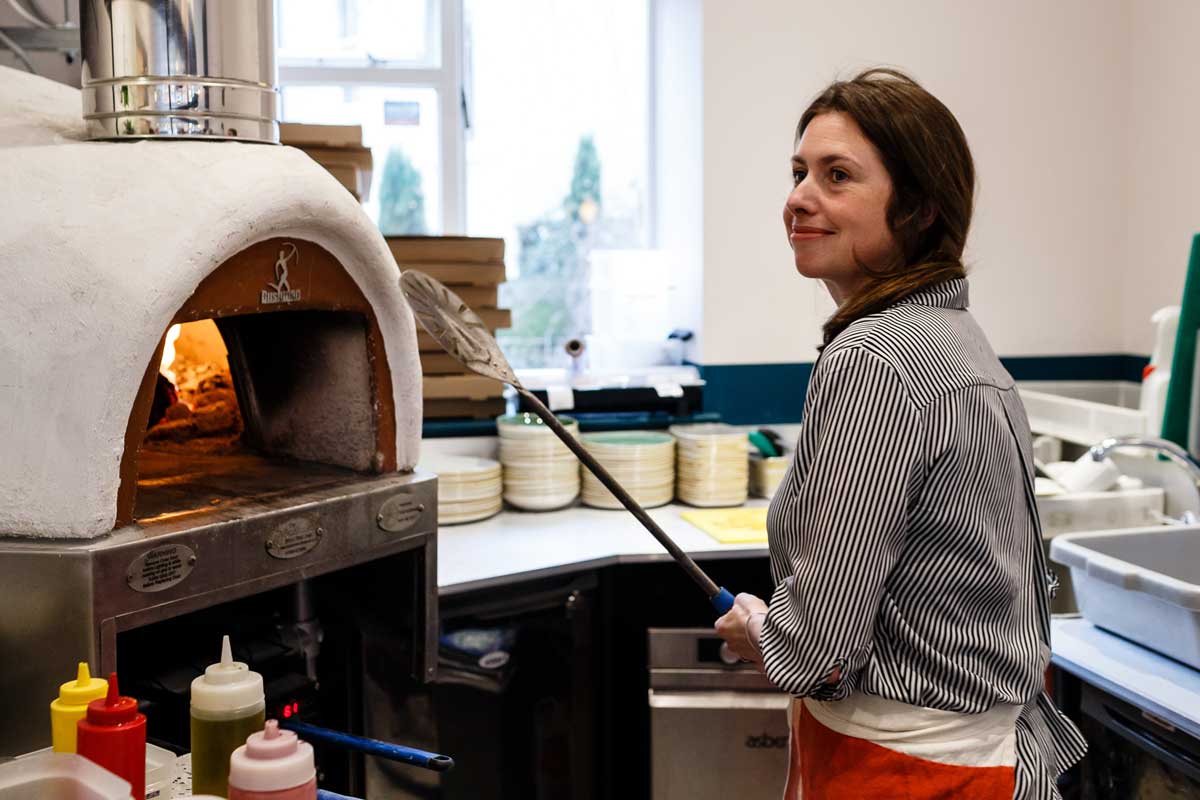 Bridget CallagHan by Miles Willis www.mileswillis.com
WHAT DREW YOU TO WORKING IN FOOD?
I started my food journey working for a bespoke chocolate company. It baffled me that a bar of chocolate, when fairly produced and sourced, could benefit two sets of people worlds apart - from cacao farmers in Panama to billionaire shoppers in Selfridges.
WHAT WAS THE INSPIRATION FOR YOUR SOURDOUGH PIZZA SOCIAL ENTERPRISE?
I had been working with young people and knew that jobs were the only way to keep them away from crime. However, there weren't many people offering jobs to young people who hadn't done well at school. At the same time, I fell in love with sourdough pizza in the early days of Franco Manca at Brixton Market; the beauty of dough, the patience of the long ferment. As I weighed it up it seemed like the perfect tool for teaching young people more general life lessons.
WHAT'S THE MOST REWARDING PART OF WHAT YOU DO?
Seeing lives changed, without a doubt. Nothing beats seeing people become more themselves as we wrestle out how to run a sustainable food business. I love to see them growing and realising how much they have to offer. You never know when the light bulb moment will be and it's such a privilege when it happens in front of your eyes.
HOW MANY YOUTHS HAVE YOU HELPED AND WHAT HAVE THEY GONE ON TO DO?
I don't love the word 'helped' to be honest, countless times the young people we work with have helped me to see who I really am. It may sound clichéd but it's true. Some have carried on into food, two are still with us, and another has started counselling other young people. As we develop our youth internship we are really excited to see more people benefit from working with our amazing team.
WHAT NEW FOOD INITIATIVE DOES LONDON NEED?
I think apprenticeships could be more flexible. Last time I checked you need to offer a minimum of 30 hours work per week. Young people have rarely committed to that much work before, especially not in addition to studying. If we are serious about getting young people into work we need to acknowledge where they are starting from - not where we are starting from.
WHAT ADVICE WOULD YOU OFFER TO OTHERS WHO WANT TO SET UP FOOD-BASED SOCIAL ENTERPRISES?
If you are raising finances, raise more than you think - or get used to living on a shoe string. You won't be going out much - so it's not hard! That said, we are committed to our day off. Having a day where the whole business shuts down means that everything can reset, every week.
---
www.wellkneadedfood.com
@wellkneadedfood
www.urbanfoodawards.org
#urbanfoodawards @LondonFoodLink
Published 13 Jan 2020
London Food Link: London Food Link brings together community food enterprises and projects that are working to make good food accessible to everyone in London to help create a healthy, sustainable and ethical food system for all.
Support our work
Your donation will help support community food initiatives and enterprises to thrive as part of a more sustainable food system.