This recipe from the Better Food Traders gives you a new way to cook your veg box goodies, using up your left over veg and making cauliflower the star of the show.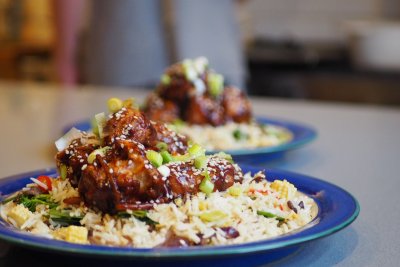 Leftover veg rice and sticky cauliflower. Credit: Better Food Traders
Making meals from scratch using seasonal, locally grown veg is so much better for you, for our farmers and for the planet. But it can be tricky to think of tasty and nutritious recipes when you're pushed for time.
This recipe from the Better Food Traders - who sell organic, fresh, delicious and seasonal veg - is the perfect way to use up any remaining veg from your veg box.
Find your local Better Food Trader here.
---
Feeds: 4
Cook time: 1 hour
Ingredients
Sesame soy sauce
2 tsp sesame oil
2 tsp fresh grated ginger
2 cloves of garlic, minced
60ml soy sauce
80 ml maple syrup
1.5 tbsp rice vinegar
1 tsp siracha
2 tsp corn starch or 1.5 tsp tapioca starch
59 ml cold water
For the cauliflower
118 ml cup rice flour
3 tbsp tapioca or corn starch.
1/2 teaspoon garlic powder
118 ml water
2 tsp sesame oil
1 small head of cauliflower, chopped into equal size florets
Sesame seeds
½ teaspoon salt, some black pepper and cayenne
Spring onions
For the rice
As much rice as you generally like to eat
All the left over veg you want to fry up from your seasonal veg
Onion
Fresh red chillies
Garlic
---
Method
Sticky Sesame Sauce: Heat a pan over medium heat. Add sesame oil, garlic and ginger. Cook for a minute. Add the soy sauce, rice vinegar, maple and bring to boil. Mix the water and cornstarch and bring to a boil to thicken.
Cauliflower: Preheat the oven to 220 C. In a large bowl add the dry ingredients for the batter and whisk well. Dip the cauliflower heads into the batter and then once all of them are covered place onto a baking try and place in the oven. Bake for 25-30 mins.
Once the cauliflower heads are cooked take them out of the oven and drizzle the sauce all over them.
Rice: Boil your rice and in parallel start frying up the garlic, onion and any other veg you would like in your rice. Once your rice is boiled add it into your frying pan veg mix and stir all together.
Sprinkle sesame and spring onions over the cauliflower and rice before serving.
Find a copy of the new Jellied Eel print magazine in a stockist near you and you'll enjoy stories, hints and local tips to get you cooking!
Published 25 Apr 2022
London Food Link: London Food Link brings together community food enterprises and projects that are working to make good food accessible to everyone in London to help create a healthy, sustainable and ethical food system for all.
Support our work
Your donation will help support community food initiatives and enterprises to thrive as part of a more sustainable food system.