News
Food for Life caterers will now exclude endangered fish
30/01/2012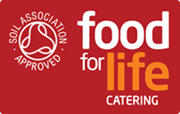 The Soil Association has launched updated standards for the Food for Life Catering Mark. [1] They maintain the same rigorous principles but have also been updated to encourage more healthy eating, and to exclude endangered fish from nearly half a million meals served each day that are covered by the scheme. [2], [3]
"We welcome the update to the Food for Life Catering Mark standards and the significant benefits this will bring for marine fish conservation," said Kath Dalmeny, who works with caterers to encourage greater use of sustainable fish, and helped establish the Sustainable Fish City campaign. [4] "Food for Life is an inspiring model for how caterers can help their customers enjoy high quality food, live healthier lives and play their part in creating a more sustainable food system. It is very welcome news to see that participating food companies will now be required to exclude endangered fish at Food for Life bronze level."
The move will also mean that the 17 London Boroughs that already hold a Bronze Food for Life Catering Mark for their school catering services will be required to exclude endangered fish from school menus by the beginning of 2013. See a report on London Borough progress on buying and promoting sustainable fish: www.sustainweb.org/sustainablefishcity/policy_makers/
Over 4,500 schools around the UK are already engaged with Food for Life, serving healthy, freshly prepared and seasonal menus, and taking steps to improve the sustainability of the food they buy. In addition, many other organisations that serve food are also joining in, including local authorities, nursery schools, universities, hospitals, restaurants and cafes, and larger commercial caterers that serve food in a range of outlets.
Caterers that hold a Food for Life Catering Mark serve food that meets the following criteria:
At bronze, 75% of meals are freshly prepared and menus are seasonal. All eggs are from cage-free hens which have space to move around and behave more naturally. In addition, no fish from the Marine Conservation Society's 'Fish to Avoid' list can be served.
For the silver award, in addition to the bronze criteria, menus can gain points for including a range of locally produced and organic ingredients. Chicken, eggs and pork products should come from farms which meet the RSPCA's 'Freedom Food' standard. This guarantees that animals are kept in a stimulating environment where they can exhibit their natural behaviour.
To gain the gold Catering Mark award, food providers must still meet the criteria for the bronze awards and build on the commitments that gained them a Silver award. They can gain points for serving organic meat, eggs or dairy products, and for using a higher proportion of local food, organic food and Marine Stewardship Council-certified fish.
The new standards have been updated to better recognise caterers' different motivations and encourage them to tell their own stories. The Awards now incorporates a flexible, points-based system at Silver and Gold levels to allow for greater flexibility and creativity. For example, some gold Catering Mark holders will serve almost exclusively organic menus and others will prioritise local sourcing or healthy eating. However all caterers who achieve the silver and gold Catering Mark standards will show a strong commitment to serving healthy, local, free-range and organic food.
Changes to bronze standards
The standards for the Bronze Catering Mark remain fixed, with five additions to increase the scheme's focus on health and food education. The Bronze standards already provide a guarantee that all accredited menus offer meals which are freshly prepared, seasonal, free from trans fats and controversial additives. Introduced on 30 January 2012, the following additional standards will be required to achieve the bronze Catering Mark:
Free drinking water is prominently available.
No fish is served from the Marine Conservation Society (MCS) 'fish to avoid' list.
Information is on display about food provenance.
All suppliers have been verified to ensure they apply appropriate food safety standards.
Caterers in schools, early years and residential care settings can demonstrate their compliance with national standards or guidelines on nutrition and healthy eating.
Changes to silver and gold standards
The silver and gold criteria are switching to a points system, which will reward every percentage of ingredient spend on ethical, environmentally-friendly, local and healthy food. The Soil Association has created a Points Calculator where caterers can find out if their menus meet the silver or gold standards.
To find out more contact the Soil Association's Food for Life Catering Mark team on catering@foodforlife.org or 0117 914 2406. Read more about the Food for Life Catering Mark and how to apply here - www.sacert.org/cateringmark
---
Notes to editors
Find out more about the Food for Life Catering Mark on the Soil Association website.
A stakeholder consultation about these proposals and a series of test inspections took place during summer 2011. The new standards were fully approved by the Soil Association Council in November 2011. Existing Catering Mark holders can choose to be inspected against either system during 2012 and will be required to show how they meet the new standards at their 2013 inspection. New applicants from Monday 30 January 2012 will be required to demonstrate how they meet the new standards to achieve the bronze, silver or gold Catering Mark.
There are now over 470,000 Food for Life Catering Mark approved meals being served per day, or around 90 million meals per year.
Kath Dalmeny sat on the London 2012 Food Advisory Group that helped to devise the sustainable fish standard adopted by the London 2012 Olympic and Paralympic Games, and also sits on the Soil Association's Food for Life Catering Mark standards committee. She now works with caterers to improve the healthiness and sustainability of the food they serve via the Food Legacy and Sustainable Fish City campaigns.
Hugh Fearnley-Whittingstall, Fish Fight

"I have been travelling around the UK meeting fishermen, marine conservationists, politicians, supermarkets bosses, and of course fish-eating members of the public. It has changed the way I think about fish."